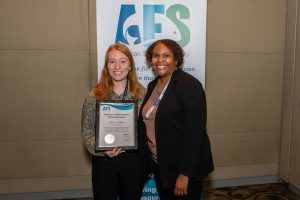 Award Objective
AFS has established a scholarship honoring Mr. Mote's contribution, to support a one-time award to two graduate students per year, who are working in research that focuses on the conservation and sustainability of fisheries species considered popular for recreation. Eligible fisheries include those found in both marine and freshwater environments.
Each award recipient will receive a one-time monetary award of $1500. It is expected these funds will be reserved for aspects of pursuing graduate education (for example tuition, textbooks, equipment, supplies, travel, and living expenses). This award will be made directly to the student and not to the student's educational institution. It is not intended to replace any funding previously obligated to the student.
Eligibility
The applicant must be a graduate student, officially accepted or currently enrolled, in a masters and doctoral program for two semesters prior to application. The applicant must be conducting aquatic research in line with AFS objectives, which include "all branches of fisheries science, including but not limited to aquatic biology, engineering, fish culture, environmental sciences, limnology, oceanography, and sociology." The student must be actively engaged in thesis research related to some aspect of conservation; the intent of the award is to support ongoing research costs. The student must be a member of AFS in good standing.
Application Requirements
1. Letter of application no more than two pages stating how they will use the fund to advance the general Mote Fellowship purpose
2. Resume – no more than two pages – should include the following:
a. Current membership in AFS
b. Publications
c. Professional presentations
d. Presentations to the public
e. Awards
3. One letter of support from academic advisor or graduate committee member
2023 Award Nominations should be submitted online at https://afsawards.awardsplatform.com/
Nominations are due April 1, 2023. Self-nominations are welcome!
Mote Award committee chair: Anita Kelly
---
About William Russell Mote
Born in 1906 in Tampa, Florida, Mr. William Russell Mote grew up by the sea and developed an intense love for all the treasures that it holds. Upon retirement, Mr. Mote directed his focus on his love of the sea, serving on The Florida Council of 100 Committee on Oceanography, and in 1967, worked to make Cape Haze Marine Laboratory a thriving marine research facility. His efforts transformed the small Cape Haze Marine Laboratory into the internationally recognized Mote Marine Laboratory and Aquarium in Sarasota, Florida. The International Oceanographic Foundation, the National Marine Sanctuary Foundation, the State of Florida and the U.S. Congress have recognized the life and scientific legacy of Mr. Mote. Mr. Mote is also named in the William R. and Lenore Mote Endowment at Florida State University's Department of Biological Sciences.
---
Recipients
2021: Ryan Tharp, Master's level; Erica Ferrer, PhD level
2022: Abigail Hayne, Master's level; Spencer Weinstein, PhD level
2023: Hannah Mulligan, Master's level