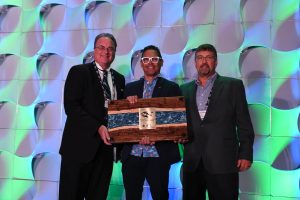 The American Fisheries Society (AFS) Stanley A. Moberly Award for Outstanding Contributions in Fish Habitat Conservation was established in 2019 to annually recognize efforts of as many as three individuals, groups, or projects with an outstanding, long-term record of success in research, management, policy, communications, education, or other fields that support fish habitat conservation. The award was developed by the AFS Fish Habitat Section in partnership with NOAA Fisheries and the National Fish Habitat Partnership (NFHP). The award is named after AFS President Stanley A. Moberly (1987-1988) whose leadership, vision, and 20+ years of effort helped to establish the National Fish Habitat Partnership and ensure AFS has a dedicated seat on the NFHP Board. NFHP includes 20 regional fish habitat partnerships, overlapping all 50 states, working diligently to enhance, conserve, and restore fish habitats.
To be eligible for this award, nominees must have been actively engaged in conservation-related fish habitat activities for at least 20 years of professional experience in freshwater, coastal, and/or marine systems. The nomination package should include a nomination letter that describes the nominees qualifications and any relevant projects, a current CV for individuals or a group, and up to three supporting letters. The nomination letter should include the title and contact information (address, email, and phone) for both the nominator and the nominee. Letters documenting nominee or project contributions (awards, descriptions of exemplary service, innovations) will be used to evaluate nominees.
Contact: Kimberly Dibble, Committee Chair & Fish Habitat Section Past President
Nomination deadline: May 1, 2023.
Submit nominations online: https://afsawards.awardsplatform.com/
Past Award Recipients
2019  Stanley A. Moberly
2020 Jeff Boxrucker
2021 Christopher Estes
2022 Tom Bigford
2023 Aquatic Habitat Program – Nebraska Game & Parks Commission