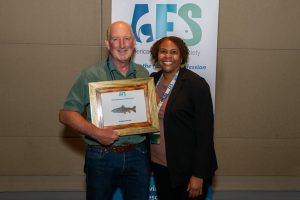 The Meritorious Service Award, first presented in 1986, is awarded annually to an individual AFS member for loyalty, dedication, and meritorious service to the Society over a long period of time and for exceptional commitment to the programs, objectives, and long-term goals of the Society.
Submit Your Nomination
Nominations should include the candidate's name, full contact information, biographical information and/or history of the nominee's service (not to exceed 2 pages) to the Society.  Letters supporting the nomination are welcome.
AFS Awards should be submitted online unless otherwise noted at https://afsawards.awardsplatform.com/.
Nominations typically require a candidate's name, full contact information, biographical information, and qualifications for the award and/or history of service to the Society. The nomination package should include a cover/nomination letter that describes the nominee's qualifications and any relevant projects; letter should include the title and contact information for both the nominator and the nominee. Cover letters should be limited to two pages.
Up to three supporting documents will be accepted for each nomination. Supporting documents may include a current CV (up to 4 pages) and additional supporting letters (up to 2 pages).
The Awards Committee is dedicated to AFS goal of increasing diversity and inclusion within our Society. As part of this effort, we highly encourage nominations for individuals from historically underrepresented groups in the fisheries field.
Award Nominations should be submitted online at https://afsawards.awardsplatform.com/
Nomination deadline: April 1, 2024
Contact: Patrick Hanchin
Past Recipients of the Award
1986 Robert F. Hutton
1987 Mercer H. Patriarche
1988 Elwood A. Seaman
1989 Reeve M. Bailey
1990 Carl R. Sullivan
1991 Arden J. Trandahl
1992 Mary R. Frye
1993 Kenneth Carlander
1994 C. Richard Robins
1995 Christine M. Moffitt
1996 Nick C. Parker
1997 Gerald R. Bouck
1998 Lee C. Redmond
1999 John G. Boreman, Jr.
2000 Billy J. Higginbotham
2001 Dick Ryder
2002 Larry Olmsted
2003 John Ney
2004 Carolyn A. Griswold
2005 Stan Moberly
2006 Christopher Goddard
2007 Paul J. Wingate
2008 Roger A. Rulifson
2009 F. Joseph Margraf
2010 Fred Harris
2011 David W. Willis
2012 Patricia M. Mazik
2013 Ira R. Adelman
2014 Dale Burkett
2015 Bruce Barton
2016 Gwen White
2017 Tom Bigford
2018 Robert Curry
2019 Julie Claussen
2020 David Ward
2021 Aaron Lerner
2022 Thomas Lang
2023 Gregg Lomnicky