donations
, membership dues and meeting registrations, and sale of
AFS merchandise
.  Your contributions and purchases make a direct impact in the strength of our organization.
Contributions of all sizes are greatly appreciated. We accept donations both online and by mail. When you donate to the AFS General Fund, your donation goes to immediate use where it is most needed. These donations are crucial to helping maintain programs that need your support year-round! Make a donation to the General Fund.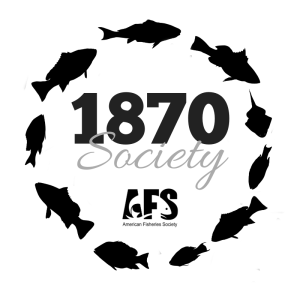 Contributions of $150 and above qualify you as a member of the 1870 Society, a leadership giving program that honors the history and accomplishments of the American Fisheries Society and recognizing those generous individual donors who make it possible by investing in the Society's important programs and operations. Members must make qualifying level donations each year ($150 or greater) to maintain membership in the donor club. These gifts can be outright gifts, pledge payments, or multi-year pledges. Meet the members of the 1870 Society.
Your donation can be a general contribution or earmarked for specific funds, including:
Other ways to donate are detailed in this announcement.
AFS is a 501(c)3 non-profit organization supported by