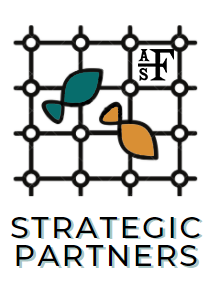 Strategic Partners Program's Purpose: 
Strengthen the existing institutional membership offerings by allowing organizations to contribute as partners. This approach will provide a channel of knowledge sharing, problem-solving, and financial resources for AFS and its partners.
AFS hopes this pathway will strengthen our relationship with many of the organizations—government, academic, and corporate—that share in or benefit from the work of AFS and our members.
In establishing the Partners Advisory Council, AFS will also eliminate the confusion surrounding access to benefits for those organizations in the Associate, Official, and Sustaining memberships.
About Strategic Partners
Partnerships are critical to helping AFS achieve its mission. The programs and priorities important to AFS are possible because of the contributions of expertise, money, and time from our members and partners. The new Strategic Partners options completely replace the existing Associate, Official, and Sustaining options and provide a single framework that employs all of the benefits that a relationship with AFS can confer to these members. It also creates an important pathway for these members to engage with AFS leadership.
The challenge of creating a Strategic Partners program is to develop a suite of options that responds to the needs of different potential members. AFS has the following categories of partners: Federal and state agencies, universities, tribal, NGO, and private industry and trade groups. Creating individual partnership options at multiple levels for each of these categories would create a confusing set of options and be difficult to track. Rather, we are proposing a simple three-tiered approach.
To start your Strategic Partnership today or if you have questions, please contact Jenna Hanks, Development Manager, at [email protected] or Kelly Kotche, Membership Manager, at [email protected].
About the Partners Advisory Council
Partners Advisory Council offers the opportunity for representatives of Strategic Partners to join AFS Leadership at a series of events held throughout the year. The goal of this program is to convene leaders from our field in an effort to identify challenges and ignite solutions. Partner Advisory Council Membership is limited to Strategic Partner organizations.
Meet Our Strategic Partners


Understanding Benefits of Strategic Partners
Benefits
Platinum $7,500
Gold
$3,600
Silver $1,800

Sustaining
$500

Company logo linked to company's website on the AFS and Annual Meeting sites
x
x
Opportunity to sponsor AFS e-newsletter
x
Participation in the Partners Advisory Council
x
x
x
Access to programs and promotions limited to AFS Partners Advisory Council
x
x
Preferred booth space selection for the Annual Meeting
x
x
x
Free booth space and one registration representative at the booth
x
Discounted booth rates
Complimentary
25%
10%
Opportunity to conduct affiliated event at the AFS Annual Meeting
(subject to space availability, food, beverage and A/V costs paid by member)
x
x
x
Inclusion in Strategic Partners signage on-site at the Annual Meeting
x
x
x
x
Two complimentary full registrations at the Annual Meeting
x
One complimentary full registration at the Annual Meeting
x
Three complimentary tickets to the Grand networking event
x
Two complimentary tickets to the Grand networking event
x
Additional discounted registration rates (total limited per level)
x
x
x
x
Complimentary four-color full-page ad in the Annual Meeting issue of Fisheries
x
Complimentary four-color full-page ad in any non-meeting issue of Fisheries
x
One featured article in a member newsletter
x
x
One email message sent by AFS on behalf of the partner to meeting attendees
x
x
x
Webinar sponsorship
x
x
Discounted rates for bookstore
30%
30%
30%
Access to the e-book corporate subscription program
x
x
Free AFS Job Board postings (total limited by level)
36 postings
24 postings
12 postings
4 postings
Complimentary 12-month subscription to hardcopy, mailed editions of Fisheries magazine
x
x
x
x
Individual memberships which include access to AFS journals and Fisheries magazine online
3
2
1