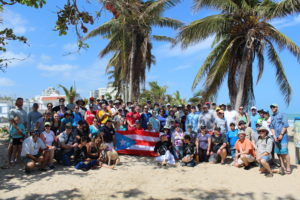 Impressive Turnout as AFS Volunteers Help Rebuild Estuaries in San Juan
Nearly 100 AFS and partner volunteers turned out to support the San Juan Chapter as it helps rebuild estuaries on the island. The first effort was at Ocean Park Beach, since the Aviones Beach suffered too much damage to allow volunteers.
Piñones is an undeveloped coastal area that lies between lagoons of the San Juan Bay Estuary and the Atlantic Ocean. Piñones is on the border of the main San Juan metro area and only a short distance from the Intercontinental hotel. The beaches suffered heavy erosion as a result of hurricane María.
Volunteers worked with the San Juan Bay Estuary Program to revegetate Ocean Park Beach with coastal plants with the goal of promoting sand dune formation. Re-establishing sand dunes will buffer this coastal area from further erosion and protect the local community and lagoons from excessive flooding during future storms.
We will have more details on the impacts of this volunteer effort in the coming days. Many thanks to all who participated!
Donate today to support further volunteer efforts in Puerto Rico. Funds are still needed to cover the cost of purchasing these valuable plants from a local nursery. Donations can be made online here.