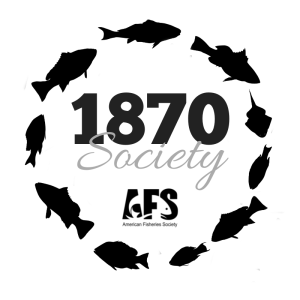 The 1870 Society is an initiative, to honor the history and accomplishments of the American Fisheries Society, and recognizing those generous individual donors who make it possible by investing in the Society's important programs and operations.
Named for the year AFS was established, the 1870 Society pays homage to the impressive history of AFS and establishes a channel for our community to raise financial resources to safeguard the future.
This support will be invested in important areas such as education, training, professional development, and policy. In addition, funds raised through the 1870 Society will be used to support improvements that will directly benefit the service we provide to our members and community.
Eligibility
Participation in the 1870 Society is open to all individuals, regardless of membership in AFS. Membership in the 1870 Society is renewable annually (calendar year). Membership in the 1870 Society begins with your first annual gift above $150, and continues with ongoing annual support. Members must make qualifying level donations each year ($150 or greater) to maintain membership in the donor club. These gifts can be outright gifts, pledge payments, or multi-year pledges.
Privileges of the 1870 Society
Invitations to special events, including exclusive events (reception and/or luncheon) held each year in conjunction with the AFS Annual Meeting
Program highlights and participant (donor) profiles in Fisheries magazine
Membership commemorative certificate recognizing their gift
Unique gift in appreciation of their membership in the 1870 Society
Year-round communications from the AFS President and Executive Director, keeping you up-to-date on how your donation is making an impact for AFS
Recognition (with your permission) on AFS's website
1870 Society ribbon to be worn during AFS Annual Meeting and AFS events
Special listings in the Annual Report of the American Fisheries Society
Annual Member Level

   Benefits

---

Members — $150.00+

Certificate of appreciation
Recognition in multiple AFS channels, including Fisheries magazine, the annual report, and the AFS website
Quarterly newsletter from AFS keeping members up-to-date on the latest happenings of AFS

---

Founding Members — $500.00+

Invitation to special 1870 Founding event celebration
Recognized in perpetuity as Founding Members of the 1870 Society
Receive a commemorative keepsake
Recognized at the Annual Business Meeting during the AFS Annual Meeting

---

President's Circle — $1,000.00+

Members in the President's Circle receive all the benefits of the Members and Founding Members, plus

Invitation to attend the Governing Board Reception at the Annual Meeting
Conference call with Executive Director and President
Free guest registration at the AFS Annual Meeting
Opportunity for reserved seating or early access to special events at the AFS Annual Meeting (for example the Grand Networking Event)

---

Legacy Leaders — Planned Giving

Certificate of appreciation and a letter from the Executive Director
Recognition in multiple AFS including Fisheries magazine, the annual report, and the AFS website
Those willing to leave a significant gift to AFS will be recognized in a unique way based on discussions between AFS and the donor. Visit Planned Giving for more information about planned giving at AFS.
---
If you'd like to demonstrate your philanthropic leadership within the fisheries community, and become a member of the 1870 Society donate online, by mail, or contact AFS Development Manager Jenna Hanks at  [email protected].