FOR IMMEDIATE RELEASE
August 21, 2023
Contact: Beth Beard
[email protected]
LISA KERR RECEIVES CARL R. SULLIVAN FISHERY CONSERVATION AWARD
FROM THE AMERICAN FISHERIES SOCIETY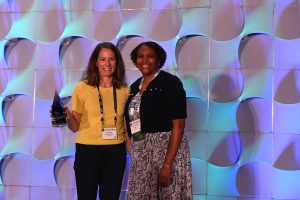 (Grand Rapids, Michigan) August 21, 2023 –Lisa Kerr, Ph.D, associate professor at the University of Maine, received the Carl R. Sullivan Fishery Conservation Award ("the Sully") at the American Fisheries Society (AFS) 153rd Annual Meeting in Grand Rapids, Michigan. AFS President April Croxton presented the award to Kerr at the opening plenary session of the conference. The Sully is presented to an individual or organization for outstanding contributions to the conservation of fishery resources that may be political, legal, educational, scientific, or managerial in scope. The award is named for Carl Sullivan, society executive director from 1975-1991.
Dr. Kerr leads the Quantitative Fisheries Research Lab at the University of Maine. Her research supports the transition to climate-­informed decision making in marine fisheries—a critical advancement for long-term ecological sustainability of marine resources and the economic viability of marine fisheries. Dr. Kerr combines classical stock identification approaches with advanced simulation modeling techniques to evaluate how population structure and spatial ecology contribute to the productivity and stability of fish populations. Her work clearly demonstrates that biocomplexity provides important conservation benefits in marine fisheries and has been used to re-assess stock boundaries for species including Atlantic cod, a species critical to international economies and with a complex management profile.
Beyond extensive quantitative modeling, a core feature of Dr. Kerr's work is stakeholder engagement, and she works closely with fishing industry representatives and fishery managers to understand and incorporate their perspective and insight into Management Strategy Evaluation (MSE) models. These types of efforts build stakeholder understanding of the MSE process and create buy-in to management recommendations that emerge.
Finally, one of Dr. Kerr's deepest commitments is mentoring early career scientists and students in fisheries science. Through her formal mentorship and leadership roles as well as informal personal interactions, she inspires many early career scientists in marine fisheries science and management.
"Dr. Kerr exemplifies the conservation focus of the Sully Award as her work has already contributed substantially to the principles of 'wise use' and understanding of fisheries management on a national and international level," said Croxton.
# # #
Editor's Notes:
A high-resolution photo is available: https://flic.kr/p/2oZnCc3
Founded in 1870, the American Fisheries Society (AFS) is the world's oldest and largest fisheries science society. The mission of AFS is to improve the conservation and sustainability of fishery resources and aquatic ecosystems by advancing fisheries and aquatic science and promoting the development of fisheries professionals. With five journals and numerous books and conferences, AFS is the leading source of fisheries science and management information in North America and around the world.