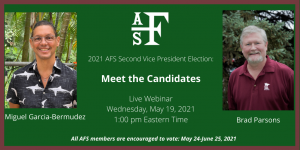 2021 AFS Election – Meet the Candidates
Wednesday, May 19, 2021
1:00 pm Eastern Time
Register Now!
Join AFS for the 2021 Meet the Candidates webinar!
Per AFS procedures, officer elections are held annually. Two candidates will be running for the Second Vice President position, which involves a 5 year posting to the AFS Governing Board, including a presidency in 2025.
AFS has been hosting "Meet the Candidates" yearly since 2019, to provide members an additional opportunity to learn about the candidates. Join us for the 2021 edition of this webinar!
Session participants:
Miguel Garcia-Bermudez, Second Vice President Candidate
Brad Parsons, Second Vice President Candidate
Corbin Hilling, Session Moderator, 2021 Emerging Leaders (ELMA) program participant
Macey Rowan, Session Moderator, 2021 President of the Student/Early Career Subsection to the Education Section