How many candles on the birthday cake?
The vital role of age estimates in stock assessments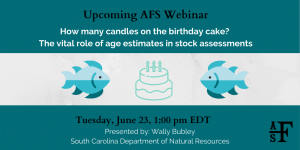 Tuesday, June 23, 2020
1:00 pm Eastern Time
Speaker:
Wally Bubley
South Carolina Department of Natural Resources
[email protected]
Abstract/ Session Description:
Age estimates for fishes provides vital information that is used in stock assessments, particularly those utilizing age-based models. Basic decisions such as the means of obtaining an age estimate, who is obtaining these age estimates, and what type of age is used can be compounded as further analysis is undertaken and have effects on the outputs of an assessment model. Preparation of the age-based inputs can also play a role in the usefulness of these data to the assessment model. We will step through the process of utilizing ages in a stock assessment from obtaining the ages to their input into the model, while highlighting advantages, disadvantages, and best practices, including quality control/quality assurance methods, to get the most out of the data.
Presenter's Biography:
Walter Bubley is a marine scientist with the South Carolina Department of Natural Resources (SCDNR) Reef Fish Survey group which surveys the Atlantic waters off the southeast region of the United States from Cape Hatteras, NC to Port St. Lucie, FL. He oversees the age/growth lab which contributes data for assessment and management of reef fish species collected by the survey (nearly 300,000 life history samples collected since 1972). He has been involved with marine fish surveys for over 10 years with both SCDNR and Texas Parks and Wildlife Department during which he has participated in over a dozen stock assessments as a data/input provider and an appointed panel member for reef fish and elasmobranch species.