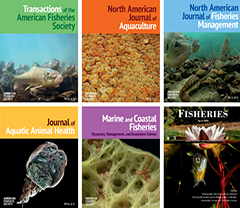 By Aaron Lerner, AFS Publications Director, [email protected]
I am pleased to announce that Fisheries magazine and American Fisheries Society (AFS) journals will soon be mailed to U.S. addresses without a polybag wrapper. Instead of a polybag containing a paper carrier sheet with the recipient's name and address, our publications will now have a paper label affixed on either the front or back cover.
In the September 2019 issue of Fisheries (Lerner 2019), I provided background on AFS efforts to eliminate polybag mailers, given the adverse effects of plastic waste on the world's oceans. In our case, the largest obstacle to dropping polybags stemmed from requirements that wrappers be placed on periodicals mailed from the United States to other countries. The printer used by Wiley, our journals publisher, was unable to separate these mailings, requiring wrappers for the U.S. as well. I'm happy to report that this problem has been solved, allowing us to eliminate polybags sent to U.S. addresses. Unfortunately, mailings sent outside the U.S. must continue to use the polybags due to international mailing requirements.
Thanks for your letters of concern regarding polybag use by AFS. I am pleased that we are able to make a small contribution towards reducing the amount of plastic waste in our environment.
REFERENCE
Lerner, A. 2019, Why are we using plastic to mail Fisheries magazine? Fisheries 44:395. doi:10.1002/fsh.10337.