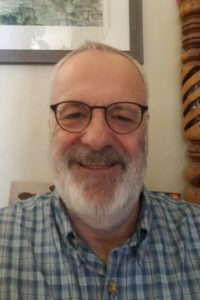 Gary Curtis has replaced Jeff Schaeffer as Editor in Chief (EIC) of Fisheries magazine. Schaeffer has stepped down from the position after serving as Chief Editor from 2013–2018, and Editor in Chief beginning in April of 2018. Curtis served as a Co-Chief Science Editor for Fisheries before being named by Schaeffer as the new EIC. Curtis' new duties will include:
Ensuring that Magazine objectives and mission are being met.
Managing Co-Chief Science Editors and Science Editors.
Soliciting the submission of high-quality contributions to the Magazine.
Facilitating the peer review process.
Working with the Editors-in-Chief of AFS journals to ensure cohesion of publishing program.
Curtis is retired from the U.S. Fish and Wildlife Service in northern California, where he worked as a Habitat Restoration Supervisor in the middle Klamath River. He oversaw the Service's Partners for Fish and Wildlife and National Fish Passage programs. In that capacity he also worked on fishery and fish passage issues related to the Federal Energy Regulatory Commission licensing of the Klamath River Hydroelectric Project.  Prior to that, he worked for the U.S. Geological Survey  in Ann Arbor, Michigan, carrying out fishery assessments and conducting research in the upper three Great Lakes, and supervised the Lake Huron research group. Gary began his career as a National Marine Fisheries Service Tuna-Porpoise Observer based in San Diego, California. He graduated from Humboldt State University and obtained a master's degree from Iowa State University.
After retiring from USFWS in 2013, Curtis worked as a Senior Fisheries Supervisor for California Department of Fish and Wildlife in rural northern California until 2015. Curtis is a long time AFS member and has served as a Co-Chief Science Editor for Fisheries since January 2017. Curtis said he is "Retired, but not dead yet (apologies to Monty Python)" and has a strong interest in fisheries management and the synthesis, review, and dissemination of research information to managers.