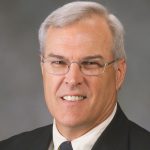 Steve McMullin, Ph.D., has become the 133rd President of the American Fisheries Society (AFS). He assumed office on August 23, 2017 at the 147th AFS Annual Meeting in Tampa, succeeding Joe Margraf, who became Immediate Past President. McMullin is Associate Professor Emeritus of Human Dimensions of Fisheries and Wildlife at Virginia Tech.
"I am honoured to have been selected by my colleagues to lead such a prestigious organization. My plan of work focuses on effectively communicating the science of fisheries conservation to policy makers and stakeholders, increasing diversity in AFS and the fisheries profession, and developing a plan to direct activities of the Society through 2024. In addition, I will be continuing the work of my predecessor Joe Margraf in building the relevancy and visibility of our journals," McMullin said.
McMullin received his bachelor's degree and master's degree from the University of Idaho and a Ph.D. from Virginia Tech. Prior to receiving his doctoral degree, he spent 12 years with the Montana Department of Fish, Wildlife, and Parks, serving as biologist, regional fisheries manager, and chief of the Montana Fisheries Management Bureau. A member of the Virginia Tech community since 1989, McMullin has made significant contributions to planning and public involvement in fish and wildlife conservation in North America and the profession of fisheries science through his work with state and federal agencies and professional societies, focusing on leadership development and the interactions between humans and natural resources.
An active member of AFS since the 1970s, McMullin's role has included service as president of the Virginia Tech and Virginia Chapters, president of the Southern Division, and work on several committees. He has organized the annual "Leading at All Levels" continuing education workshop since 2013, reflecting his longstanding interest in leadership development training.
"As we approach a century and a half of serving the fisheries community, Steve will provide visionary leadership to maintain and build our relevancy," said AFS Executive Director Doug Austen. "The AFS staff looks forward to working with him to enhance the value of AFS membership and support those who work to manage and conserve our aquatic resources."