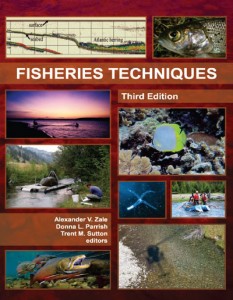 Now Available – PDF downloads (complete book or individual chapters) of the acclaimed and widely-used Fisheries Techniques, third edition.
Available since 2013 (previously in hard copy only), Fisheries Techniques is the comprehensive instructional and reference volume on fisheries sampling and analysis techniques. The third edition describes the techniques and approaches used to collect and analyze fisheries samples and data, with a greater emphasis on quantitative techniques and estuarine and marine systems.
Benefits of using digital book files:
Portable:

Carry and store an entire collection of books to read/study/use on the go.

Easy to Use:

Search for words and phrases, and highlight or bookmark i

mportant sections or pages.
Convenience:

Download and read immediately without the time and cost 

of shipping.
Appearance:

PDF files provide a high-fidelity reading experience, including the advantages of the printed version typeface, clear images, and sharp text.
More information on Fisheries Techniques, third edition: HERE