FOR IMMEDIATE RELEASE
August 24, 2016
Contact: Martha Wilson
[email protected]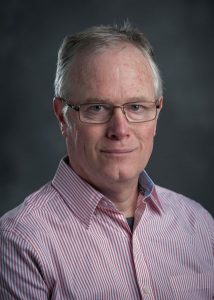 Mike Jones, the Peter A. Larkin Professor of Quantitative Fisheries at Michigan State University, received the William E. Ricker Resource Conservation Award at the 2016 American Fisheries Society (AFS) Annual Meeting in Kansas City, Missouri. AFS President Ron Essig presented the award at the meeting's plenary session. The William E. Ricker Resource Conservation Award is presented to an individual or organization for a singular accomplishment or long-term contributions that advance aquatic resource conservation at a national or international level.
Through research and engagement with managers, Jones has profoundly influenced Sea Lamprey management in the Great Lakes. His research has put in place a system-based approach for making cost-effective investments in Sea Lamprey assessment and control. His Sea Lamprey modeling work has been critical to allowing the Great Lakes Fishery Commission to establish targets for reduction in spawning populations of lamprey and optimize allocation of pest control resources.
Jones was instrumental in the formation of the Lake Erie Percid Management Advisory Group, an assembly of stakeholders and managers that has been using management strategy evaluation models to determine management strategies for Lake Erie Yellow Perch and Walleye since 2010. In 2014, this group came to a consensus decision on a new total allowable catch-setting process for Walleye, which has broken a lengthy cycle of lawsuits associated with this fishery.
Jones' position at Michigan State is supported by the Great Lakes Fishery Commission, with whom he has worked on a wide range of topics with a constant emphasis on the involvement of managers and other stakeholders, an insistence on the application of rigorous science, and the use of a structured decision-making paradigm.
# # #
Editor's notes:
Links: (fisheries.org, 2016.fisheries.org)
About AFS: Founded in 1870, the American Fisheries Society (AFS) is the world's oldest and largest fisheries science society. The mission of AFS is to improve the conservation and sustainability of fishery resources and aquatic ecosystems by advancing fisheries and aquatic science and promoting the development of fisheries professionals. With five journals and numerous books and conferences, AFS is the leading source of fisheries science and management information in North America and around the world.