FOR IMMEDIATE RELEASE
August 24, 2016
Contact: Martha Wilson
[email protected]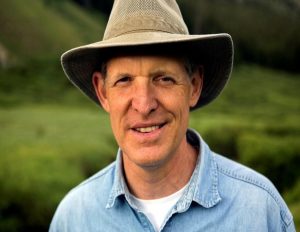 Kurt Fausch, Ph.D. received the Award of Excellence from the American Fisheries Society (AFS) at its 2016 Annual Meeting in Kansas City, Missouri. AFS President Ron Essig presented the award at the meeting's plenary session. The Award of Excellence is the society's highest award for scientific achievement. It recognizes original and outstanding scientific contributions in the fields of fisheries and aquatic biology.
Dr. Fausch's research accomplishments have influenced the manner in which we evaluate and manage river and stream ecosystems, biological invasions, habitat restoration, and biotic integrity. His career is marked with novel and influential contributions to our understanding of habitat use by freshwater fishes, individual fish movement, and the landscape ecology of riverine fishes. For example, his landmark BioScience paper presents a new paradigm for management and conservation of stream fishes, describing the scale at which ecological studies and restoration activities can be accomplished most effectively.
Also, Kurt's collaboration with Dr. Shigeru Nakano and others identified and described the reciprocal feedbacks that operate between terrestrial and aquatic ecosystems and is the subject of the documentary Riverwebs—an award-winning, inspiring film that has gained national and international acclaim.
Kurt has long understood that the public can serve as a powerful ally in the field of conservation. His new book, For the Love of Rivers, illustrates the complexities of rivers in a way that is interesting and accessible for nonscientists and demonstrates how rivers are essential for human quality of life.
In short, the consistent high quality, originality, and relevance of Kurt Fausch's work have had a profound influence on the field of fisheries and aquatic ecology.
# # #
Editor's notes:
Links: (fisheries.org, 2016.fisheries.org)
About AFS: Founded in 1870, the American Fisheries Society (AFS) is the world's oldest and largest fisheries science society. The mission of AFS is to improve the conservation and sustainability of fishery resources and aquatic ecosystems by advancing fisheries and aquatic science and promoting the development of fisheries professionals. With five journals and numerous books and conferences, AFS is the leading source of fisheries science and management information in North America and around the world.