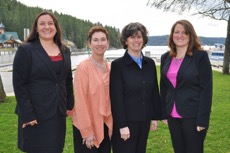 By Helen Neville
This year's annual meeting of the Idaho Chapter of AFS was held at the Coeur d'Alene Resort, a perfect venue for productive and fun interactions. Our meeting was attended by 313 total participants from 63 different organizations, with 59 students and 7 young professionals. Outgoing President-Elect, now President, Jay Hesse created a cross cutting theme for the meeting, "Horizontal and Vertical Transmission of Fish-Related Information." This theme set the stage for a fantastic all female plenary session with talks by Morgan Case, Julie Collins, Sharon Kiefer, and Jesse Trushenski, who discussed their varied interpretations of, and experience with, fisheries "information," and gave valuable advice on effective tools for communicating to diverse audiences. We had 49 oral presentations organized by "Adaptive Management," "Habitat and Fish Restoration," "Modelling and Monitoring," and "Climate Change and Invasive Species," and a special symposium, "A Commemoration of the Idaho Supplementation Studies." Eighty-four people participated in three workshops. Our poster session included 27 presentations, and interaction with the poster presenters was bolstered by adding a breakfast session to our traditional evening session. At our business meeting, we welcomed a new Student Subunit, Brigham Young University–Idaho. The R.L. Wallace Native Fish Conservationist of the Year was awarded to Joe DosSantos of Avista Corps for his work toward development and implementation of the Lower Clark Fork River Native Salmonid Restoration Plan, and a new Aquatic Habitat Restoration Award was given to the Caribou–Targhee National Forest for the Jackknife Watershed Restoration Project. Our Excellence in Aquaculture Award went to the Kootenai Tribe of Idaho for their Burbot Lota lota and sturgeon programs. We awarded six scholarships to high school, undergraduate, and graduate students, and quite a few Distinguished Service Awards. Our Lifetime Achievement Award was given to a very surprised Al Van Vooren for his service to the Idaho Chapter and fisheries profession.
We pulled off a wonderful welcoming social, student mixer, and banquet with record-breaking fundraising from our 32 much-appreciated sponsors and successful auctions and raffles. Even the skies held clear for 83 participants in our seventh annual Spawning Run/Walk along the shores of Lake Coeur d'Alene. Please join us for next year's joint meeting with The Wildlife Society in Boise, March 1–3, 2017!
Members click below for the June 2016 Fisheries magazine's complete issue. Non-members, join here.
This content is for members only. Please login.