Several AFS notables among keynote speakers
The 7th World Fisheries Congress opened in Busan, Korea, on Monday, May 23rd, bringing together more than 1,300 international experts on marine and freshwater fisheries, aquaculture, food technology, hydropower, and other related fields. The program includes 39 sessions under 10 major themes and up to 200 North Americans were expected to participate.
AFS Past President (1990-1991) Larry Nielsen led off the keynote presentations with the history of the World Fisheries Congress, beginning with the first congress in Athens, Greece, in 1992. He talked about the hurdles of organizing an international conference in the pre-Internet era and reviewed the predictions and assertions of those first congress speakers and whether they were realized almost 25 years later.
The Opening Ceremony included a traditional drum performance, followed by welcome remarks from the mayor of Busan and the Korean Minister of Oceans and Fisheries, along with a video message from Korean President Park Geun-hye. Much of the ceremony focused on a major announcement about a proposal to found a "World Fisheries University" at Pukyong National University in Busan, potentially under the auspices of the Food and Agriculture Organization of the United Nations (FAO). The university would focus on fisheries management capacity building through training for students from developing countries, and the Korean government has proposed to fund the program at US$100 million over the first 10 years.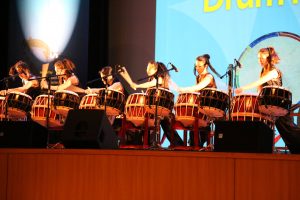 Monday afternoon brought the start of the concurrent sessions, which are being presented entirely in English. Several sessions were organized by AFS members, including sessions on climate change and inland fisheries, standardized sampling for freshwater fishes, and advancements in stock assessment.
Other AFS members giving keynote talks this week include Terry Quinn on the University of Alaska Fairbanks, Kenneth Rose of Louisiana State University, Mary Fabrizio of the Virginia Institute of Marine Science (AFS Past President 2007-2008), and Ray Hilborn of the University of Washington. Hilborn will also be the recipient of the International Fisheries Science Prize on Friday morning.
Follow activities at the Congress using the Twitter hashtag #wfc2016 or see the AFS Facebook page.