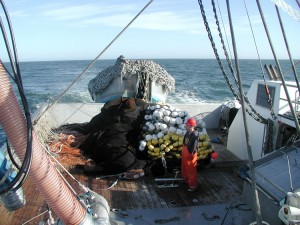 RESUMEN:
El monitoreo de actividades pesqueras es un componente esencial en las pesquerías manejadas adecuadamente y puede ofrecer datos verificables, dependientes de la pesquería, acerca de las actividades de pesca y ayuda a evaluar el desempeño y éxito de los planes de manejo. Manejadores e involucrados en las pesquerías suelen batallar con el desarrollo e implementación de programas efectivos de monitoreo debido a la falta de información, fondos y aprendizaje por parte de otros pares que participan en programas ya existentes de monitoreo. Este artículo muestra la experiencia de 25 expertos nacionales e internacionales y refleja las lecciones aprendidas más relevantes en lo concerniente al desarrollo e implementación de programas efectivos de monitoreo. También se discute una serie de "directrices" derivadas de la consulta con expertos en monitoreo, que brindan a manejadores e involucrados el conocimiento acumulado y las referencias que permiten más fácilmente desarrollar enfoques de monitoreo sistemáticos, adecuados y efectivos.
by Erika A. Zollett, Robert J. Trumble, Jill H. Swasey, and Shawn B. Stebbins
Access your special Members-Only content → 
This content is for members only. Please login.
---
• Click here to read the English abstract.