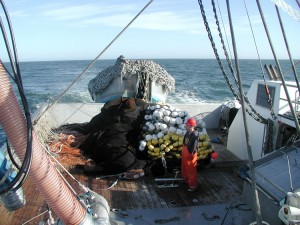 ABSTRACT:
Monitoring of fishing activities is an essential component of successful fisheries management that can provide verifiable fishery-dependent data on fishing activities and help assess performance and success of fisheries management plans. Fishery managers and stakeholders have often struggled in developing and implementing effective monitoring programs due to lack of information, funding, and peer-to-peer learning from existing monitoring programs. This article draws on the experience of over 25 national and international monitoring experts and reflects the most important lessons learned from commercial fisheries regarding the development and implementation of effective monitoring programs. The article discusses a set of "guiding principles," developed in consultation with the monitoring experts, which provide fishery managers and stakeholders with cumulative knowledge and references to more easily develop comprehensive, appropriate, and effective monitoring approaches.
by Erika A. Zollett, Robert J. Trumble, Jill H. Swasey, and Shawn B. Stebbins
Access your special Members-Only content → 
This content is for members only. Please login.
---
• Click here to read the Spanish abstract.