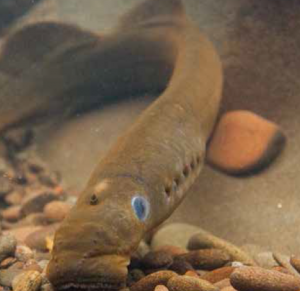 RESUMEN: La lamprea del Pacífico (Entosphenus tridentatus) ha sido parte esencial de la comunidad ecológica y ha co-evolucionado con especies acuáticas de los ríos del oeste de los EE.UU. La falta de información sobre la lamprea del Pacífico ha entorpecido los esfuerzos de manejo y conservación. Con el fin de evaluar y conservar la lamprea del Pacífico, se desarrolló una iniciativa de conservación que se compone de tres partes: evaluación, acuerdos de conservación y planes regionales de implementación. Se aplica un sistema nuevo de ordenación que caracteriza el riesgo de la lamprea del Pacífico a lo largo de los EE.UU. Se encontró que, con algunas excepciones, en la mayor parte de las cuencas hidrológicas, la especie está en riesgo de extirpación. Los resultados de la evaluación del riesgo fueron esenciales para adquirir el apoyo de los participantes en los acuerdos de conservación, con el objetivo de lograr la persistencia de largo plazo y apoyo del uso cultural de la lamprea del Pacífico. Este amplio apoyo ha dado como resultado un esfuerzo de colaboración para desarrollar planes de implementación y la puesta en práctica de numerosas acciones de conservación. Este enfoque para evaluar el estado de la lamprea del Pacífico y para identificar prioridades de restauración se puede transferir fácilmente a otras especies. by Christina Wang and Howard Schaller Access your special Members-Only content → 
This content is for members only. Please login.
---
• Click here to read the English abstract.