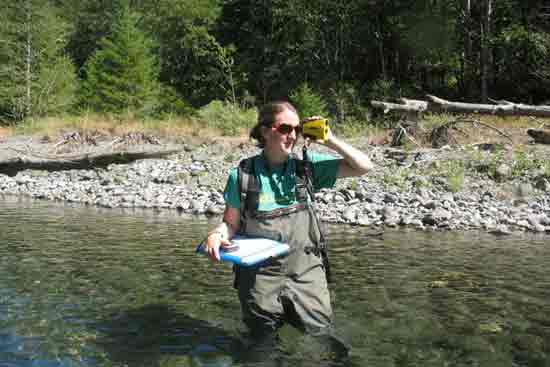 Better Road-Stream Crossing Designs Can Help Prevent Road Wash-outs and Help Fish
For Immediate Release February 18, 2014 Contact: Beth Beard 301-897-8616 x 215 [email protected] When Tropical Storm Irene inundated the White River watershed in the Green Mountain National Forest in Vermont in 2011, many local roads washed out where stream culverts failed to handle the extreme water flow. The damaged and impassable roads made emergency response and recovery after the storm even more difficult. Poorly designed road culverts are also a year-round, long-term obstacle for fish passage for species such as Brook trout and endangered Atlantic salmon. Some of the road-stream crossings that fared better during the storm were recently built using stream simulation design. The objective of stream simulation design is to create channel dimensions that are similar to the natural stream channel and have sufficient flow capacity to handle a 100-year flood. In a recent article in Fisheries, the magazine of the American Fisheries Society, scientists describe the benefits of stream simulation design for both improving the reliability of the road network and enhancing connectivity for fish and other aquatic species. "We often hear that 'fish-friendly' crossings cost more money and only benefit the fish," said lead author Nat Gillespie of the U.S. Department of Agriculture Forest Service. "Our study indicates that local governments could potentially save money and improve public safety in the long run by investing in these road crossing designs that have the capacity to perform better during high flow events." The authors note that Federal Emergency Management Agency grants are not set up to encourage road-stream crossing improvements after disasters; often only replacement with structures similar to those that just failed are eligible for funding. The authors' recommendations include targeting "repeat offenders" where road culverts have washed out before, identifying priority sites crucial for both fish passage and road traffic passage, improving coordination among state and federal agencies to adopt better standards, and reworking funding structures so states and towns can afford to redesign and upgrade their road-stream crossings after flood failures. "Making improvements to culverts that can reduce flood risk, can reduce costs, and provide a host of environmental benefits just makes sense especially in response to our changing climate," said Alison Bowden, director of freshwater conservation for The Nature Conservancy in Massachusetts. Flood Effects on Road-Stream Crossing Infrastructure: Economic and Ecological Benefits of Stream Simulation Designs, by Nathaniel Gillespie, Amy Unthank, Lauren Campbell, Paul Anderson, Robert Gubernick, Mark Weinhold, Daniel Cenderelli, Brian Austin, Daniel McKinley, Susan Wells, Janice Rowan, Curt Orvis, Mark Hudy, Alison Bowden, Amy Singler, Eileen Fretz, Jessica Levine, and Richard Kirn. Fisheries 39(2):62-76.
###
Founded in 1870, the American Fisheries Society (AFS) is the world's oldest and largest fisheries science society. The mission of AFS is to improve the conservation and sustainability of fishery resources and aquatic ecosystems by advancing fisheries and aquatic science and promoting the development of fisheries professionals. With five journals and numerous books and conferences, AFS is the leading source of fisheries science information in North America and around the world.