FOR IMMEDIATE RELEASE
August 22, 2022
Contact: Beth Beard
[email protected]
NEBRASKA GAME & PARKS AQUATIC HABITAT PROGRAM,
DONALD W. GABELHOUSE, JR., AND MARK T. PORATH RECEIVE
THE STANLEY A. MOBERLY HABITAT CONSERVATION AWARD
FROM THE AMERICAN FISHERIES SOCIETY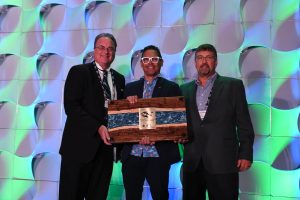 (Grand Rapids, Michigan) August 22, 2023 – The Nebraska Game & Parks Aquatic Habitat Program, along with Donald W. Gabelhouse Jr. and Mart T. Porath, received the Stanley A. Moberly Award for Outstanding Contributions in Fish Habitat Conservation at the American Fisheries Society (AFS) 153rd Annual Meeting in Grand Rapids, Michigan. AFS President April Croxton and First Vice President Miguel Garcia presented the award to Porath and Keith Koupal (Nebraska Game & Parks) at one of the conference's plenary sessions.
The Moberly Award is presented to recognize the efforts of as many as three individuals, groups, or projects with an outstanding, long-term record of success in research, management, policy, communications, education, or other fields that support fish habitat conservation. The award was developed in 2019 by the AFS Fish Habitat Section in partnership with NOAA Fisheries and the National Fish Habitat Partnership. The award is named after AFS Past President Stanley A. Moberly, whose leadership, vision, and 20+ years of effort helped to establish the National Fish Habitat Partnership.
Donald W. Gabelhouse, Jr. (Nebraska Game and Parks, now retired) initiated the effort to create and sustain Nebraska's Aquatic Habitat Stamp and the associated Aquatic Habitat Program. He coined the phrase "New Life for Aging Waters" to garner public and legislative support. This was the first effort of its kind in the nation, has always been highly regarded, and is still the one of the best programs in the nation. The Aquatic Habitat Program has partnered with over 60 different funding sources to fund and lead habitat improvements for 112 aquatic systems in Nebraska, investing over $87 million into restoration and angler access activities. This effort was the forerunner of similar programs in Iowa and elsewhere, and served as a model for the National Fish Habitat Partnership. Gabelhouse also assisted in the development of Nebraska's CLEAR program, designed to assist communities in restoring their local park ponds. He authored Nebraska Environmental Trust Fund grants totaling over $10 million for supplemental support of fish habitat projects such as Carter Lake Restoration and Rehabilitation, CLEAR Team, and Nebraska Aquatic Habitat Rehabilitation Initiative (over $5 million, 1998-2010).
Mark T. Porath served as the Program Manager and implementation arm of the Aquatic Habitat Program for over decade. Under his leadership, the program expanded to include Angler Access and Cool Water Streams – and Porath newly developed these programs. Administratively, he improved the project delivery rate from 3.7 to 10.1 waters addressed per year, meaning more anglers could fish better water sooner. Porath trained agency staff to cultivate relationships, and on the required and most effective methods (field, laboratory, administrative) to develop and implement successful projects, including leading collaborative efforts with partners and stakeholder groups to meet multiple missions within limited budgets. During the course of his program management, this resulted in a substantial increase in outside funding for programs and tripling the number of projects initiated and completed annually. Porath's broad experience in project and contract management, developing budgets, organizing teams, and integrating engineering with socio-ecological knowledge to led to the success achieved in conduct ecosystem restoration projects.
"This program, along with Don Gabelhouse and Mark Porath, are deserving of the award by virtue of the broad and deep impact of the program on fish habitat management, due to the vision to create and support this program, and by exceptional management skills to shape a vision into reality. The influence of this collective on fisheries managers and management is invaluable, and incalculable," said Croxton.
# # #
Editor's Notes:
A high-resolution photo of the award presentation is available: https://flic.kr/p/2oZmGUg
Founded in 1870, the American Fisheries Society (AFS) is the world's oldest and largest fisheries science society. The mission of AFS is to improve the conservation and sustainability of fishery resources and aquatic ecosystems by advancing fisheries and aquatic science and promoting the development of fisheries professionals. With five journals and numerous books and conferences, AFS is the leading source of fisheries science and management information in North America and around the world.