FOR IMMEDIATE RELEASE
November 10, 2021
Contact: Beth Beard
[email protected]
240-687-3761
MICHIGAN STATE UNIVERSITY PROFESSOR WILLIAM TAYLOR
RECEIVES THE AWARD OF EXCELLENCE FROM THE AMERICAN FISHERIES SOCIETY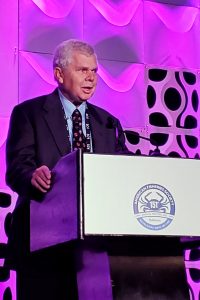 (Baltimore, Md.) November 10, 2021 – William Taylor, Ph.D., University Distinguished Professor in Global Fisheries Systems at Michigan State University, received the Award of Excellence at the American Fisheries Society (AFS) 151st Annual Meeting in Baltimore, Maryland. AFS Past President Brian Murphy presented the award at the final Plenary Session of the meeting.
The Award of Excellence is presented to a living person for original and outstanding contributions to fisheries and aquatic biology. It is the Society's highest award for scientific achievement.
"His long career of research, teaching, and mentorship spans inland waters throughout the world, from the Laurentian Great Lakes to the Mekong River floodplain. He is considered the primary driving force behind much of the fisheries science and management that has occurred in the Great Lakes region during the previous decades," said Past President Murphy. "Through his service to various societies and organizations, and his dedication to professional outreach, his work has attained a global impact."
Taylor received his bachelor's degree in biology at Hartwick College in New York, master's degree in biology at West Virginia University, and doctorate in zoology at Arizona State University. He has conducted fisheries research and taught classes at Michigan State University since 1980 where he has been an author of 130 publications and co-editor of six books.
Taylor's research interests include fisheries ecology, in particular, the interactions between inland fisheries and other freshwater sectors, and the integration of the habitat, animals, and people that comprise freshwater ecosystems into governance and management policies. His ability to see "the big picture" has enabled him to create innovative, lasting partnerships among freshwater researchers and pushed his research to address emerging areas of interest and concern for conserving inland ecosystems by incorporating both the human and ecological elements into his research projects.
"Bill is a consummate professional and exemplary educator. He has formally mentored more than 100 graduate students and informally mentored many others. He is the embodiment of a motivator, leading by example and innovation," Murphy continued. "Beyond that, Bill has demonstrated a strong commitment and exemplary service to ensuring equal opportunities and access to higher education in fisheries and professional development. His diverse cadre of mentees stands as a testament to his influence and impact on diversity within the fisheries profession and AFS."
Recently, Taylor helped organize the Global Inland Fisheries Conference: Freshwater, Fish, and the Future. This conference, which took place at the United Nations Food and Agriculture Organization (FAO) headquarters in Rome in 2015, represents the first time that a global, intersectoral conference focused on inland fisheries was convened. The conference led to the development of the "Rome Declaration," which outlines ten steps for increasing the visibility and sustainability of inland fisheries around the world. The declaration was accepted by FAO at its biannual Committee on Fisheries (COFI) meeting in 2017.
Taylor also serves as a Commissioner on the Great Lakes Fishery Commission and was inducted into the Freshwater Fishing Hall of Fame in 2014. A Fellow of the American Fisheries Society, he was previously honored by AFS with the Distinguished Service Award and has served as AFS President, North Central Division President, and Michigan Chapter President, among many other roles.
# # #
Editor's Notes:
Founded in 1870, the American Fisheries Society (AFS) is the world's oldest and largest fisheries science society. The mission of AFS is to improve the conservation and sustainability of fishery resources and aquatic ecosystems by advancing fisheries and aquatic science and promoting the development of fisheries professionals. With five journals and numerous books and conferences, AFS is the leading source of fisheries science and management information in North America and around the world.