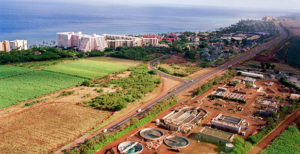 The Clean Water Act survived a significant challenge with a 6-3 decision U.S. Supreme Court in County of Maui v. Hawai'i Wildlife Fund. At issue was whether the Clean Water Act (CWA) applies to a pollutant that reaches navigable waters only after it leaves a point source and then travels through groundwater before reaching navigable waters. The court rejected the County of Maui and the Trump administration's attempt to categorically exclude pollutants conveyed through groundwater from the scope of the CWA.  Instead, it ruled that a CWA permit is required when a discharge, like one into groundwater, is "the functional equivalent" of a direct release into navigable waters. The Court, relying heavily on science, closed a major loophole for polluters to evade the act's jurisdiction.
AFS joined with other science societies in an amici brief to the court in this case. Justice Breyer, writing for the majority, cited our brief in the opinion, noting: the CWA applies "when there is a direct discharge from a point source into navigable waters or when there is the functional equivalent of a direct discharge." On page 34 of our brief, we stated, "In some cases, like the one currently before this Court, because of the hydrological connection, a discharge of a pollutant to groundwater is the functional equivalent of a discharge into the navigable water."
In describing how functional equivalence could be demonstrated, the Court cited the following factors, many of which were factors cited in our brief: (1) transit time, (2) distance traveled, (3) the nature of the material through which the pollutant travels, (4) the extent to which the pollutant is diluted or chemically changed as it travels, (5) the amount of pollutant entering the navigable waters relative to the amount of the pollutant that leaves the point source, (6) the manner by or area in which the pollutant enters the navigable waters, (7) the degree to which the pollution (at that point) has maintained its specific identity. Time and distance will be the most important factors in most cases, but not necessarily every case.
One consequence of the decision will be the increased importance of hydrologists as expert witnesses in CWA groundwater cases to explain the factors that satisfy the functional equivalent test.