Interview by Jeff Schaeffer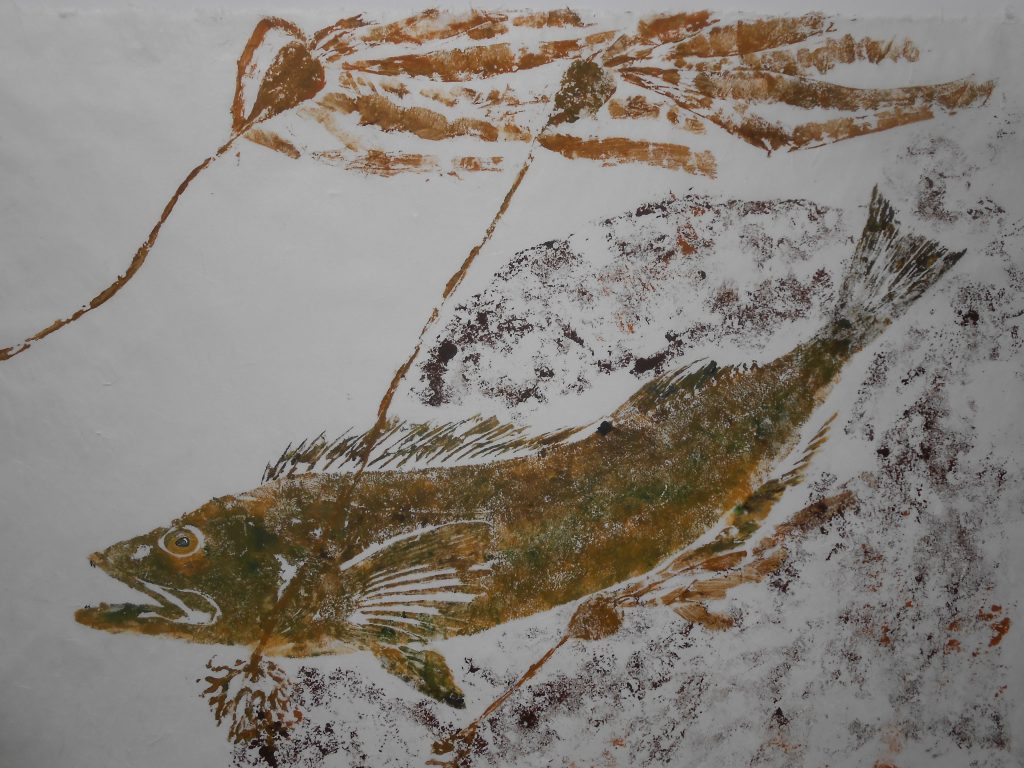 Gyotaku is becoming more popular, but very few artists engage in it. How did you get started?
I am self-taught in the Gyotaku technique, but initially saw some individuals making prints when I started graduate school in 1985. My initial thought was, "That's a pretty neat art form." Later that summer, I made my first print (Pile Seaperch Damalichthys vacca) and still have the best print from that initial effort. After earning my master's degree in fisheries science from Oregon State University, I began working at the Aquarium of the Americas in New Orleans as an animal husbandry specialist. I decorated our New Orleans home with fish prints. When I gave notice that I had accepted a position at the Oregon Coast Aquarium, we received numerous inquiries about purchasing my fish prints. We sold all 12 prints that were in the house to friends in the New Orleans area.
Can you tell us more about Gyotaku and your process?
The literal translation of the Japanese term Gyotaku, is "fish-impression" or "fish-rubbing." The twist to the entire process is that the actual animal is used to create the print. The art form has its roots in Japan during the mid-1800s. The oldest known print is dated to 1862 and is credited to an unknown artist who was likely commissioned by Lord Sakai, the angler who caught the Red Sea Bream Pagellus bogaraveo or "Tai." The finished print memorializes the significant catch! Originally black ink was used as the pigment for Gyotaku. The art form has progressed to being polychromatic, so I have quite an inventory of acrylic paints and brushes at my disposal. Once the print is dried, I'll paint the eyes. It is at this stage that the print becomes alive. I favor reflecting the fish's natural colors, though I do on occasion get wild with colors and patterns.
There are two major styles of Gyotaku, and I practice the "Direct" Method. In this method, the paint is applied directly onto the subject with brushes. A different brush is used for each color of paint used. Rice paper or tightly woven cloth is placed atop the painted subject. The paper is then gently rubbed against the subject. This fingertip pressure transfers the paint onto the paper, thus creating a mirror image of the subject. In contrast, the paper is molded directly against the subject in the "Indirect Method," before different colors are applied with separate tampos, a ball of cotton encased in silk cloth
In both cases, numerous paper towels are required to remove mucous or moisture from the surface of the subject. Fins are also positioned to re-create natural movement or posturing. Once the eyes are completed, I sign each print, add the name of each subject, and apply my last name in Japanese characters.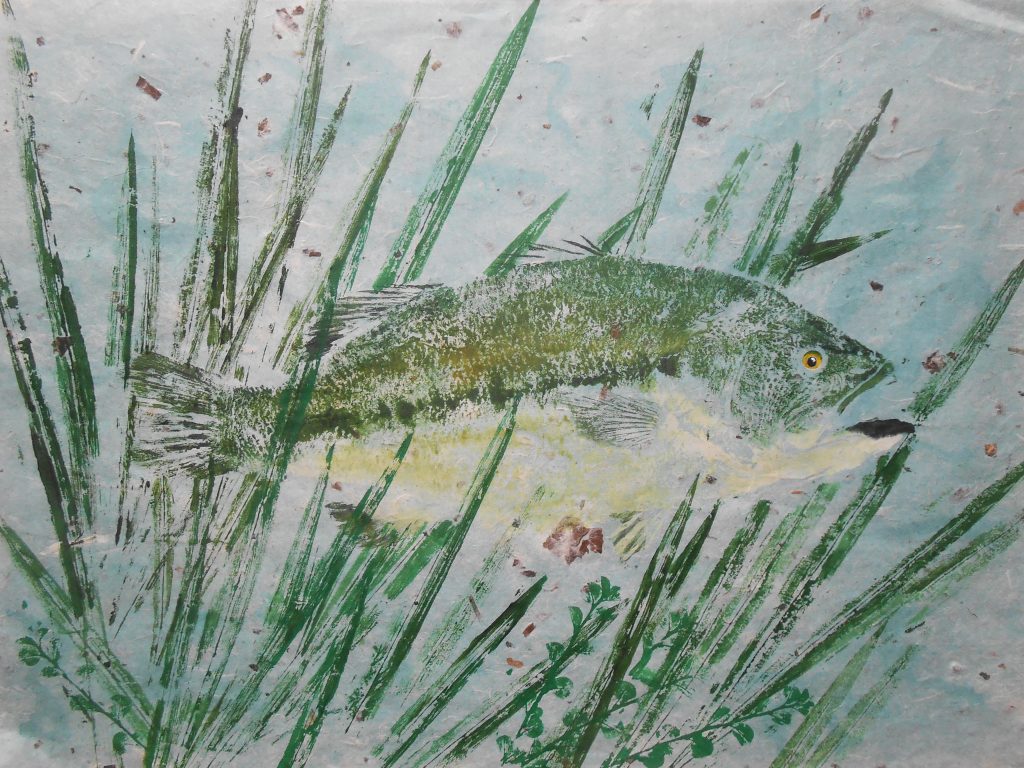 How do you get your specimens?
I obtain specimens from many different sources including commercial fishers, research scientists, recreational anglers, fish farmers, and Asian markets. My public aquarium colleagues have contributed specimens, and I've also printed fishes that I have caught. In cases such as salmon or Lingcod Ophiodon elongatus, the fish ultimately ends up as table fare once printing is completed. A key aspect of printing is to obtain a specimen that is fully in tact…no missing scales, no fin splitting, and "no cuts or guts."
In addition to fishes, I have also printed botanical subjects and an array of invertebrates including oysters, geoduck clams, mussels, scallops, crabs, and barnacles.
What are some of your current or upcoming projects that we might look for during 2016–2017?
Look for me at the AFS-2016 Tradeshow in Kansas City. It'll be a sort of a homecoming as I received my bachelor's degree from Missouri State University in Springfield, Missouri. I will also be part of the Issahquah's (WA) Salmon Days Festival during October 1 and 2, 2016.
You have printed over 150 different species of aquatic animals, are there any that are especially memorable, and why?
I was commissioned to print a goldfish that was a companion animal for 15 years after being won at a county fair. The relationship between the fish and its owner is what made this print noteworthy. I also printed several fishes that my dad caught while on Long Range fishing trips along the Pacific coast of Mexico. These specimens included Mahi mahi, California Flying Fish Cheilopogon pinnatibarbatus californicus, and Black Triggerfish or Black Durgon Melichthys niger.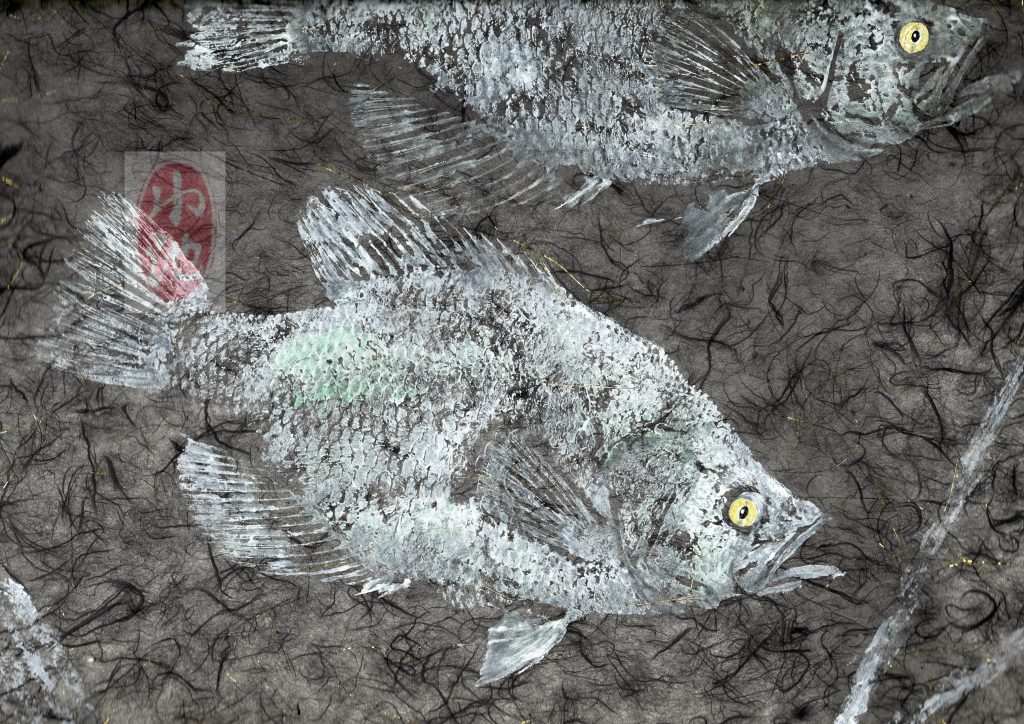 Which species is you favorite to print, and which species is the most challenging to print?
I enjoy printing the wide array of Eastern Pacific rockfishes of the family Sebastidae. The prominent scales, large spines found in the fins and head, as well as the wide array of color patterns make these fishes my favorite. I have also printed a number of Scombridae species. The round body and low profile scales, or the absence of scales, make these fish a particular challenge to print.
We have never seen an artist that printed both the organism and the habitat too. What led you to take that next step?
My academic and career background aids me in creating a context for the subject. That context could take the form of a fish in its habitat, or fishes interacting with each other, such as schooling or in a predator/prey interaction. In one composition, I placed a lure in front of a chasing Wahoo Acanthocybium solanderi. I have also placed a steelhead Oncorhynchus mykiss hen on a spawning bed, complete with eggs.
Somewhere out there is the species you have always wanted to print, but haven't. Which one is it, and why is it still on your to-do list?
I'd love to do a series of Amazonian fishes, or endangered species. Fishes with a typical body "shapes" such as Razorback Sucker Xyrauchen texanus, lungfish, or Coelacanth Latimeria chalumnae, would be an exceptional experience to print. I'm also open to contributing art for science related literature or reports. I am also in the beginning stages of writing a pictorial book of fish prints. In this work, I'll include bits of natural history and captive care information for each of the selected species. Stay tuned!
For more information on Bruce Koike and his prints, visit his website: koikebruce.wix.com.
Members click below for the May 2016 Fisheries magazine's complete issue. Non-members, join here.
This content is for members only. Please login.