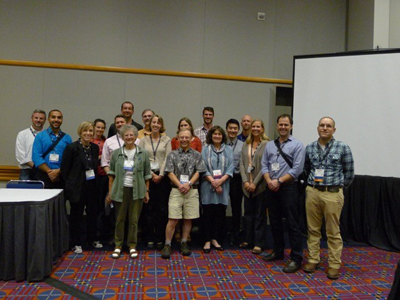 Sponsors:
Estuaries Section, Marine Fisheries Section The symposium "Frontiers in Otolith Chemistry: Insights, Advances and Future Directions" was a comprehensive survey of the state of otolith chemistry and highlighted exciting new directions in the field.  Co-sponsored by the Estuaries and Marine Fisheries sections, the symposium spanned 1.5 days, included 31 presentations and 3 posters, and covered a remarkably wide range of topics.  These included the use of chemistry to trace provenance and movement, statistical treatment of data, novel chemical investigations (e.g., eco-toxicology, dietary reconstructions, oil spill markers, and hypoxia indicators), combinations of methods (e.g., otolith chemistry and tissue stable isotope analysis), novel marking methods, strontium "isoscapes" and their application, and work with analogous structures, such as scutes, spiny rays, or scales, that don't necessitate killing a fish.  Notably, the symposium was a balanced mix of seasoned and mid-career researchers with students and early-career workers.  Numerous conversations about ideas and potential collaborations were overheard during coffee breaks, and several students expressed their appreciation at the chance to network with new people.  A special issue featuring submissions from the symposium is currently being organized. —Karin Limburg, SUNY College of Environmental Science & Forestry,
[email protected]
, and Benjamin Walther, Texas A&M University – Corpus Christi,
[email protected]
Read the symposium abstracts
here
.