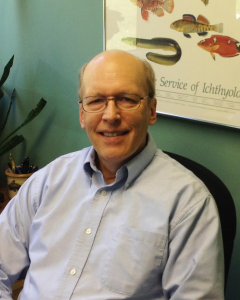 Aquaculture is a complex arena, complete with ever-expanding science, shifting management implications, and growing societal demands. How, then, do we create useful policy to guide our way? And how can AFS its members lead the way?
by Tom Bigford – American Fisheries Society Policy Director
AFS proudly describes itself as the "oldest and largest professional society representing fishery scientists." Indeed, our history since 1870 is beyond reproach, and we started as a fish culturists' society. As our mission has expanded, our Society has developed a broader mandate, an organizational structure with Units spanning dozens of specialties, and membership interests that extend beyond fishery scientists practicing in the natural and social sciences. Scientific knowledge forms the basis of our toils, but we apply science in a management context, convert our collective wisdom into policy, and share all of that when we educate others. This approach is important in all AFS does and certainly is relevant to the aquaculture topics that dominate this Fisheries issue.
Aquaculture is a complex mix of issues ripe for attention by each AFS discipline. Culture techniques are constantly improving. Fish nutritionists continually search for non-fish-based feeds. Public perceptions are maturing as consumers track harvest techniques, country of origination, and factors related to humane and sterile handling. As with all crops, genetics are  very important, and people worry whether genetically modified fish might someday be a part of our food supply. Engineers are designing pens, rafts, strings, and other devices to increase production, reduce escapement and predation, and control other problems like navigation hazards. The list is much longer. Some of that breadth is reflected in the articles and commentaries contributed by several AFS Section members for this issue. The discussion has major societal and economic implications as the world seeks protein to feed a burgeoning population, provide quality recreational fishing opportunities, and conserve imperiled fish populations.The policy implications of supplementing wild-caught fish with cultured fish are huge, and AFS is positioned perfectly to make a difference.
Like other fields, aquaculture offers many intriguing challenges. By using fish-based feeds and producing harvests that parallel wild catches, aquaculture is both a consumer of and contributor to aquatic natural resources. It is also a source of employment and financial gain and will define global food security—not just seafood security—for years to come.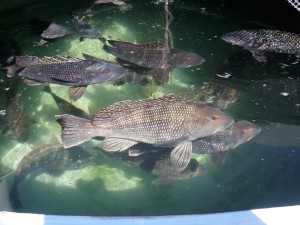 Such a multifaceted activity has many implications regarding aquatic science, resource management, and policy. To contribute our personal expertise, we must balance the ethical and legal constraints of our day jobs with the opportunities to engage on the issue as active members of anAFS Chapter, Section, Division, or the Society. Whether in the context of aquaculture or any other aquatic resource arena, through our active participation in AFS we have the chance to satisfy our career ambitions, broaden our knowledge base, and please our supervisors. Not impossible, perhaps enticing to many, but a path that requires careful negotiation and the ability to engage in frank, open, and collegial discussion.
How best to engage on all the aforementioned levels? AFS members have faced this professional conundrum for decades and are usually successful. Federal and state agency employees whose jobs are focused on research and education have served as lead authors for AFS on scientific reviews and policy statements. Academics with the same dual focus have also flourished in the policy realm. Those efforts have helped to inform ongoing AFS and agency decision-making and policy development on a number of topics. AFS applied that model for its own policies on climate change and the need for an immediate-release anesthetic or sedative. We've used a similar strategy to combine the expertise of a dozen AFS members into a Society position on future directions of the U.S. Fish and Wildlife Service's National Fish Hatchery System. These are mutually rewarding efforts. To the best of my knowledge, each effort resulted in accolades from the member's home institution and from AFS. We're all better off because of those members who have blazed a trail, and this trail now leads us to aquaculture.
Another indicator of success is the recent effort by the AFS Special Committee on Hatcheries and Management of Aquatic Resources (HaMAR) to develop considerations for fish culture. Committee members Vincent Mudrak, Christine Moffitt, John A. Sweka, Scott F. Stuewe, Connie Young-Dubovsky, Kim Scribner, George Nardi, and Douglas Bradley designed a symposium for our 2013 Annual Meeting in Little Rock, with
Jesse Trushenski as moderator. That effort led to AFS Governing Board action at the 2014 Annual Meeting in Québec City to approve the "HaMAR Considerations" guidance, proving that AFS can serve a valuable role in compiling the best information on complex issues.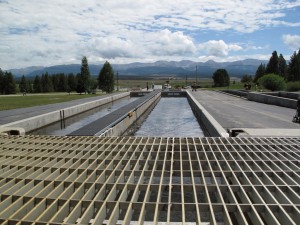 Such efforts are traditionally led by the AFS Resource Policy Committee, the group charged with leading the way in writing new policies and ensuring that our existing 35 policies are relevant. Their effort is often supplanted by experts from throughout our Society. In the aquaculture arena, where AFS and its members have toiled for more than a century, leading aquatic resource scientists and natural resource managers took the lead to describe effective roles of cultured species in aquatic resource management. As paraphrased from the program for our 2013 Annual Meeting, approximately every 10 years a cross section of AFS representatives assembles to reconcile contentious issues regarding hatchery-origin fish. Prior to the HaMAR effort, those AFS members met under the banner of "Propagated Fishes in Resource Management" and produced "Considerations for the Use of Propagated Fishes in Resource Management." Those guidelines were the first publication to connect science-based information with political realities of management and provided the aquatic resources community and decision makers with a set of consensus-guiding principles for the use of hatchery-origin finfish and shellfish.
The intent was to develop science-based fisheries management findings to strengthen decision making. That effort evolved into an assessment of the impacts of hatchery reform, the increasing importance of imperiled species restoration, as well as a number of other emerging issues in hatchery operation and the uses of hatchery-origin aquatic animals. At Little Rock, it was time to set the clock in motion for the next cycle of this process, the HaMAR project, to refine our guiding principles based on contemporary knowledge.
The HaMAR effort is now complete with approval at our 2014 Annual Meeting. That backdrop forms a solid basis for this themed issue of Fisheries. As stated above, it also affirms a crucial role for AFS as a society and for each of its members. I hope that each of you will consider using the Society as a neutral platform to debate issues related to aquaculture. We have the benefit of a solid base of existing science and policy, but we must update our efforts based on the latest knowledge. Our expanded influence will help because there are no limits to the scientific inquiry needed to maintain an economically and ecologically solid basis for finfish, shellfish, plant, and other aquatic species culture.
Our work won't end with the HaMAR Considerations or action by the Resource Policy Committee. Just as the science is continually evolving, no policy statement is unassailable. We'll need AFS's experts in policy, management, and science as we engage in aquaculture. Every step must be subjected to academic rigor and peer review, with checks and balances. And we'll need to proceed on a schedule that reflects our largely volunteer capacity rather than some external driver from an agency policy or budget. Those and other connections between science and policy were offered by Chris Tyler (2013) based on his work in England.
Those are difficult challenges. I suspect that most of you have crossed the science, management, policy, and education paths. When I first stepped into the AFS arena in my previous position with the National Oceanic and Atmospheric Administration's National Marine Fisheries Service, I shared my personal dilemma with agency attorneys. Past President Ken Beal had asked me to chair our Resource Policy Committee in 2000, which raised legal and ethical questions.  After important caveats about conflicts of interest, the attorney's official response affirmed that it was acceptable for me as a fish habitat program manager to participate in AFS activities as long as I clarified my role and engaged only in issues where my agency had a programmatic interest. Both conditions were easily met and I served as Resource Policy Committee chair for four AFS Presidents.
I am convinced that most AFS members would receive similarly forgiving advice if they were to check with supervisors and attorneys before becoming more involved in our Society. As closely as we scrutinize aquaculture and other topics related to resource management, so will others scrutinize AFS and our personal roles. We must stand ready for both.
REFERENCE
Tyler, C. 2013. Top 20 things scientists need to know about policy-making. The Guardian (December 2). Available: www.theguardian.com/science/2013/dec/02/scientistspolicy- governments-science. (August 2014).