Fisheries Magazine
Look what's inside the newest issue of Fisheries-Magazine-February-2014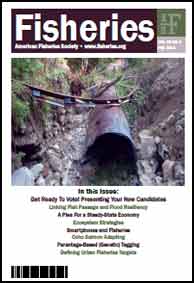 • Get Ready To Vote!  Read the Candidate Statements for Second Vice President:
Reginal M. Harrell
Steve L. McMullin
• Linking Fish Passage And Flood Resiliency
• A Plea For A Steady-State Economy
• That Cup Of Coffee Costs What?!
• Ecosystem Strategies
• Smartphones And Fisheries
• Coho Salmon Adapting
• Parentage Based (Genetic) Tagging
• Defining Urban Fisheries Targets
• Fisheries Ecosystems and Hypoxia
• Welcome to Quebec!
Current Issue (open access) – For back issues of Fisheries, please join AFS. Your membership will automatically include the online file of the past 5 years of Fisheries. Once you join, or if you are already a member, please visit our Members only archive to view past issues of Fisheries magazine.
Each month, Fisheries magazine features peer-reviewed technical articles on all aspects of aquatic resource-related subjects, as well as professional issues, new ideas and approaches, education, economics, administration, and law. Issues contain features, essays, AFS news, current events, book reviews, editorials, letters, job notices, chapter activities, and a calendar of events.