The Wildlife Society recognizes AFS as a complementary and very important organization. We are pursuing avenues for deeper collaboration between our societies on issues of mutual interest, through publications, outreach efforts, technical assessments, and conferences. The conservation community is moving to a more holistic concept of natural resources conservation, one that encourages the integration of aquatic and adjacent upland systems along with the fish and wildlife that depend on them. An enhanced level of cooperation between TWS [The Wildlife Society] and AFS has great potential to promote a deeper understanding of these systems, with the consequence of better, more informed management of them. AFS is a key player in bringing science to conservation and management, and TWS will continue to partner with the Society in that critical effort.

– Ken Williams Executive Director, The Wildlife Society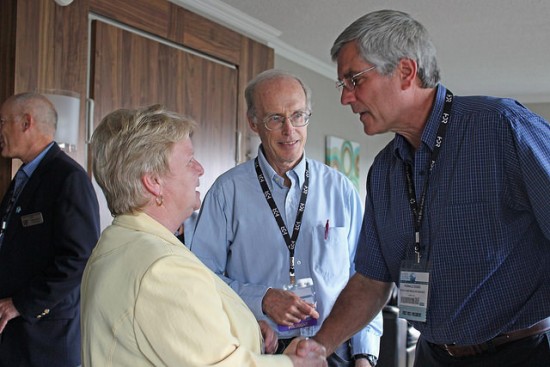 The theme for 2013–2014 and the 2014 Annual Meeting was entitled From Fisheries Research to Management: Thinking and Acting Locally and Globally. Most of us think and act locally on a daily basis.
Click here to download the 2013 Annual Report (PDF)
To increase our global presence we have implemented the following this past year:
Signed a formal cooperation agreement with the China Society of Fisheries (based on those signed late last year with the Fisheries Society of the British Isles, Japanese Society of Fisheries Science, Korean Society of Fisheries and Aquatic Science, and the Brazilian Society of Icthyology).
Gave technical presentations at the 2013–2014 Annual Meetings of those societies and requested the same from their representatives at our Annual Meeting.
Held the 2014 Western Division American Fisheries Society (WDAFS) Annual Meeting in Mazatlan, Sinaloa, Mexico (partly as a result of the $25,000 in Society matching travel funds, there were 441 registrants from 19 nations, including 199 students from 8 nations).
Initiated an informal collaborative agreement with the Association for the Sciences of Limnology & Oceanography, Australian Society for Limnology, Desert Fishes Council, European Federation for Freshwater Sciences, International Society of Limnology, International Association for Danube Research, New Zealand Freshwater Sciences Society, Phycological Society of America, Society for Freshwater Science, Society of Wetland Scientists, and Society of EnvironmentalToxicology & Chemistry with the intent of developing a unified voice on global aquatic and fisheries policy.
Organized the Annual Meeting in Québec City, which includes speakers from 46 nations (15% outside Canada and the United States), 41 symposia, with 10 being international in focus, and plenary speakers from 4 nations.
Participated in second planning meetings for the World Fisheries Congress scheduled for 5–10 June 2016 in Busan, South Korea (the Society is expected to promote the meeting, seek North American sponsors, suggest plenary speakers, and develop a Society-sponsored/funded symposium in one of the five general theme areas: aquaculture, biological diversity and management, freshwater fisheries, marine fisheries and fish biology, and international collaboration and governance for sustainable fisheries and safe sea foods).
An organization like AFS provides that nexus for everyone in the fisheries world, linking to all professional folks in fisheries, government agencies, NGOs [nongovernmental organizations], and academia. Their journals, the presentations at the Annual Meeting, and symposia are all valuable [aspects of the organization]. Right now the NMFS [National Marine Fisheries Service] is in the middle of reauthorizing the Magnuson Stevens Act. It's hard to get everyone involved in fisheries at one single time. A group like AFS can provide that forum for professionals in fisheries to discuss and come together and establish goals of what they could change and refurbish within the act.

– Steve Meyers  NMFS, Domestic Fisheries Division
Major Accomplishments
As approved at its Little Rock retreat and business meeting, the Society conducted much of its business via monthly Management Committee calls (with minutes sent to the Governing Board for discussion, approval, or rejection).
Held an October meeting, the Fisheries Leadership Dialogue, with federal agency leaders and NGOs to discuss ways in which the Society can help them meet their technical and policy needs (one-on-one meetings have continued throughout the year as issues arise).
Held its mid-year meeting colocated with the North Central Division Annual Meeting in Kansas City, with many members participating via GoTo- Meeting (thereby reducing the costs and duration of the meeting; the 2015 mid-year meeting will be colocated with the Southern Division Annual Meeting).
Developed and approved a Society advocacy policy (based on that policy, letters were sent in support of fisheries science in the U.S. Environmental Protection Agency's Bristol Bay Watershed Assessment, the National Research Council's Decadal Survey of Ocean Sciences, and the United Nations' Global Ocean Observing System).

Approved a Special Committee review and report (cochaired by Jesse Trushenski and Tom Bigford) of the U.S. Fish and Wildlife Service's (USFWS) National Fish Hatchery System (NFHS) Strategic Hatchery and Workforce Planning Report.

Approved a new Society Strategic Plan  (chaired by Margaret Murphy and including six major goals: science, education, communication, networking, advocacy, governance, and 15 strategies for attaining those goals).

Approved Guidelines for the Use of Fish in Research  for publication on the Society website (chaired by Jill Jenkins and including chapters on general research considerations, statutory requirements, animal welfare, field and lab activities, marking/tagging, and final disposition).

Approved Guidelines for the Use of Hatcheries in the Management of Aquatic Resources for publication in the North American Journal of Aquaculture  (the committee was chaired by Jesse Trushenski, and the top three priorities identified by a scoping survey are comprehensive fishery management plans, biological and environmental feasibility, and risk–benefit analysis).

Approved a policy for Society officer travel (focused on budgeting costs and detailing allowable expenditures).

Approved funding to the Fisheries Information & Technology Section for upgrading the software for the Fisheries Analysis & Modeling Simulator from Windows XP to Windows 7.

Via a special committee chaired by Ron Essig, published a list of North American colleges and universities with fisheries-related degrees on the Society website and surveyed major employers to determine coursework germane to hiring decisions.

Completed revisions to the draft Society Policy on Mining and Oil & Gas Extraction following member review and comment. Resource policy efforts were led by Jesse Trushenski with technical expertise from the Resource Policy Committee and other AFS units. Work is underway to: finish revising the Policy Statement on Mining and Fossil Fuel Extraction ; complete a draft revision of our Policy on Introductions of Aquatic Species;  initiate a new effort to revise the Policy on Nonpoint Source Pollution;  and initiate a review of our Policy on the Concept of Marine Wilderness.

Signed a memorandum of understanding (MOU) with the Southeast Ecological Science Center of the U.S. Geological Survey (USGS) to maintain a website of imperiled North American aquatic fauna.

Signed an MOU with the Chesapeake Conservancy to organize and implement the National Workshop on Large Landscape Conservation being held 23–24 October 2014 in Washington, D.C. (www.largelandscapenetwork.org/2014-nationalworkshop)

Declared January 2014 to be "Fishery Safety Month," encouraging AFS members to think safely about field research and laboratory science.

Improved communications between Society staff, Officers, and Unit leaders, tasking staff to bring their level of expertise and knowledge to the corresponding committees, in order to ensure that staff is available to make important changes and offer help as needed.
AFS taps into the greatest collection of fisheries scientists I know of. One of my primary responsibilities is to organize sportsmen's advocacy in Washington, D.C., in support of federal funding programs that conserve aquatic habitat and species. AFS is the best source of expertise about many of these programs, especially those at NOAA [National Oceanic and Atmospheric Administration]. This kind of consensus and coalition building that AFS coordinates is what sportsmen must do to protect habitat, species, and our access to sporting opportunities.

– Jimmy Hague, Director, Center for Water Resources Initiative manager for water resources conservation
Partnerships with Other Organizations

In May 2014, AFS attended the Joint Aquatic Sciences Meeting in Portland, Oregon, where leaders from four leading aquatic scientific societies (Society for Freshwater Science, Phycological Society of America, Association for the Sciences of Limnology and Oceanography, and Society of Wetland Scientists) gathered together with representatives from other societies with aquatic interest.
AFS is now an active partner in the Policy Council of the Theodore Roosevelt Conservation Partnership (TRCP; www.trcp.org), a large group of resource professionals spanning our nation's waters, lands, and air. TRCP's Policy Council leads the discussion concerning research and conservation budgets, policy development, and trends across sectors—often with a direct connection to fish. We participated in the council's semiannual meeting in April 2014 and attended the council's annual retreat in June 2014.
AFS employee Beth Beard is working with partners to coordinate the Global Conference on Inland Fisheries at the United Nation's Food and Agriculture Organization in Rome, Italy, on 26–30 January 2015. The event is organized by FAO and Michigan State University under the leadership of AFS Past President Bill Taylor.
AFS has been an active participant in the National Fish Habitat Partnership since its creation in 2001. The past year marked Stan Moberly's (another AFS Past President) retirement as the AFS delegate to the National Fish Habitat Partnership (NFHP) Board. Stan left a lasting impression on NFHP through his contributions and expectations. AFS will remain engaged, with AFS Executive Director Doug Austen and AFS Policy Director Tom Bigford sliding into Stan's seat.
COOPERATIVE EFFORTS WITH FEDERAL AGENCIES
Our long partnership with the U.S. Forest Service's (USFS) fish programs remains strong since they began sponsoring the Hutton Junior Fisheries Biology Program in 2001. The program matches aspiring students with a mentor and a research project. AFS Administrative Director Denise Spencer and Executive Director Doug Austen continue to sponsor the USFS's "Rise to the Future" event that honors achievements by agency employees. The April 2014 ceremony included several awards for career achievements in fish science.
AFS also continues its support of the National Marine Fisheries Service. Based on a long-term cooperative agreement, AFS supports NMFS interests in conveying science and management information via congressional briefings, using our Annual Meeting to address agency priorities and expanding the Hutton Junior Fisheries Biology Program to encourage young enthusiasts to pursue careers related to fish.
AFS Executive Director Doug Austen led an interagency and academic review team for the USFWS's Warm Springs Fisheries Technology Center (www.fws.gov/warmsprings/FishTechno).
Member Services

The Society has integrated the membership tool and the website so that, with one signon, all membership information will now be easier to access.
The Society has tasked AFS Content Director Sarah Fox to implement new strategies to integrate the Units with the Society, by building complementary Unit websites and implementing new content additions on the Society site.
The Society has also implemented a biweekly electronic newsletter that provides a great method for the Society to communicate regularly with all 8,000 AFS members, along with social media interaction on Facebook, Twitter, LinkedIn, etc.
After experiencing a substantial membership growth over nearly four decades and then experiencing a decline in the late 1990s, AFS membership numbers have settled into an unstable level that varies with the size of the Annual Meeting. No single membership category has changed dramatically in recent years, but we've seen a general decline in regular membership but generally slightly larger but fluctuating numbers for Young Professional and Student Members.
AFS initiated a membership campaign targeting lapsed members with 2,500-person mailing sent to past members who have not renewed. This has been followed with targeted e-mails and have resulted in numerous renewals to the society.
The Little Rock Annual Meeting ended up with 1,085 registrants and guests. An astounding 31% were students. The event total income was $484,632 and total expenses of $440,026. This resulted in a meeting revenue of $44,606 that was shared (70:30) between the Arkansas Chapter ($13,381.80) and AFS ($31,224.20). There was also a trade show profit of $54,125 that supports AFS activities.
Policy Highlights

From January 2013 through (and anticipated by) August 2014:
With leadership from Jesse Trushenski (Chair, Resource Policy Committee) and lead author Paul Radomski, AFS adopted its 34th policy in August 2013 to encourage efforts to limit the effects of lead in sport fishing tackle on fish and wildlife. Our intent is to encourage the use of alternative materials so less lead enters the food chain to affect birds and the habitats they share with fish.
Major revision of our existing Policy Statement #13 (approved in 1983, revised in 1988 and again in 1995) on the effects of surface mining on fish and other aquatic resources in North America are nearly finished. President Bob Hughes, a long-time member of the Resource Policy Committee, led the revision effortusing the content to strengthen Society input on a contentious mining proposal in Alaska.
 Policy Director Tom Bigford is working with AFS officers to implement a Policy Fellow program. The intent is to match interested AFS members with specific, short-term opportunities for professional growth.
Position Statements and Related Accomplishments
Past-President John Boreman wrote President Obama in April 2013 to encourage an active response to the effects of climate change on fish. The President responded with a pledge to address scientific gaps and to pursue natural resource management options.
In March 2013, AFS passed a resolution on "Federal Funding for Programs to Prevent, Control, and Manage Aquatic Invasive Species." Thanks to the AFS Resolutions Committee and Dennis K. Riecke, Kristen H. Ferry. Jill M. Hardiman, Robert M. Hughes, Cynthia S. Kolar, Philip Moy, Donna L. Parrish, Gregory D. Pitchford, and Kirk Schroeder.