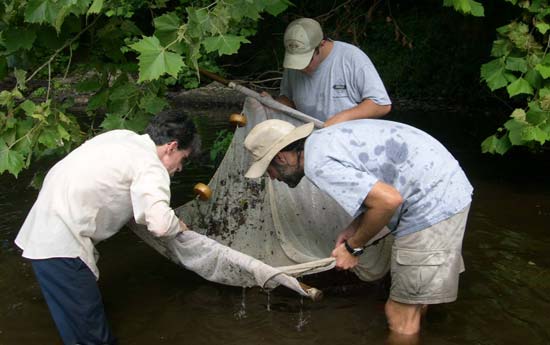 New Frontiers in Fisheries Management and Ecology: Leading the Way in a Changing World
– 2011-2012 ANNUAL REPORT

INTRODUCTION
MISSION
The mission of the AFS is to advance sound science, promote professional development, and disseminate science- based fisheries information for the global protection, conservation, and sustainability of fisheries resources and aquatic eco- systems. The Society adopted a Strategic Plan for 2010–2014 with three overarching goals: (1) Global Fisheries Leadership — AFS will be a global leader providing information and technical resources for the sustainability and conservation of fisheries resources; (2) Education/Continuing Education — AFS will facilitate life-long learning through world-class educational resources at all academic levels and provide training for practicing professionals in all branches of fisheries and aquatic sciences; and (3) Value of Membership — AFS will serve its members and fisheries, aquaculture, and aquatic science constituencies to fulfill the mission of the Society. The members of the AFS are drawn together by a common interest in pursuing this mission and the goals of the Society. Our challenge is how to carry out the mission in an ever-changing world.
GLOBAL FISHERIES LEADERSHIP THEME FOR THE YEAR
The theme for the 2010–2011 year and the 2011 Annual Meeting in Seattle is "New Frontiers in Fisheries Management and Ecology: Leading the Way in a Changing World". The spatial and temporal scales at which we work are advancing beyond individual lakes or stream segments to large watersheds, whole oceans, and world climate with changes measured not just in years or decades but in centuries and millennia. The array of disciplines contributing to understanding and management of fisheries is advancing far beyond the biological sciences to include sociology, economics, geography, climatology, and many other fields. Technological advances are taking place at such a rapid rate that they are defining how science is conducted, information is exchanged, and business is carried out. Concomitant with all of this change, there is increasing diversity in the membership of the Society with people of diverse cultural backgrounds, educations, employment, and nationalities contributing to the mission of the Society. The AFS has the opportunity to lead the way in this changing world by advancing the principles of sound science, promoting professional development, and disseminating science-based information.
ANNUAL MEETING
The Annual Meeting addresses this year's theme in many ways. The Plenary Session kicks off with an invocation by the local Muckleshoot Tribe and welcoming remarks by Dow Constantine, King County Executive. Four prominent professionals will then address various aspects of the theme: Randall Peterman, Professor, School of Resource Management, Simon Fraser University; Billy Frank, Jr., Chairman, Northwest Indian Fisheries Commission; Robert Lackey, Professor of Fisheries
and Adjunct Professor of Political Science, Oregon State University; and Jesse Trushenski, Assistant Professor, Department of Zoology, Southern Illinois University–Carbondale. Each speaker provides insight on how to lead in a changing world. The Plenary Session is followed by the largest and most varied program in the history of the AFS. The program includes an unprecedented 94 symposia. Each day will have 24–29 con- current sessions of symposia and contributed papers focused on diverse critical topics of global, national, and regional inter- est. The oral sessions complement more than 450 posters on a similar array of topics.
WORLD COUNCIL OF FISHERIES SOCIETIES
The AFS continues to be an active member of the World Council of Fisheries Societies and is preparing for the 6th World Fisheries Congress in Edinburgh, Scotland in 2012. The society is organizing a session on natural and anthropogenic catastrophic events, their effects on fisheries and aquatic systems, and the management of such events.
COALITION OF NATURAL RESOURCE SOCIETIES
We continue to work at building up the Coalition of Natural Resource Societies in partnership with The Wildlife Society, the Society of American Foresters, and the Society for Range Management. A strong collaborative effort is occurring with the joint development of a conference addressing an issue of common interest, the education of natural resource professionals. The conference will occur in late September 2011 in Denver.
NATIONAL FISH HABITAT ACTION PLAN
The Society continues to partner with stakeholders and resource management agencies to support and invigorate work to achieve the National Fish Habitat Action Plan. The AFS is represented on the National Fish Habitat Action Plan Board by Past President, Stan Moberly.
POLICY STATEMENTS
Policy statements are the principal instrument used by the AFS in addressing environmental issues. These are statements of principle about resource topics that explain and justify the Society's perspective or attitude in largely philosophical terms. Policy statements are developed through an arduous vetting process guided by the Resource Policy Committee and approved by both a vote of the Governing Board and AFS members. This year the Society approved a policy statement on Climate Change and Fisheries. We are currently working on policy statements involving lead in sport fishing tackle and the need for an immediate-release anesthetic/sedative for use in fisheries, as well as revision of several policy statements previously approved.
Fisheries • vol 36 no 8 • august 2011 • www.fisheries.org 400
---
---
EDUCATION/CONTINUING EDUCATION
Educating New Professionals
We continue the Hutton Junior Fisheries Biology Pro- gram, a summer mentoring program for high school stu- dents, particularly students underrepresented in the fisheries profession. For the second year, a program for Native Peoples undergraduate students has been funded by the U.S. Fish and Wildlife Service and administered by AFS that will enable attendance at our Annual Meeting.
Mentoring Young Professionals
The new mentoring program to encourage leadership within the Society among young professionals continued in its second year. Young professionals who have expressed interest in AFS governance and leadership have been in- vited to participate for one year in Governing Board activities.
Continuing Education
The Society continues to offer an array of continuing education courses in conjunction with its meetings. These courses provide not only educational opportunities for practicing professionals, but also continuing education credit for those seeking renewal of AFS certification as fisheries professionals. A special committee developed strategies for distance education offerings of continuing education this year and the first opportunity for distance learning is offered in conjunction with the 2011 Annual Meeting with the course, Leadership at All Levels in AFS, organized by Dirk Miller.
VALUE OF MEMBERSHIP
Website Development
The Society continues the objective of delivering the best possible information to members via its website. The Electronic Services Advisory Board is conducting a survey and preparing a report to the Governing Board with guidance as to how best to allocate funds to this objective.
Certified Fisheries Professionals
The objectives of the AFS professional certification program are (1) to provide agencies, organizations, courts, and the public with a definitive minimum standard of experience and education for fisheries professionals and; (2) foster broader recognition of fisheries professionals as be- ing well-educated and experienced. Less than 20% of AFS members are certified. We are concerned about the limited participation and the Membership Concerns Committee is conducting surveys of certified and uncertified AFS members to gather information that may be used to improve the program and encourage wider participation.
INTRODUCTION
Fisheries • vol 36 no 8 • august 2011 • www.fisheries.org 401
Virtual Attendance at Meetings
The AFS recognizes than most members are unable to attend Annual Meetings. While nothing can replace physical attendance at meetings, technical advances make it possible for members to engage in virtual attendance. Technology is making it possible for members to see the Plenary Session, Business Meeting, and five important symposia at the 2011 Annual Meeting. These pilot efforts will undoubtedly lead to more expansive coverage of meetings in the future.
MEMBERSHIP
The AFS is the oldest and largest professional society for fisheries professionals. We have a vibrant Society with a stable membership of about 9,000 people. Membership by students and young professionals is increasing, indicating sound recruitment into our ranks and the potential for growth into the future. We are a fiscally sound Society that has weathered the economic recession. There is substantial promise for the future as we continue to pursue the mission of the Society.
Wayne A. Hubert President
Gus Rassam Executive Director
---
---
ANNUAL REPORT- INTRODUCTION
SPECIAL PROJECTS
CLIMATE CHANGE POLICY STATEMENT
Clearly climate warming is not going away, and finally AFS has passed our Climate Change Policy Statement to recognize the effects of climate change on aquatic organisms. The AFS Cli- mate Change Policy Statement is accompanied by a background paper (fisheries.org/afs/docs/policy_33f.pdf) reflecting several years of concerted effort by the Resource Policy Committee. The background paper summarizes projected impacts to major North American ecosystems from the oceans to the mountains, and serves as the basis for a series of recommended actions to benefit fish and fish habitat. Although some might think our policy statement took a long time – AFS began working on this five years ago – its lateness was deliberate. AFS has only passed 33 policy statements in its entire history (all 33 available at: fisheries.org/afs/ policy_statements.html). AFS bases policy statements on science and as many points of view as possible. We have extremely active committees at the level of the parent society, with over 300 volunteers participating. Large and active committees include: Board of Professional Certification, Electronic Services Advisory Board, Continuing Education, External Affairs, Nominating, Publications Awards, Publications Overview, and Resource Policy, just to name a few. Kudos to our Resources Policy Committee that has shepherded this work.
OUR PARTNERSHIP WITH TAYLOR & FRANCIS
Since 1872, AFS has been publishing the best and most complete scientific information on fisheries, fulfilling its primary mission to disseminate scientific information to scientists and professionals around the world. Over the years, the AFS Journal pro- gram has provided a major share of the net revenues of the Society, thus allowing support for non-revenue-generating programs such as public information, policy development, and various scholar- ship and educational opportunities. While volunteers (editors and reviewers) do the essential quality control in our journals through their dedication to peer review, our staff working with an outside vendor prepare the journals for final publication. Through 2010, this vendor/partner, with one exception, was Allen Press. How- ever, as of 2011, AFS began publishing all of its journals through a partnership with Taylor and Francis. The contents of our publications continue to be fully vetted and scrutinized by the same editorial team and structure that AFS has always employed, thus assuring the continuous integrity and highest quality of our journals. Now, our journals are being shown at various North American and international meetings, and there will continue to be enhancements to our legacy database, Fisheries InfoBase, through adding the non-science articles of the earliest issues of the Transactions. We still use Allen Press to print journals, but Taylor and Francis oversees the production, and has taken us into a much higher realm of marketing. Our transition to Taylor & Francis has now been completed with very few bumps in the road, and exceptional new portals for accessing journals and submitting manuscripts. Our journals are doing well, with high numbers of submissions and quality science published. Fisheries has a new, attractive, up-to-date format, with additions such as quotes from historic figures.
BRAVO PITTSBURGH – HELLO SEATTLE!
Kudos to the program committees who set up local arrangements for the AFS 140th Annual Meeting, held in Pittsburgh on September 12–16, 2010. Four days focused on "Merging Deeper Currents" took place at the David L. Lawrence Convention Center – the world's first "green" convention center. Plenary speakers included Ian Cowx (director of the University of Hull International Fisheries Institute), Jane Lubchenco (administrator of the National Oceanic and Atmospheric Administration), Larry Schweiger (president and chief executive officer of the National Wildlife Federation), and Melissa Wuellner (assistant professor and distance education coordinator in the Department of Wildlife and fisheries Science at South Dakota State University). Cowx discussed the need for us to examine our shifting roles in science, regarding environmental and sustainability issues in the management of fisheries. Lucchenco called on attendees to work on real world problems in the area of international fisheries, now that a constant stream of data is available. Schweiger suggested that discernment was needed for the barrage of environmental information and data being offered, but that we needed to focus on getting out of our com- fort level and making the world a better place for our children. Wuellner discussed the difference between new fisheries professionals in comparison to veteran professionals, as well as how to bring new members aboard and retain them. We look for- ward to our next meeting, to be held this September in Seattle, where over 4,000 papers will be presented and a breaking attendance record is expected. (afs2011.org)
WORLD FISHERIES CONGRESS IN 2012
AFS continues to be a leader in the World Council of Fisheries Societies, as it helps prepare for the 6th World Fisheries Congress, to be held May 7–11, 2012 in Edinburgh, Scotland (6thwfc2012.com). The theme of the meeting will be "Sustainable Fisheries in a Changing World," and AFS has taken on the responsibility for two of the major sessions. The World Fisheries Congress 2012 aims to bring together a wide cross- section of scientists, non-governmental organizations, managers, and policy-makers together with those for whom their livelihoods and businesses are directly affected by the global trade and sustainability on fisheries products. This Congress will also focus on how we can provide a broad spectrum of solutions that will achieve future sustainable fisheries. The Local Scientific Steering Committee is proud to announce Professor Sir John Beddington CMG FRS, Professor Ray Hilborn, and Mike Mitchell to be Keynote Speakers' at the 6th World Fisheries Congress.
THE JAPANESE TSUNAMI
AFS responded to the tsunami disaster in Japan with financial assistance to students, and, in return, received a letter of thanks from the Imperial Palace in Tokyo, published in the April edition of Fisheries (www.fisheries.org/afs/publications. html).
Fisheries • vol 36 no 8 • august 2011 • www.fisheries.org 402
---
---
PUBLICATIONS
AFS WEB SITE: WWW.FISHERIES.ORG
Visit www.fisheries.org for the latest on fisheries science and the profession. Subscribe to the free Contents Alert e-mail service or search for your colleagues by using the membership directory online.
The Fisheries InfoBase now includes all AFS journals back to 1870, including the complete contents of all issues of Fisheries.
AFS MAGAZINE: FISHERIES
The AFS membership journal, Fisheries, offers up-to-date information on fisheries science, management, and research, as well as AFS and professional activities. Fea- turing peer-reviewed scientific articles, analysis of national and international policy, chapter news, job listings, interviews with prominent professionals (as well as new members), archived content dating back to the beginning of AFS, and more. Fisheries gives AFS members the professional edge in their careers as researchers, regulators, and managers of local, national, and world fisheries. Fisheries is available to members online at www.fisheries.org.
AFS JOURNALS
• TRANSACTIONS OF THE AMERICAN FISHERIES SOCIETY, bimonthly, Volume 140
• NORTH AMERICAN JOURNAL OF AQUACULTURE, quarterly, Volume 73
• NORTH AMERICAN JOURNAL OF FISHERIES MANAGEMENT, bimonthly, Volume 31
• JOURNAL OF AQUATIC ANIMAL HEALTH, quarterly, Volume 23 (Journals are also available to subscribing members online at http://afsjournals.org)
• MARINE AND COASTAL FISHERIES JOURNAL Marine and Coastal Fisheries: Dynamics, Management, and Ecosystem Science, is an international venue for studies of marine, coastal, and estuarine fisheries. Edited by a distinguished and international panel of scientists headed by Dr. Donald Noakes (Thompson Rivers University, British Columbia, Canada), this journal promotes the wide dissemination of scientific research through its open access, online format. The journal encourages contributors to identify and address challenges in population dynamics, assessment techniques and management approaches, fish and shellfish bi- ology, human dimensions and socioeconomics, and ecosystem metrics to improve fisheries science in general and make informed predictions and decisions. The jour- nal is now accepting submissions. For more information, please visit www.fisheries. org/mcf or contact the Editor-in-Chief, Dr. Donald Noakes, ([email protected]).
RECENT AND UPCOMING TITLES AFS Books
• Invasive Asian Carps in North America
• Sustainable Fisheries: Multi-Level Approaches to a Global Problem
• Inland Fisheries Management in North America, Third Edition
• Case Studies in Fisheries Conservation and Management: Applied Critical Thinking and Problem Solving
• Suggested Procedures for the Detection and Identification of Certain Finfish and Shellfish Pathogens (Blue Book, 2010 Edition)
• Community Ecology of Stream Fishes: Concepts, Approaches, and Techniques
• Planning and Standard Operating Procedures for the Use of Rotenone in Fish Management
• Pacific Salmon: Ecology and Management of Western Alaska's Populations
• Standard Methods for Sampling North American Freshwater Fishes
• Challenges for Diadromous Fishes in a Dynamic Global Environment
Fisheries • vol 36 no 8 • august 2011 • www.fisheries.org 403
---
---
ANNUAL REPORT- INTRODUCTION
AWARDS
SOCIETY AWARDS
AWARD OF EXCELLENCE Roy Stein, Ohio State University
PRESIDENT'S FISHERY CONSERVATION AWARD Non-Member Category- Eglin Air Force Base, Natural Resources Section
WILLIAM E. RICKER RESOURCE CONSERVATION AWARD William Walter Fox, Jr., World Wildlife Fund
CARL R. SULLIVAN FISHERY CONSERVATION AWARD Charlton Bonham, Trout Unlimited and Richard Roos-Collins, Natural Heritage Institute
MERITORIOUS SERVICE AWARD Fred Harris, retired, North Carolina Wildlife Resources Commission
THE EMMELINE MOORE PRIZE Christine M. Moffitt, University of Idaho
EXCELLENCE IN PUBLIC OUTREACH AWARD Not awarded this year.
DISTINGUISHED SERVICE AWARD Gwen White Charlie Moseley
OUTSTANDING CHAPTER AWARD. Large: Washington-British Columbia Chapter Small: Indiana Chapter
OUTSTANDING STUDENT SUBUNIT AWARD Lake Superior State University Student Subunit
EXCELLENCE IN FISHERIES EDUCATION Thomas P. Quinn, University of Washington
GOLDEN MEMBERSHIP AWARDS: THE CLASS OF 1961 Recognizes individuals who have been AFS members for fifty years.
Henry Booke, Gerald Bouck, William Dieffenbach, Neal Foster, William Gould, Bobby Grinstead, Joe Herring, Donald Hoss, James Kempinger, James McCleave, Joseph Nelson, Roland Reagan, William Shelton, Clair Stalnaker, Arden Trandahl, Graden West
SKINNER AWARD The John E. Skinner Memorial Fund was established to provide monetary travel awards for deserving graduate students or exceptional undergraduate students to attend the AFS Annual Meeting.
Recipients: Elissa Buttermore, North Carolina State University Michael Colvin, Iowa State University Devin DeMario, Penn State University Michael Gatlin, Oklahoma State University Zachary Penney, University of Idaho Joshua Perkin, Kansas State University Joshua Raabe, North Carolina State University Kenneth Riley, East Carolina University Patrick Shirey, University of Notre Dame Kelly Stockton, University of Idaho
Honorable Mention: Corey DeBoom, University of Illinois David Janetski, University of Notre Dame Bonnie Mulligan, Southern Illinois University Catherine Murphy, Louisiana State University Stephanie Shaw, South Dakota State University
J. FRANCES ALLEN SCHOLARSHIP Winner: Marie-Ange Gravel, Carleton University Runner-up: Neala W. Kendall, University Of Washington
STEVEN BERKELEY MARINE CONSERVATION FELLOWSHIP Winner: Kristina Cammen Honorable Mentions: Justin Perrault and Hollie Putnam
STUDENT WRITING CONTEST Winner: Erin Loury, Moss Landing Marine Labs "Fishing with a Mission: Collaborating to Monitor California's Marine Protected Areas"
1st Runner-up: Daniel James, South Dakota State University "Rock Snot and Boulder Boogers"
2nd Runner-up: D.J. Dembkowski, Mississippi State University "Fish Species Richness in Oxbow Lakes"
2009 BEST PAPER AWARDS Mercer Patriarche Award for the Best Paper in the North American Journal of Fisheries Management Danielle Ameen Reich and Joseph Thomas DeAlteris A Simulation Study of the Effects of Spatially Complex Population Structure for Gulf of Main Atlantic Cod North American Journal of Fisheries Management 29: 116-126.
Robert L. Kendall Best Paper in Transactions of the American Fisheries Society William H. Satterthwaite , Michael P. Beakes, Erin M. Collins, David R. Swank, Joseph E. Merz, Robert G. Titus, Susan M. Sogard and Marc Mangel Steelhead Life History on California's Central Coast: Insights from a State-Dependent Model Transactions of the American Fisheries Society 138:532-548
Best Paper in the Journal of Aquatic Animal Health Banu Elibol-Flemming, Geoffrey C. Waldbieser, William R. Wolters, Carolyn R. Boyle, and Larry A. Hanson Expression Analysis of Selected Immune-Relevant Genes in Channel Catfish during Edwardsiella ictaluri Infection Journal of Aquatic Animal Health 2009; 21:23-25
Best Paper in the North American Journal of Aquaculture Randy W. Penney, M. Jeanne Hart, P. Lynn Lush, and Christopher C. Parrish Effect of Photoperiod Advancement of Atlantic Cod Spawning on Egg Size and Biochemistry North American Journal of Aquaculture 2009; 71: 107-115. SECTION AWARDS
EQUAL OPPORTUNITIES SECTION Mentor Award: Kelley D. Smith
EDUCATION SECTION AFS Best Student Poster Award at 2009 Annual Meeting, Nashville, Tennessee Justin VanDeHey
Fisheries • vol 36 no 8 • august 2011 • www.fisheries.org 404
---
---
AWARDS and AFS OFFICERS
Honorable Mentions: Christian Imholt; Clint Lloyd
AFS/SEA Grant Best Student Paper at 2009 Annual Meeting, Nashville, Tennessee Stacy Beharry Honorable Mentions: Ryan Utz; Duncan Elkins
ESTUARIES SECTION Student Travel Award: Alicia Landi, University of Connecticut Ken Riley, East Carolina University Amy Then, College of William and Mary Nancy Foster Habitat Conservation Award: Charles Rabeni
FISHERIES INFORMATION AND TECHNOLOGY SECTION Best Student Poster Award at 2010 Annual Meeting, Pittsburgh, Pennsylvania Winner: Alicia Landi, "Estimation of wave energy using fetch and wind data at horseshoe crab spawning beaches along the Connecticut coast."
FISHERIES MANAGEMENT SECTION Conservation Achievement award: Wildlife Forever Award of Excellence: Michael Allen, Ken Bovee and Randy Schultz Hall of Excellence: Fred Harris Distinguished Service award: Fred Janssen
GENETICS SECTION James E. Wright Award: Matthew Krampe and Michael Sovic Stevan Phelps Memorial Award: Kenneth P. Currens, Carl B. Schreck, and Hiran W. Li
MARINE FISHERIES SECTION Steven Berkeley Marine Conservation Fellowship: Kristina Cammen Honorable Mention: Justin Perrault and Hollie Putnam Oscar E. Sette award: Michael H. Prager
INTERNATIONAL FISHERIES SECTION 2010 Carl L. Sullivan Endowment Fund Travel Grant: Jade Sainz-Garduno (Marine Science and Limnology Institute, National Autonomous University of Mexico City (UNAM), Mexico Carla Ibanez Luna from the University Mayor de San Andres in the Limnology Department, Cota Cota, Peru Paulo dos Santos Pompeu, Fish Ecology Lab, Universidade Federal de
Lavras, Brazil Carlos Bernardo Mascarehas Alves, Universidad Federal de Minas
Gerais, Belo Horizonte, Brazil American Fisheries / Fisheries Society of the British Isles Membership Exchange Travel Award:
Ana Lewis (University of Southampton National Oceanography Centre, Southampton, UK) Marybeth Brey (North Carolina State University, Department of Zoology, North Carolina, US)
PHYSIOLOGY SECTION Award of Excellence: Steve F. Perry, University of Ottawa 9th International Congress on the Biology of Fish, 5-9 July 2010; Best student oral presentation:
Erika Eliason 2nd: Tammy Rodela; 3rd: Christina Sørensen Best student poster: Yusuke Ito 2nd: Carlos F. C. Lanes; 3rd: Eduardo Fuentes Jofré
AFS OFFICERS
Wayne Hubert, President Bill Fisher, President Elect John Boreman, First Vice President Robert M. Hughes, Second Vice President Don Jackson, Past President
DIVISION REPRESENTATIVES
NORTHEASTERN DIVISION John Arway, President Philip Downy, President-elect
NORTH CENTRAL DIVISION Randy Schultz, President Gwen M. White, President-Elect
SOUTHERN DIVISION Steve Lochmann, President Brian R. Murphy, President-Elect
WESTERN DIVISION Lori M. Martin, President Dave Ward, President-Elect SECTION PRESIDENTS
Bioengineering Section: Ted Castro – Santos Canadian Aquatic Resources Section: Gavin Christie Early Life History Section: Sue Sogard Education Section: Steve Chipps Equal Opportunities Section: Robin DeBruyne Estuaries Section: Fred Genthner Fish Culture Section: Jessie Trushenski Fish Habitat Section: Joseph Margraf Fish Health Section: Diane G. Elliott Fisheries Administration Section: Robert Curry Fisheries History Section: Randi Sue Smith Fisheries Information and Technology Section:
Jeff Kopaska Fisheries Law Section: Vacant Fisheries Management Section: Dirk Miller Genetics Section: William Templin International Fisheries Section: Felipe Amezcua Introduced Fish Section: Jeff Hill Marine Fisheries Section: Kenneth L . Beal Native Peoples Fisheries Section: Vacant Physiology Section: Mark Hartl Socioeconomics Section: Troy W. Hartley Water Quality Section: Erich B. Emery Student Subsection of Education Section:
Jesse Fischer NON-VOTING MEMBERS
Ira Adelman, Constitutional Consultant Jesse Fischer, Student Subsection of Education
Section Gus Rassam, Executive Director
Fisheries • vol 36 no 8 • august 2011 • www.fisheries.org 405
---
---
CONTRIBUTING MEMBERS
ASSOCIATE MEMBERS Northwest Marine Technology, Inc.
OFFICIAL MEMBERS Alabama Department of Conservation Alaska Department of Fish and Game Arizona Game and Fish Department Arkansas Game and Fish Commission Atlantic States Marine Fisheries Commission Bureau of Land Management Colorado Division of Wildlife Connecticut Department of Environmental Protection Delaware Division of Fish and Wildlife Department of Marine Resources Florida Fish and Wildlife Conservation Commission Georgia Department of Natural Resources, Wildlife Resources Division Grand River Dam Authority Great Lakes Fishery Commission Hawaii Department of Land and Natural Resources Idaho Fish and Game Department Illinois Department of Natural Resources Indiana Department of Natural Resources, Division FWS Iowa Department of Natural Resources Kansas Department of Wildlife and Parks Kentucky Department of Fish and Wildlife Resources Louisiana Department of Wildlife and Fisheries Maine Department of Inland Fish and Wildlife Maryland Department of Natural Resources Fisheries Massachusetts Division of Marine Fisheries Michigan Department of Natural Resources Minnesota Department of Natural Resources Mississippi Department of Marine Resources Mississippi Department of Wildlife, Fish and Parks Missouri Department of Conservation Montana Department of Fish, Wildlife and Parks Nebraska Game and Parks Commission New Jersey Department of Environmental Protection New Mexico Game and Fish, Department of Fish Management North Carolina Wildlife Resources Commission Ohio Department of Natural Resources Oregon Department of Fish and Wildlife Pennsylvania Fish and Boat Commission Rhode Island Division of Fish and Wildlife South Dakota Game, Fish and Parks Tennessee Valley Authority Tennessee Wildlife Resource Agency Texas Parks and Wildlife Department U.S. Department of Agriculture, Forest Service U.S. Department of Agriculture, Animal and Plant Health Inspection Service U.S. Fish and Wildlife Service Utah Department of Natural Resources, Division of Wildlife Resources Vermont Department of Fish and Wildlife Virginia Department of Game and Inland Fish Washington Department of Fish and Wildlife West Virginia Department of Natural Resources Wisconsin Department of Natural Resources Wyoming Game and Fish Department
SUSTAINING MEMBERS Abernathy Fish Technology Center Advanced Technical Aquatic Control LLC Advanced Telemetry Systems Inc. AIS Inc. Alaskan Observers Inc. Alpha Mach Inc. Amirix Systems, Inc (VEMCO) Arizona Cooperative Fish and Wildlife Research Unit Armstrong-KETA Inc
BioSonics Colorado State University Columbia River Inter-Tribal Fish Commission Confederated Tribes of the Umatilla Indian Reservation Confederated Tribes of Warm Springs Reservation Consolidated Safety Services, Inc. Douglas Island Pink and Chum FISHBIO Fishways Global, LLC Floy Tag and Manufacturing Co. Forestry Suppliers Inc. Gomez and Sullivan Engineers PC Gulf of Maine Research Institute Hallprint Pty Ltd. Halltech Aquatic Research Inc. HDR Engineering Inc. Hubbs-SeaWorld Research Institute Hydroacoustic Technology, Inc. IAP World Services Illinois Natural History Survey Intake Screens, Inc. Karuk Tribe of California Kodiak Regional Aquaculture Assoc. Kootenai Tribe of Idaho Little Traverse Bay Bands of Odawa Indians LOLIGO SYSTEMS Marel Miller Net Company, Inc. Mississippi Alabama Sea Grant Mora Fish Technology Center New England Fishery Management Council NOAA, National Marine Fisheries Service Normandeau Associates Inc. Northeast Consortium Northern Southeast Regional Aquaculture Association Ocean Associates, Inc. Ohio State University Ohio State University, Aquatic Ecology Lab Ohio State University, Hatfield Marine Science Center Okanagan Nation Alliance Oregon RFID Oregon State University Ottertail Pacific States Marine Fish Commission Pentec Environmental Prentiss Incorporated Prince William Sound Aquaculture Corporation Pyramid Lake Fisheries SAIC SCA Seattle City Lights Shoshone-Paikte Triebes Smith-Root, Inc SP Cramer and Associates Squaxin Island Tribe Sure-Life Laboratories Inc. Trinity River Restoration Program Trout Unlimited United Phosphorus Inc. University of Alaska Fairbanks, Fisheries Division University of Arkansas at Pine Bluff University of Maryland Upper Columbia Salmon Recovery Board U.S. Fish and Wildlife Service Virginia Polytechnic Institute Versar Incorporated West Virginia University Wildlife International Ltd. Yakama Indian Nation Yurok Tribal Fisheries Program
Fisheries • vol 36 no 8 • august 2011 • www.fisheries.org 406
---
---
PRESIDENT'S CIRCLE $50,000 – $150,000
INDIVIDUALS Susan Sogard
ORGANIZATIONS NOAA Fisheries US Forest Service U.S. Fish and Wildlife Service
MAJOR BENEFACTORS $25,000 – $49,999
ORGANIZATIONS United States Geological Survey
BENEFACTORS $10,000– $24,999
INDIVIDUALS Judy and David Berkeley
ORGANIZATIONS Bureau of Land Management Colcom Richard King Mellon Foundation RRI Energy (NIFA)/USDA
PATRONS $2,000 – $9,999
INDIVIDUALS Bern and Ronnette Megrey J.F. and Lochie Allen Yetta K. Berkeley
ORGANIZATIONS HDR U.S. Fish and Wildlife Service – GA U.S. Fish and Wildlife
Service, NE Region U.S. Fish and Wildlife Service, Fisheries Program SE Region U.S. Fish and Wildlife
Service, SW Region Wisconsin Department of
Natural Resources
CONTRIBUTORS $1,000-$1,999
INDIVIDUALS Charles C. Coutant Carolyn Griswold William W. Taylor Jack and Rose Ullman
ORGANIZATIONS AFS Northeastern Division Foundation for Pennsylvania
Watersheds Great Lakes Fishery
Commission Natural Resources Conserva-
tion Service U.S. Forest Service, Eatsern
Regional Office USGS/PA Water Science
Center Western Pennsylvania Watershed Program/ Community Foundation for the Alleghenies
SUPPORTERS $500–$999
INDIVIDUALS Richard W. Gregory Stanley A. Moberly Charles G. Scalet
ORGANIZATIONS AFS Minnesota Chapter AFS Tennessee Chapter AFS Washington-British
Columbia Chapter American Water Dick's Sporting Goods Pennsylvania American
Water Company Orsanco Western Pennsylvania
Conservancy NWFSC/NOAA
SPONSORS $100–$499
INDIVIDUALS Donny E.C. Adams Ira Adelman Reeve M Bailey Maegon Barlow Kenneth L. Beal Elaine M. Caldarone David Coughlan Randy C. Crews Sean A. Croke Ronald Eisler Mary C. Fabrizio William Fisher John L. Forney Lee A. Gardner Joshua Gasek Paul Glander Jay T. Hallum Fred A Harris Michael Hayes Edward Houde Robert Hueter John Jolley
Fisheries • vol 36 no 8 • august 2011 • www.fisheries.org 407
DONORS
Barbara A. Knuth
Erick Groot Steven Lanning
Sergio A. Guzman-Del-Proo Stephen Lynn Christine M. Moffitt Robert Muller Jennifer L. Nielsen Brenda Norcross Robert O'Gorman Ronald Preston Ghassan Rassam Scott J. Reger Brian Riddell Richard L. Ridenhour Norma Sands Robin Schrock Keith D. Schulz Kelley D. Smith Matthew Sublett Justin Thomas
Michel Haye Robert and Diane Heaven- rich Gene Helfman Donald J. Herrig Robert Hillman Kevin D. Hopkins Howard F. Horton Doug Howell Ambrose Jearld Laura Jodice Christine Kondzela David Koscienski Andrew Labay Tyrone R. Larson R.M. Laurs Robert N. Lea Bruce Leaman Travis Turuner
Karin E. Limburg Michael S. Tyson
Harold W. Lorz
ORGANIZATIONS
John Majnarich Eugene Mancini Allen Press Inc Ann Arbor Train and Trolley
Watchers Fidelity Charitable Gift Fund Lake Superior State Univer-
sity Fish and Wildlife Club AFS Fisheries Administra-
tion Section AFS North Carolina Chapter AFS Southern Division
Steven A. Mathews Robert Meyer Yolanda Morbey Raymond Morgan Brenda Norcross Dan B. Odenweller Mark Oliver Wayne Palsson Jonathan Phinney Michael Pol Dianne Ramage FRIENDS $25–$99
C.T. Rance Allison Reak Basil Redmond Lisa E. Roberts INDIVIDUALS Douglas P. Anderson Shaun Barclay Stephen Bennett Phillip Bettoli Thomas Bigford Linda Bireley Jim H. Branson Chris Briggs David Buzan Robert F. Carline Joseph J. Cech,Jr James P. Clugston William Clynes Patrick D. Coffin Laurence Connor Coleman Decker Lance N. Dover Michael Duval Ronald J. Essig Matthew Fairchild Kurt Fausch Carlos Fetterolf John Field
Thomas E. Ruehle Kelly M. Russell Gary T. Sakagawa Robert M. Samuels Mark Scheuerell Susan C. Schlosse Steven Shapiro Kristy Shewbridge Mark Sobchuk Edward Spurr John Stein Andi Stephens Mattheau Sutherland Ramona Swenson Shawn Swganey Joyce A. Todd William Tonn James Triplett Amy Unthank Fred Utter Carl C. Weber Thomas E. Wissing David M. Wyanski Terutoyo Yoshida Brandon Fishwer Vincent Gallucci Jeanette Gann
ORGANIZATIONS America's Charities Karen Garrison
United Way of CA Capital Judith Gordon
Region Philip Grayeske
---
---
FINANCIALS
American Fisheries Society 2010 Financials (Unaudited)
Fisheries • vol 36 no 8 • august 2011 • www.fisheries.org 408
REVENUE
Description Amount %
Publications 1,659,000 53.46
Advertising 141,000 4.54
Contributions 29,000 0.93
Membership Dues 521,000 16.79
Annual Meeting & Trade Show 633,000 20.40
Other 120,000 3.87
TOTAL 3,103,000 100
EXPENSES
Description Amount %
Publications 1,480,000 49.65
Membership Services 370,000 12.41
Administration & Fund Raising 320,000 10.73
Annual Meeting & Trade Show 524,000 17.58
Other 287,000 9.63
TOTAL 2,981,000 100
CHANGE IN NET ASSETS 122,000
Net assets at the beginning of the year
3,764,378
Net assets at the end of the year
3,866,378
ASSETS
Cash 2,652,685
Investments 141,137
Accounts Receivable 2,084,589
Prepaid Expenses 10,985
Property and Equipment 550,703
Inventory 294,687
TOTAL 5,734,786
LIABILITIES
Accounts Payable 473,139
Deferred Revenue 1,375,269
New Assets 3,886,378
TOTAL 5,734,786