Peter Turcik | Fisheries Managing Editor. Email: [email protected]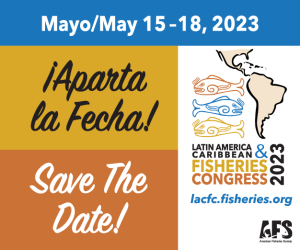 Fisheries professionals from Central America, South America, and the Caribbean will gather in Cancun, Mexico on May 15–18, 2023 for the inaugural Latin American and Caribbean Fisheries Congress (LACFC). The event aims to demonstrate the incredible volume of high-quality fish science being conducted throughout the Caribbean and Latin America. This science will be front and center.
According to members of the congress's planning committee, this is the first conference of this scale devoted entirely to Latin American and Caribbean fisheries. The concept for the LACFC began with a bid for the 2024 World Fisheries Congress to be held in Cancun. Though the Congress will be held in Seattle, the process showed the potential of garnering a large group to showcase fisheries science in Latin America and the Caribbean. Many in the planning committee are members of the American Fisheries Society, and AFS staff has become involved in planning the event. During the 2020 AFS Virtual Annual Meeting, the organizers were able to present a smaller scale version of the event with a day focusing solely on Latin American and Caribbean fisheries, with many in the planning committee presenting.
"From the small island streams of the Caribbean to the incredibly powerful rivers of Central and South America, these regions contain some of the most beautiful fish in world with some of the most fascinating life histories," said Patrick Cooney, Past President of the AFS International Fisheries Section. "The fish scientists in these regions face a multitude of challenges, yet succeed in incredible ways in protecting, conserving, and managing these fish for the benefits of food sustainability, biodiversity, and aquatic habitat quality. This congress will showcase that incredible science for the benefit of communication, collaboration, and inspiration."
For some, the idea for a similar event has been in the works for much longer. According to Felipe Amezcua Martinez, a planning committee member and founding President of the AFS Mexico Chapter, AFS members discussed a basic concept at a meeting in Alaska in 1999.
"So, you could say this an idea that has been 20 years in the making," Amezcua said. "It started with Eric Knudsen. He started this idea with other people like Bob Hughes, who was AFS President at the time. The people from the Western Division have been very interesting in trying to develop this. Finally, after all these years!"
American Fisheries Society Executive Director Doug Austen has worked with the planning committee since the decision to change the focus of the event to give Latin American and Caribbean fisheries exclusive attention, calling the planners an exceptional group of people following their goal to make the LACFC an opportunity to enhance the fisheries profession and create a community across the region.
"This fits perfectly into AFS's philosophy of developing professionals. AFS has not given the attention that it needs to give to potential and existing members in Mexico, Central America, South America, and the Caribbean. This is an opportunity for the American Fisheries Society to reflect the America part of the name."
Austen added that people from these regions consider then entire hemisphere to be America, not just North America, i.e., the United States, Canada, and Mexico.
"We want people to feel a sense of community," Austen said. "We want them to know that there are other people, professionals, who are struggling with the same challenges and dealing with the same issues and by reaching out to them, we will be able to come up with better solutions."
Miguel Garcia-Bermudez, AFS Second Vice President and a committee member explained that it is not new for AFS to have fisheries professional from Latin American and Caribbean countries participating in events and AFS is a very important of their work. However, Garcia-Bermudez said what is different now is that AFS is taking a more active role to reach out to countries previously that did not receive a great deal of attention.
"We are looking to expand those connections further south. We have pelagic species that travel along both continents. With global warming, we are finding more tropical species in South Carolina and further north. We might not like it, but it is happening anyway. We have a lionfish invasion in Florida. Those connections are there. There are people from where those invasive species are native and doing work with them, so they know something that we don't know. Those interactions have happened, but more in a reactive case-by-case way. We as a society could provide that stable, consistent forum to facilitate, to encourage, and to support those interactions."
Garcia-Bermudez is the founding President of the AFS Puerto Rico Chapter, and has seen and taken the necessary steps to establish formal organizations that can be active and successful in the fisheries community. He said that though his Chapter is small, around 30–32 members, they are active in their collaborative work. Garcia-Bermudez admitted that AFS cannot necessarily act as a top–down decisionmaker for fisheries professionals, telling them how exactly to approach fisheries science. However, he said that the history, evolution, and success of AFS can serve as a model for other organizations.
"You have to see how much the American Fisheries Society has changed over 150 years. From being an all-white male society and seeing how much that has changed just in the last 10–15 years. Having me as the Second Vice President, and a Black President-Elect, and more women as officers—all of that is something that is happening and we need to be in the same boats with other people and see where we go from there. In the Congress, we want people to participate, not only as listeners, but we need them to become leaders in the fisheries field."
"We also want people to recognize that AFS could be a vehicle for organizing fisheries community," Austen said. "A number of the partners, particularly Mexico, Puerto Rico, the Virgin Islands, and others wanted to help people recognize that AFS is a potential organization that will embrace them in a way that will allow them to meet their needs in the long term. I would hope that we could help them build their own capacity."
Organizers for the LACFC have the shared goal of convening fisheries professionals to share science, and also have individual hopes for the congress and beyond. Garcia-Bermudez wants the congress to become an annual event where fisheries professionals interact face-to-face or virtually for the benefit of the discipline. Moreover, he hopes that this and future events will help bridge the language gap between English-speaking countries and countries where Spanish or Portuguese is the primary language.
"I have been in many meetings and I have found people speak English at different levels. They feel intimidated by interacting with other societies that only speak English," Garcia-Bermudez said. "We can help, because we have a multi-diverse society where people are different. Having those opportunities for people—maybe scientists that never learned English in their life, but they have so much to contribute. We could be that forum to be welcoming and discuss stuff that they weren't able to before, because it was an English only society."
John Galvez is a committee member and a project leader for the U.S. Fish and Wildlife Service. He was born in Lincoln Nebraska, but grew up in Columbia, where he still has family and many friends. Whenever he has the opportunity, Galvez said he travels to Colombia and other countries to share his knowledge and expertise with colleagues from the area, and gain knowledge about their problems and solutions. He hopes the LACFC will be a gateway for fisheries professionals from South America to become involved in the conversation and participate in organizing future events.
"I hope we could get a South American representative in the organizing committee. We have representatives from Mexico, Costa Rica, and Puerto Rico, so there is a need to recruit one from South America. Even though we have an International Section, it is ideal to have representation from all the countries in Latin America and the Caribbean, as we all share the same resources and live in the same planet," Galvez said.
Amezcua talked about forming a journal with a geographic focus on fisheries science in Latin America and the Caribbean. He believes participants in the LACFC see the event as a way to improve how they approach fisheries science and get assistance in order to start publishing, noting that the best way to start is through access to workshops and courses in fisheries science.
"I think that would increase the participation of students and researchers and in the end, this would mean more meetings and possible publications. The AFS offers a lot of services to their members and not a lot of people are aware of that."
Looking even farther into the future, Amezcua would ultimately like to see the formation of an AFS Division in Latin America and the Caribbean, saying, "In many of these countries there is no organization like AFS; they don't have any sort of societies for fisheries. However, in many of these countries, there is strong exploitation of fisheries resources. So, I am excited that we can gather a lot of people and form a chapter or division and this can continue."
While much is yet to be determined from the outcome of the LACFC, Austen is excited that AFS and the rest of the planning committee is poised to put on an event that gives fisheries professionals in Latin America and the Caribbean the opportunity to interact and learn on a level that might not have been previously available.
"We want to provide a training opportunity. We wanted this event to be a professional development opportunity, not just presentations, but to create training activities that will give people the chance to become better skilled at something like technology or methods or analytical approaches, whatever it might be."
For more information on the Latin American and Caribbean Fisheries Congress, visit lacfc.fisheries.org