What is the Recovering America's Wildlife Act?
In March 2023, Senators Heinrich (D-NM) and Tillis (R-NC) reintroduced the Recovering America's Wildlife Act in the U.S. Senate, a major step forward in securing $1.4 billion annually for state and tribal fish and wildlife agencies to undertake significant, proactive conservation of imperiled species.
The Growing Crisis
Despite the remarkable diversity of fish and wildlife in the U.S., populations of many species are in decline. Freshwater animals have been particularly hard hit and approximately 40 percent of the nation's freshwater fish species are now rare or imperiled. Similarly, an astonishing three-quarters of the nation's freshwater mussel species are imperiled or vulnerable. Without concerted attention, our growing wildlife crisis will almost certainly lead to many more species qualifying for protection under federal and state endangered species laws.
How would it work?
Investing in conservation makes a difference. State and federal wildlife agencies have been battling the decline of fish and wildlife for decades, but evolving threats and insufficient funds have limited the ability of these agencies to adequately address the crisis.
State Wildlife Action Plans (SWAPs) assess the health of fish and wildlife within each state and outline the conservation actions necessary to prevent them from becoming listed under the Endangered Species Act. Collectively, these plans have identified nearly 12,000 species nationwide that are in need of conservation attention and action. Currently, funding only covers a fraction of the need. As a result, states are forced to focus only on just a very few species, with many more at-risk and heading towards becoming endangered.
This bill would provide the funding needed to implement three-quarters of every state's action plan. Conservation efforts could include reintroduction of imperiled species, conserving and restoring important habitat, fighting invasive species and disease, and more.  This would significantly reduce the number of species in decline and would ultimately prevent these species from needing protections afforded under the Endangered Species Act.
How will it benefit the fisheries profession?
This bill brings with it more employment opportunities for aquatic resource professionals in state agencies and in the private sector. Fisheries biologists and other resource professionals will be able to address the serious peril that aquatic species face in light of habitat degradation, water quality impairment, rising temperatures and reduced water availability, and other existential threats. Due to the increased and dedicated funding, state agencies will be to hire more fisheries professionals who will be better able to enact long-term, science-based programs to protect and restore our nation's imperiled aquatic resources. Click here to see an estimate of how much your state would receive.
Support passage of the bill
Recovering and conserving America's fish and wildlife will be no easy task.  Halting and reversing the current trend will require investment in widespread on the ground efforts by state and federal agencies along with local and private partners.  Now is the time to build on the successes of the past!
AFS is teaming up with the National Wildlife Federation, The Wildlife Society, and the Association of Fish and Wildlife Agencies, and others in support of the bill. We need the help of our members!
Sign a letter of support from your chapter in support of the bill.
Call your member of Congress today and ask them to co-sponsor the bill! Here's the current list of co-sponsors and a call script with the important messages and details.
Use social media to raise awareness using the hashtag #RecoverWildlife.
Email Drue Winters to get involved.
---
Latest News about the Act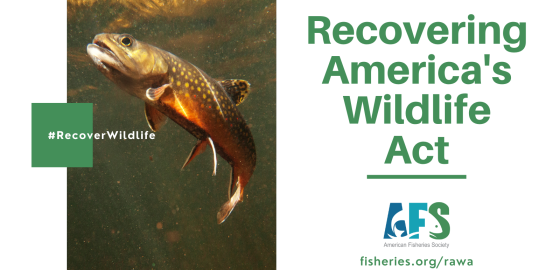 April 17, 2023 The Honorable Chuck Schumer Majority Leader United States Senate The Honorable Mitch McConnell Minority Leader United States Senate Dear Majority Leader Schumer and Minority Leader McConnell, Our coalition of diverse organizations, businesses, professional societies, state fish and wildlife agencies, and tribal nations collectively represent millions of Americans. We are writing to express […]