Continuing Education (CE) is an important and growing member benefit provided by the American Fisheries Society, which fulfills the Society's mission to help fisheries scientists develop professionally and learn continually.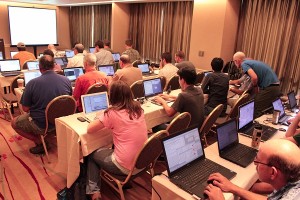 Continuing Education – 2023 Annual Meeting
Continuing Education courses are half-, full-, and two-day courses on specific fisheries science/management and career development topics.
Join AFS for a continuing education course at the 2023 Annual Meeting in Grand Rapids. We will also be offering two virtual courses, which are open to everyone!
Upcoming Courses
2024 Planning & Executing Successful Rotenone & Antimycin Projects
Spring 2024 Rotenone course
May 20-24, 2024
Utah State University
Logan, Utah
Contact AFS at [email protected] for additional information.
Webinars
The AFS webinar series was started in November 2017; webinars cover a variety of subjects including career resources, policy, and diversity topics.
Webinars are currently free for active (national) AFS members and $25 for non-members.
Any and all AFS members are welcome to suggest a topic and/or host a session!
Upcoming Webinars
Past Webinars
The Future of Fish & Flows: Solutions for Balancing Energy and Ecosystem Needs
Thursday, October 13, 2022
Seeking Input: Information & Issues to Include in the Oceans & Marine Resources Chapter of the 5th US National Climate Assessment
Tuesday, February 1, 2022
Native Fish Restoration in Lakes
Wednesday, January 12, 2022
Climate Change and the Columbia River Tribes
Tuesday, October 19, 2021
Coloring in the Lines: Mapping surface water presence in a rapidly changing climate
Wednesday, October 20, 2021
AFS Featured Paper: Climate, Fire Regime, Geomorphology, and Conspecifics Influence the Spatial Distribution of Chinook Salmon Redds
Monday, August 23, 2021
Fleet Heterogeneity and Economic Performance in American Lobster Fishery
Thursday, July 22, 2021
The 100‐Watt Method: A Protocol for Backpack Electrofishing in Small Streams
Wednesday, June 30, 2021
2021 AFS Election – Meet the Second Vice President Candidates
May 19, 2021
Understanding the People Part of Fisheries: An Introduction to Conservation Social Science
Wednesday, April 28, 2021
The Omega Principle: Seafood and the quest for long life and a healthier planet
March 26, 2021
The Stock Assessment Process: Counting Fish
February 10, 2021
Intro to eDNA: Applications, Advantages and Implications
January 14, 2021
Establishing Aquaculture Opportunity Areas and How to Get Involved
December 7, 2020
Stream Simulation Design Methodology: A design methodology for adapting road crossing infrastructure (bridges and culverts) to climate change
Wednesday, September 9, 2020
More than a River Monster: Conservation and Management of Alligator Gar
Wednesday, August 12, 2020
How many candles on the birthday cake? The vital role of age estimates in stock assessments
Tuesday, June 23, 2020
River Connectivity and Biological Complexity
Wednesday, May 13, 2020

Becoming a Hutton Scholar Mentor-Inspiring, Rewarding and Surprisingly Easy!
Friday, May 1, 2020
Creating a Movement to Save Migratory Fish from Local to Global
Thursday, April 30, 2020
Unit Tax Administration Webinar
Wednesday, April 22, 2020

2020 AFS Election – Meet the Second Vice President Candidates
Tuesday, April 21, 2020
Mythbusting Marine Aquaculture
Thursday, February 27, 2020
AFS Book Review: Multispecies and Watershed Approaches to Freshwater Fish Conservation
Tuesday, January 28, 2020
A Clean Air Act Success Story: Evidence of Chemical and Biological Recovery in an Acidified Catskill Mountain River, New York
Wednesday, December 18, 2019
2019 Annual Meeting Recap – Best Student Presentations
Tuesday, November 19, 2019
Trout and Char of the World
Wednesday, October 16, 2019
Recovering America's Wildlife Act Update
Wednesday, July 10, 2019
Navigating a Changing Fisheries Workplace
Tuesday, May 14, 2019
How Do I Choose the Best Title for This Talk? Structured Decision-Making as a Tool for All Occasions
Thursday, April 25, 2019
AFS Election: Meet the Candidates
Wednesday, April 17, 2019
Policy Update – Waters of the United States (WOTUS)
Wednesday, February 27, 2019
Connecting the Dots: Diversity, Inclusion, and Collaborative Networks in Fisheries
Wednesday, February 20, 2019
Hatchery Design in Aquaculture
Thursday, January 31, 2019
AFS Annual Meeting Highlights: Using Electronic Tagging Data to Inform the Assessment and Management of Fishery Resources
Thursday, November 29, 2018
Resources & Strategies for AFS Student Subunits
Wednesday, November 14, 2018
AFS Annual Meeting Highlights: American Eel Population Assessment, Restoration, and Monitoring
Thursday, October 18, 2018
Promoting Fisheries Science via Social Media during #AFS148
Tuesday, August 14, 2018
Chemistry to Conservation: Using Otoliths to Advance Fisheries Management
Tuesday, July 17, 2018
Annual Meeting Preview!
Wednesday, June 20, 2018
View recording
AFS Units Webinar
Thursday, May 17, 2018
Getting Hired-What Students Need to Know
Wednesday, May 9, 2018
View recording (member feature)
Surviving Peer Review
Wednesday, April 11, 2018
View recording (member feature)
Fish Bioenergetics 4.0
Monday, March 5, 2018
View recording (member feature)
Support of the Recovering America's Wildlife Act – A Guide to Grassroots Advocacy
Thursday, February 22, 2018
View recording (member feature)
Using Bayesian Clustering Algorithms to Discover Population Genetic Structure
Wednesday, January 10, 2018
View recording (member feature)
Verbal Judo! A Method to Improve Your Ability to Talk to Those Hostile to Conservation
Thursday, December 14, 2017
View recording (member feature)
2017 Policy Overview & 2018 Engagement Outlook
Tuesday, November 14, 2017
View recording (member feature)
Online Resources
Leadership at All Levels of AFS – part 1
Leadership at All Levels of AFS – part 2
AFS Governing Board members present this workshop each year at the Annual Meeting. The links above are for recordings of the 2016's presentation.
Additional Resources
Some resources are already available to you, including: