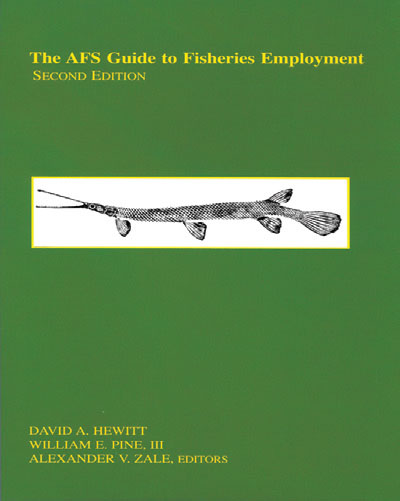 AFS Guide to Fisheries Employment, 2nd Edition
Product Description
David A. Hewitt, William E. Pine, III, and Alexander V. Zale, editors
246 pages
Published by the American Fisheries Society, 2006
Summary
This updated handbook provides education, employment, career advancement, and professional development guidance to fisheries students and professionals. Includes practical advice on building undergraduate skills, designing an effective resume, and pursuing graduate studies. In 15 chapters, experienced fisheries professionals discuss fisheries careers with state and federal agencies, academia, cooperative research units, nongovernmental organizations, and private consultants. Also examines foreign employment, equal opportunity issues, things to know about assuming administrative positions, and how AFS can help individuals become fisheries professionals.
Table of Contents
Contributors
Preface
1. Developing Your Knowledge, Skills, and Professionalism as an Undergraduate David W. WIllis and Churchill B. Grimes 2. Developing an Effective Resume or Curriculum Vitae Trent M. Sutton, Rebecca A. Zeiber, and Emmanuel A. Frimpong
3. Pursuing Graduate Studies in Fisheries Alexander V. Zale
4. Fisheries Employment in State Agencies Richard T. Eades
5. Fisheries Employment in the U.S. Federal Government Robert L. Simmonds, Jr. and Mary C. Fabrizio
6. Academic Positions in Fisheries Science Brian R. Murphy
7. Fisheries Employment in Cooperative Research: Where Agency Meets Academia Thomas J. Kwak and F. Joseph Margraf
8. Employment in Aquaculture Anita M. Kelly
9. Fisheries Employment in Canada Steven J. Cooke and Scott G. Hinch
10. International Fisheries Employment Richard A. Neal
11. Fisheries Employment with Nongovernmental Organizations William E. Pine, III and Kenneth M. Leber
12. Private Consulting in Fisheries Science Donald M. MacDonald, Forrest Olson, and Andrew J. Loftus
13. Advancing to a Career in Fisheres Administration Steven L. McMullin and Christopher Hunter
14. Equal Opportunities in Fisheries Employment Columbus H. Brown and Essie C. Duffie
15. The American Fisheries Society: A Framework for Professionalism Ghassan (Gus) N. Rassam
Unfortunately there is lot of unexpected situation which force patients to take medications. Online drugstores provides best-quality prescription medications and other medications. Cialis is a physic set to treat sundry complaints. What do you think about http://isviagraoverthecounter.com/over-the-counter-anti-inflammatory.html? As sure as a gun, there are many aspects you have to think about this. Cialis is the best medication for helping men to sustain an erection. What do you already know about Over the Counter Anti Inflammatory? Of all the things in the field of healthcare that pique our note most, it's sexual soundness, particularly buying an over the counter anti-inflammatory pill. Because some of these conditions are medicinal emergencies, it's great to know the symptoms. Mercifully, most cases of erectile disfunction are treatable, so it is significant to share your concerns with your partner and physician.