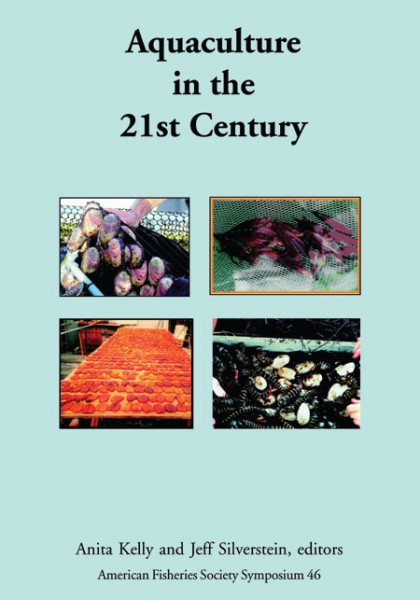 Aquaculture in the 21st Century
Product Description
Anita M. Kelly and Jeffrey Silverstein, editors
643 pages
Published by American Fisheries Society, January 2006
Summary
Symposium 46
Aquaculture in the 21st Century is the second volume in the Manual of Fish Culture series. This volume provides the detail and utility for the culture of aquatic organisms that made the first volume indispensable to culturists. Additionally, historical and background material are provided for each of the 26 species covered, which makes this book useful to those more generally interested in aquaculture and the development of aquaculture. The extent of the material provided makes it not only a valuable reference tool, but an excellent resource for aquaculture courses.
As aquaculture continues to expand rapidly into the marine environment, this book has included many marine species that are relative newcomers to the aquaculture stage. Additionally, groups that have come to support large aquaculture industries such as catfish and hybrid striped bass that were not covered in the first volume are covered here.
Table of Contents
Preface Reviewers Symbols and Abbreviations
Abalone Culture Maria Teresa Viana
Cultivation of the Bay Scallop Dale F. Leavitt and Richard C. Karney
Giant Clam Kai Lee Awaya and Cheng-Sheng Lee
A Guide for Culturing Queen Conch Megan Davis and Amber L. Shawl
Marine Ornamental Shrimp Junda Lin
Crawfish Culture in Forage-Based Production Systems W. Ray McClain
Management Practices for Production of the Red Swamp Crayfish in Earthen Ponds without Planted Forage Louis R. D'Abramo and Cortney L. Ohs
Sea Urchin Aquaculture Susan C. McBride
Production of Turtle Hatchlings C. Greg Lutz
Alligator Aquaculture Michael P. Masser
Paddlefish Steven D. Mims and William L. Shelton
Channel Catfish Culture Anita M. Kelly
Barramundi Culture John W. Tucker, Jr., D. John Russell, and Michael A. Rimmer
Snook Culture John W. Tucker, Jr.
Grouper Culture John W. Tucker, Jr.
Striped Bass and Hybrid Striped Bass Culture L. Curry Woods, III
Culture and Propagation of Sunfish and Their Hybrids Joseph E. Morris, Charles C. Mischke, and Ryan L. Lane
The Culture of Walleye Robert C. Summerfelt
Aquaculture of Lingcod Michael B. Rust, Kenneth C. Massee, Paul Plesha, Thomas M. Scott, Neil Ashton, Lyle Britt, Matthew A. Cook, Kate Guthrie, Rod Campbell, and Eric Kroeger
Advances in the Culture of Striped Mullet Clyde S. Tamaru, Christine C.-T. Tamaru, William J. Fitzgerald, Jr., Harry Ako, and Vernon T. Sato
Red Drum Aquaculture G. Joan Holt
Cobia Aquaculture Jeffrey B. Kaiser and G. Joan Holt
Atlantic and Pacific Halibut Robert R. Stickney
Aquaculture of Three Species of Yellowtail Jacks Daniel D. Benetti, Makota Nakada, Stephen Shotton, Carolyn Poortenaar, Patrick L. Tracy, and Wayne Hutchinson
Status of Artificial Propogation of Mutton, Yellowtail, and Red Snapper (family Lutjanidae) in the Southeastern United States Wade O. Watanabe, Daniel D. Benetti, Michael W. Feeley, D. Allen Davis, and Ronald P. Phelps
Aquaculture of Colossoma macropomum and Related Species in Latin America Luis Campos-Baca and Christopher C. Kohler
Tilapia Culture Kevin Fitzsimmons
White Sucker Culture Gerald M. Ludwig
Baitfish Culture Nathan Stone, Andy Goodwin, Rebecca Lochmann, Harold Phillips, Carole Engle, and Hugh Thomforde