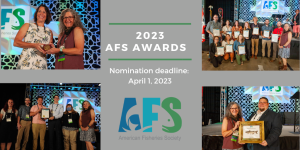 AFS offers awards to its members and partners for unique contributions that directly or indirectly impact fisheries science. Each year there is a call for award nominations recognizing professional excellence and/or outstanding contributions to conservation, education, and service. (for more, see Past recipients):
Awards of Merit
Awards for Service to the Society
Conservation Awards
Scholarships & Fellowships
Travel Awards
Section-Level Awards
Many AFS Sections run additional award programs, in addition to those listed above. Refer to each section's webpage for additional information, requirements, and deadlines.
Recent Section Award Recipients, informal certificates of appreciation for service, and other awards are given each year as well.