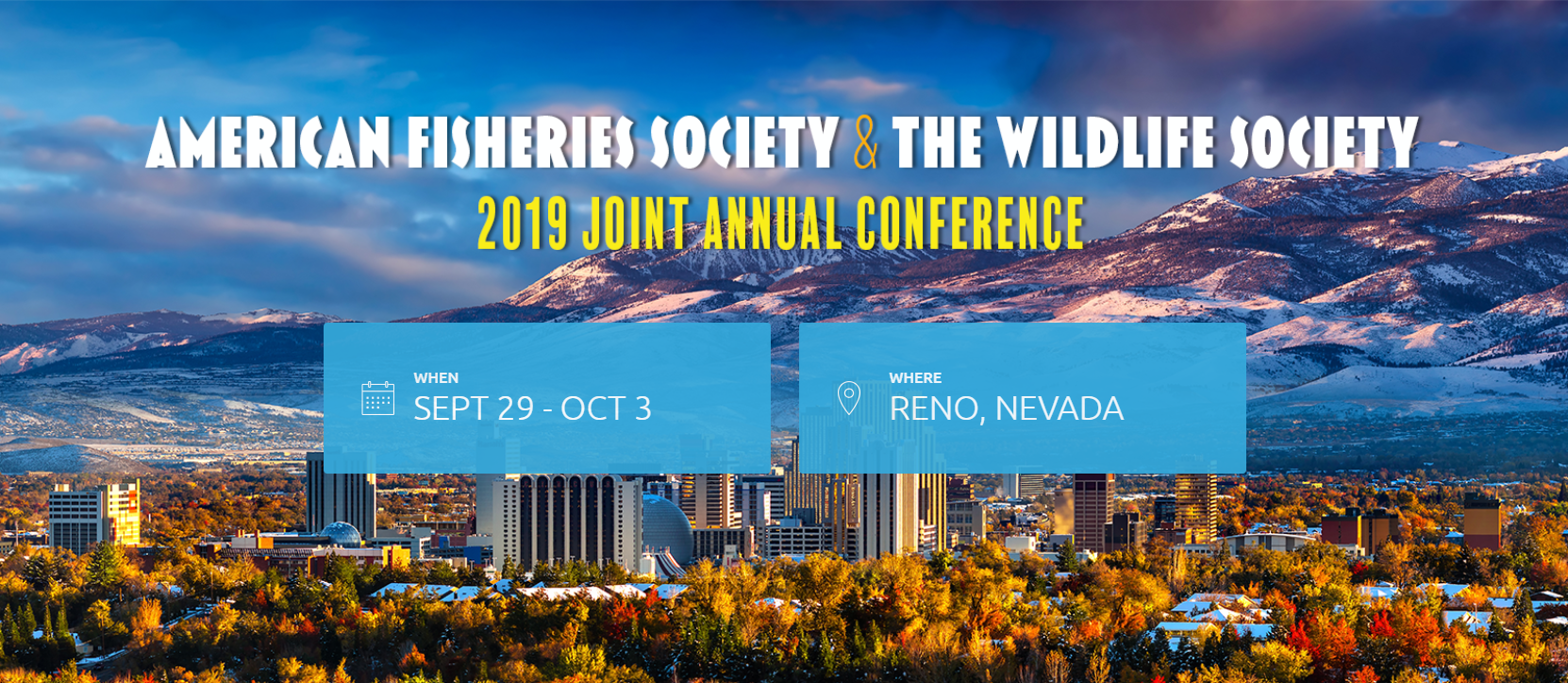 RENO JOINT CONFERENCE SPECIAL ISSUE
With thousands of oral presentations scheduled this year, there will not be a schedule of individual papers in the onsite printed conference program this year. So the free conference app is your essential guide to finding the topics and speakers that interest you. You can build a custom schedule and sync it across devices, find other attendees, post to social media, share your photos in the activity feed, and view venue maps. If you prefer to plan your day from a grid of concurrent talks, check out the spreadsheet Danielle Quinn developed here.
Learn about the effects of climate change on both freshwater and marine systems in the two AFS Plenary Sessions. On Tuesday at 10 a.m., Sudeep Chandra from the University of Nevada Reno will discuss "Understanding Mountain Lakes in a Changing World: Lessons Learned from the Western United States and the Development of a Conceptual Model to Quantify Ecological Dynamics." On Wednesday at 1:10 p.m., Kristy Kroeker of the University of California Santa Cruz will talk about "Scaling the Effects of Environmental Change from Individuals to Marine Ecosystems."
Learn How to Take Action on Policy Issues
Good news, Spawning Runners and Carcass Crawlers! This year the 5k run/walk is not starting until 7 a.m., so you can catch up on your zzz's. Shuttle buses to Bartley Ranch Park will start at 6:15 from the Peppermill and Atlantis. If you haven't signed up yet, register onsite early to get one of the coveted t-shirts (limited availability).
Reno's recent revival includes a vibrant restaurant scene. This year's networking receptions will feature light hors d'oeuvres only, so you can go out afterwards with old colleagues and new friends to explore Reno's award-winning dining options. Here's an interactive restaurant map from the Cal-Neva Chapter team to get you started.
Frequent free shuttle buses will bring attendees back and forth from the Peppermill and Circus Circus to the Reno-Sparks Convention Center. Also, all of the official hotels have free airport shuttle buses running at least every 30 minutes.
Pack your favorite college gear from your alma mater or current university for Spirit Night on Wednesday. With high temperatures next week expected to be in the 50s-60s, you might want to make that a sweatshirt or sweater! Post a photo to social media with the conference hashtags or catch one of our roving photographers and you might be recognized at the Thursday Plenary Session.
Onsite Registration
Did your organization put the "pro" in procrastinate in approving your attendance? Never fear, you can register onsite at the Reno-Sparks Convention Center:


Saturday 1:30 - 5:30 p.m.
Sunday 7:00 a.m. - 7:00 p.m.
Tuesday - Wednesday 7:00 a.m. - 6:00 p.m.
Thursday 7:30 a.m. - Noon
#fishnwild
#AFS149
#TWS2019
Have We Got Hashtags
A conference this big can't be covered by just one social media hashtag! Use #AFS149, #TWS2019, or #fishnwild for joint events. If you post using the social media button on the conference app, all of the hashtags will be added automatically. And don't forget to add your social media handles to your app profile!
Monday, September 30, 7:30 pm – 9:00 pm
Reno-Sparks Convention Center, C4


Join us as we premier the videos of Fisheries Strong, a news-style program exploring the impact of effective fisheries management, the future of fisheries, and how organizations are addressing the complexities of fisheries conservation. This program is a partnership between AFS and ITN Productions. The films will feature stories from the following partners: Abernathy Fish Technology Center, Arizona Game and Fish Department, Illinois Department of Natural Resources, Minnesota Department of Natural Resources, New Mexico Fish and Game Department, Ohio Department of Natural Resources, State Water Contractors, and SWCA.
First-Timers' Meetup
New to the AFS Annual Meeting? First-timers' orientation will be held prior to Sunday evening's networking reception – meetup details will be posted on the app.
RESOURCES
CAREERS

:
For the latest JOBS
postings from around the U.S. and Canada