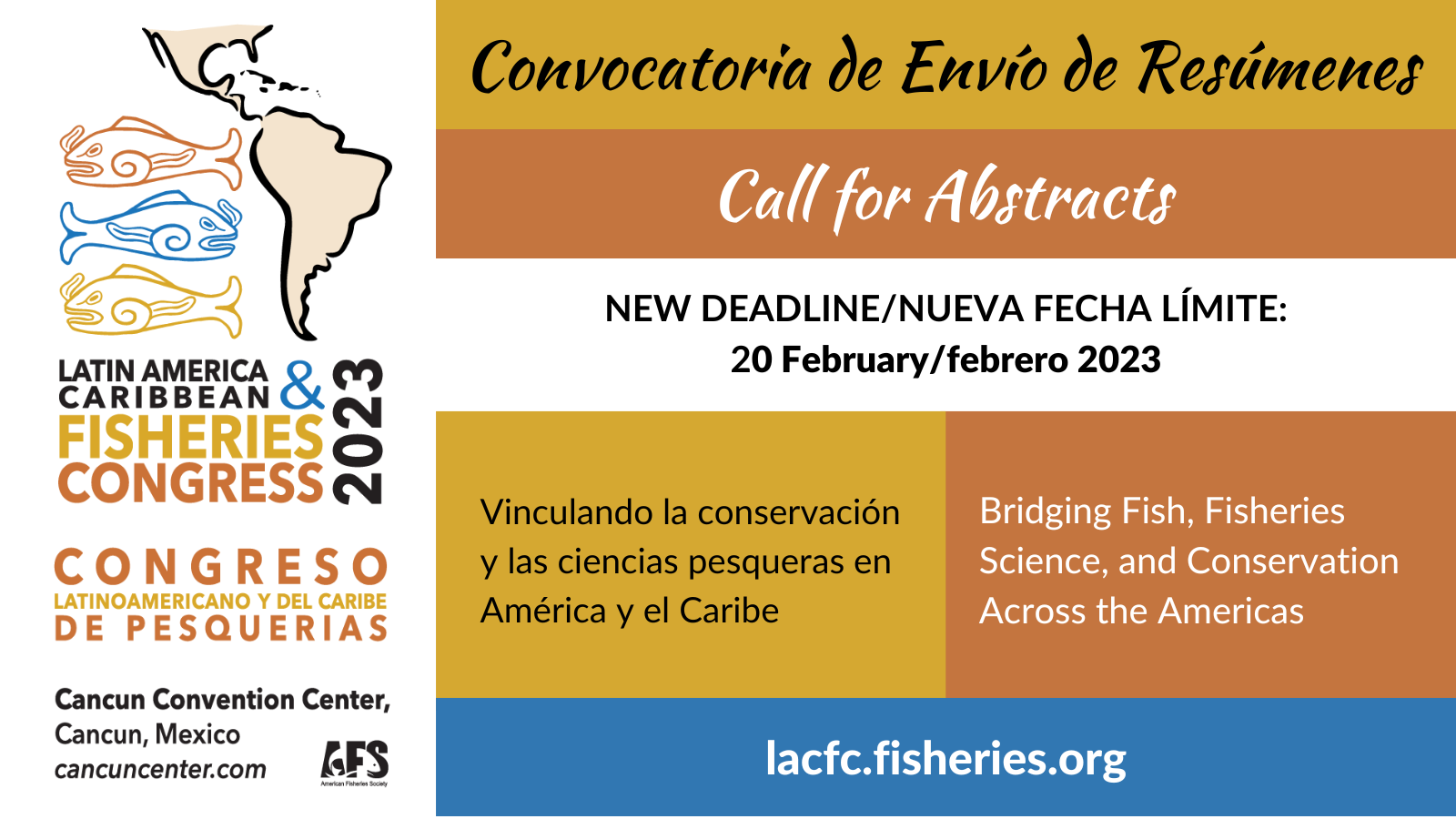 NEW DEADLINE/NUEVA FECHA L
Í

MITE: FEBRUARY/FEBRERO 20
Bridging Fish, Fisheries Science, and Conservation Across the Americas
We welcome all people interested in fisheries science, management and conservation throughout Latin America and the Caribbean to join us for this important event, May 15-18, 2023 in Cancun, Mexico. The Congress will address freshwater and marine systems and include traditional science presentations, training opportunities, student events and much more.
We expect to develop a program that includes presentations that cover topics of marine, estuarine, and freshwater fisheries management; commercial, subsistence, and sport fishing; cultural and historical roles of fish and fisheries; impacts on water and fish populations from energy, resource extraction, and land use; native and nonnative fisheries; the intersection of traditional cultural knowledge and western research practices; and the role of the many publics who rely on or enjoy aquatic resources.
Vinculando la conservación y las ciencias pesqueras en América y el Caribe
Damos la bienvenida a los interesados en la ciencia, gestión y conservación de pesquerías en América Latina y el Caribe para que participen en este importante evento. En el congreso se abordarán los sistemas marinos y dulceacuícolas, e incluirán presentaciones orales y en cartel, cursos de capacitación, eventos para estudiantes y mucho más. Queremos tener un programa diverso que permita abordar el conocimiento relacionado con el manejo de pesquerías marinas, estuarinas y de aguas interiores; las pesquerías comerciales, de subsistencia y deportivas; el valor cultural e histórico de los peces y las pesquerías en la región; los impactos antropogénicos sobre pesquerías y diversos organismos acuáticos derivados de cambios en el uso de energía, de suelo y la extracción de recursos; las pesquerías sobre especies nativas y no nativas; el intercambio de saberes tradicionales y contemporáneos sobre las pesquerías; entre muchos otros temas.


SYMPOSIA
During the submission process you will select the symposium session where your abstract is appropriate. Abstracts submitted to symposium sessions that are not selected for inclusion will be considered for inclusion in a contributed topic session.