From Grunion Greeters in California to OceanEyes monitoring the Hawaiian seafloor and volunteers analyzing historic Florida sportfishing photos, citizen science is a growing part of fisheries conservation and management data collection. A new special issue of Fisheries (free access for two months) includes innovative new ways to engage anglers, commercial fishers, and interested members of the public in fisheries science. Learn how volunteer anglers tag recreationally important fish in Virginia, volunteers monitor horseshoe crab breeding sites in Florida, commercial fishers and seafood producers perform aerial surveys of sardine and anchovy populations in California, and volunteers measure angler satisfaction through surveys and photographs.
Last Chance for Recovering America's Wildlife Act in this Congress
We are in the final sprint to pass the Recovering America's Wildlife Act. Congress has briefly returned to Washington and will wrap up in mid-December. This is our last chance to get the bill across the finish line and secure dedicated, proactive funding for states and tribes to keep fish and wildlife from sliding into extinction. We have come so far with your help - join us in this final mile. Sign this petition today calling for the Senate to pass the Recovering America's Wildlife Act NOW .
This is, to our knowledge, the first study to examine stakeholder perspectives of Alaska's salmon enhancement program, and will likely be of great interest to policy makers and other researchers focused on this issue.
The Alaska salmon enhancement program plays an important role in Alaskan commercial salmon fisheries, salmon management, and coastal community economies. However, there are emergent discussions about the impact of hatchery fish on non-hatchery stocks and their environment.
This study shows that public comments to the Alaska Board of Fisheries represent only a portion of the diverse and nuanced perspectives key stakeholders hold about the enhancement program.
This paper presents the first empirical evidence of the utility of trojan (MYY) Brook Trout in a field setting. It demonstrates that MYY Brook Trout exhibit comparable vital rates to wild conspecifics; however, differences among streams highlights unforeseen variables that influence MYY survival and reproduction. The research represents three years of empirical data across three streams and one control stream is supported by extensive capture-mark-recapture data and genetic analysis. The work supports the use of MYY as an ecological tool for genetic biocontrol, but provides the needed caveats prior to taking on a long term endeavor. Photo: Ben Armstrong.
With the Thanksgiving holiday approaching in the USA, the American Fisheries Society wants to take this opportunity to thank its members for their invaluable support and participation in the Society. It is through your support that we are able to protect the world's fisheries and aquatic resources and serve fisheries professionals. If you'd like to renew your membership for 2023, simply log in to your AFS account and click on the "Renew Now" button to get started. For questions or assistance, contact the Membership Team at

[email protected]

.
If you have a specialty or area of expertise, then AFS has a SECTION for you! With more than 20 to choose from, you can join a group whose members share your interests and passion for that special niche in the fisheries profession. Add it to your membership by clicking on "Modify Billing Options," when you renew; if you've already renewed, you can still add it to your membership by contacting

[email protected]

and our Membership Team can assist you.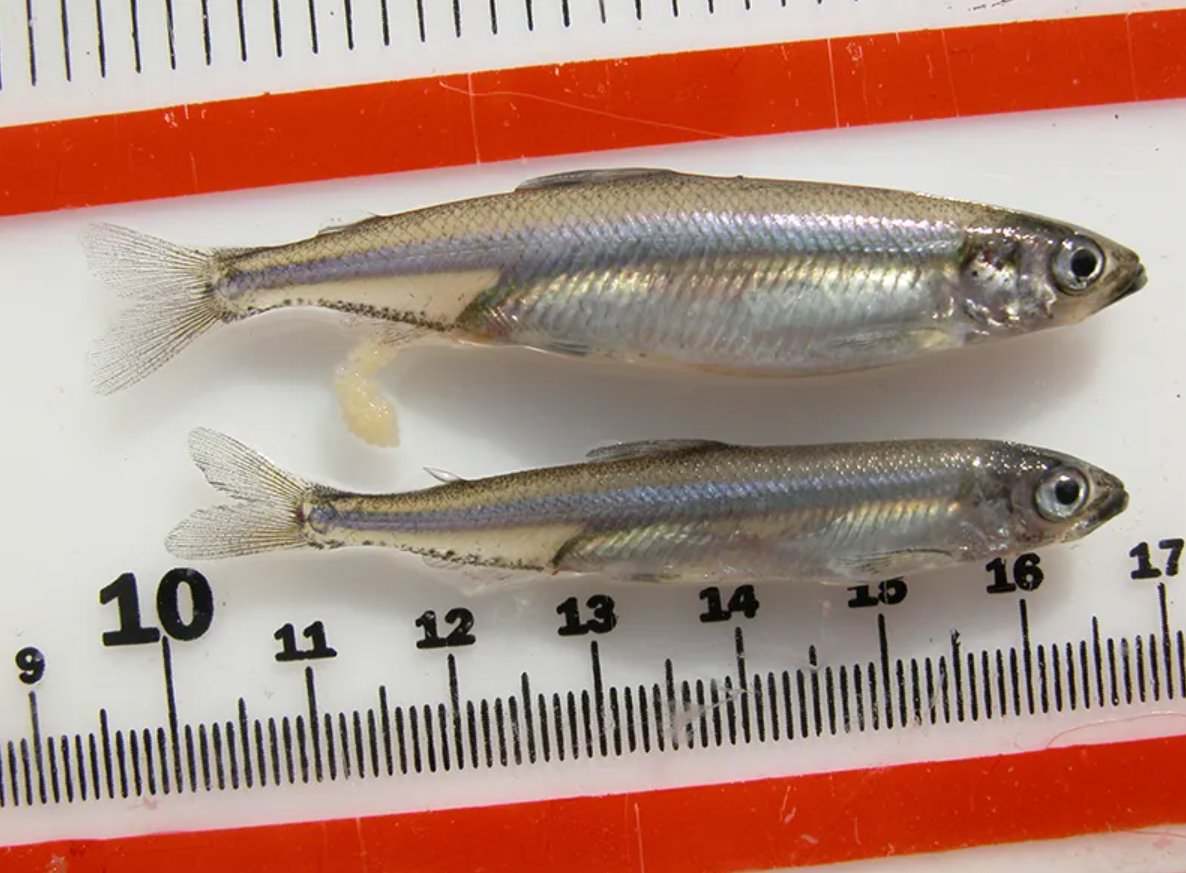 Delta Smelt - credit USFWS
Did You Know…That the Imperiled Aquatic Species Section Is Now Active Again?
If you work on saving the world's imperiled fishes, we are inviting you to join the AFS Imperiled Aquatic Species Section! This Section promotes the conservation and management of imperiled freshwater organisms and provides a forum for identifying, bringing attention to, and solving issues and problems relating to their conservation. If you are interested in joining this Section, you can add it to your membership by clicking on "Modify Billing Options" and adding it to your dues subscriptions. If you have already renewed your membership or are a Life member, contact

[email protected]

and the Membership Team will be happy to help you add it to your account.
AFS is recruiting volunteers for a Webinar Task Force, to create a slate of potential topics and speakers for upcoming webinars for the Society! Volunteers are needed from variety of career levels, geographic divisions, and backgrounds. Interested?
The application deadline for the Opportunity for Learning and Advancement in Fisheries (OLAF) International & Indigenous Membership Awards has been extended until November 30. The awards support the International Fisheries Section goals of assisting the international community, especially those from low and middle income countries, as well as Indigenous peoples from around the world, with networking and conference opportunities, and provide the exchange of information and technical assistance among fishery workers.
RESOURCES
CAREERS:
For the latest JOBS
postings from around the U.S. and Canada