HAPPENING FRIDAY AT THE MEETING
Following up on the release of the World Aquatic Societies Climate Statement and presentations by thought-provoking plenary speakers on Monday, we turn to actions we can take on climate as a Society, as a profession, and as individuals. Presentations will feature current AFS engagement, debut exciting new training opportunities to communicate climate impacts on fish, highlight policy developments, and discuss the current state of the science and future research needs. Learn how you can become a champion of fish and fisheries in the face of a changing climate!
FEATURED EVENT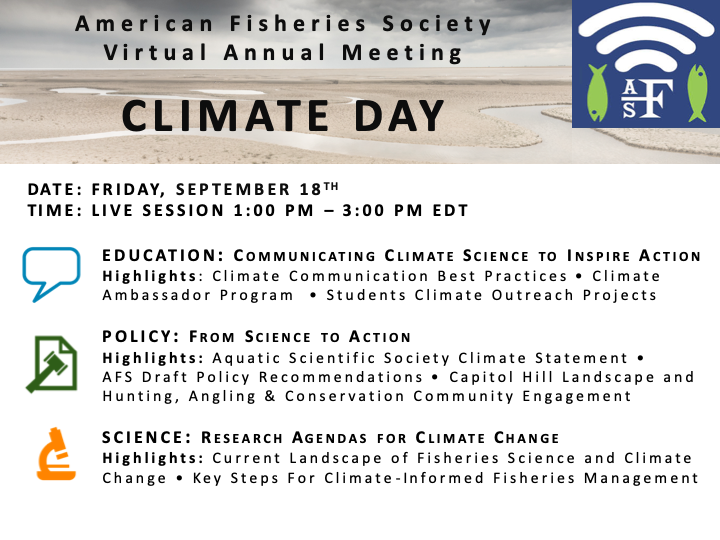 AFS Unit leaders are welcome to join the Leading at All Levels Workshop at 11:15 am EDT. You will

better understand how AFS functions, the roles of Unit leaders in AFS, how to run an effective business meeting, and how to be an effective leader in an all volunteer organization such as AFS.
New items have been contributed to the Silent Auction - browse through fishing and nature trips, art and photography, jewelry, fishing equipment, and books. Bidding will open the second week of the meeting on September 21.
We are still accepting donations for this important fundraiser: experiences, park passes, artistic creations, tours, and more. Show off your hobbies and crafts, your favorite rivers and lakes, or your cabin at the lake - the possibilities are unlimited!
VIRTUAL MEETING TIPS AND TRICKS
Networking virtually requires learning a few new skills and a little extra effort, but can be fun and worthwhile. This quick 3-minute video will walk you through some of options such as Slack, Angling for Answers and asynchronous Q&A, and Twitter (#AFSvirtual2020).
Seeking more synchronicity in your interactions with presenters? Try Angling for Answers! Authors of 152 presentations will be online to immediately answer questions submitted via the Q&A box on their presentation's page. Friday's hours are:

NOT REGISTERED?
It's not too late! All live sessions are being recorded and will be available for later viewing. Most papers and posters are pre-recorded and are available on demand 24/7 during and after the meeting.