HAPPENING THURSDAY AT THE MEETING
Student and Early Career Professional Theme Day
Put on an extra pot of coffee because we're going from 10:00 am to 8:30 pm EDT with Student and Early Career Professional Theme Day! First, a careers workshop with an all-star speaker panel

including professionals from various fisheries career paths within government, academia, and NGOs who will identify career skill sets needed, what employers look for, demands of the career, and tips for success. Then, following the Student Subsection Meeting and student award presentations, enjoy 7 different themed social rooms focused on topics ranging from surviving graduate school to casual chats and meet-ups.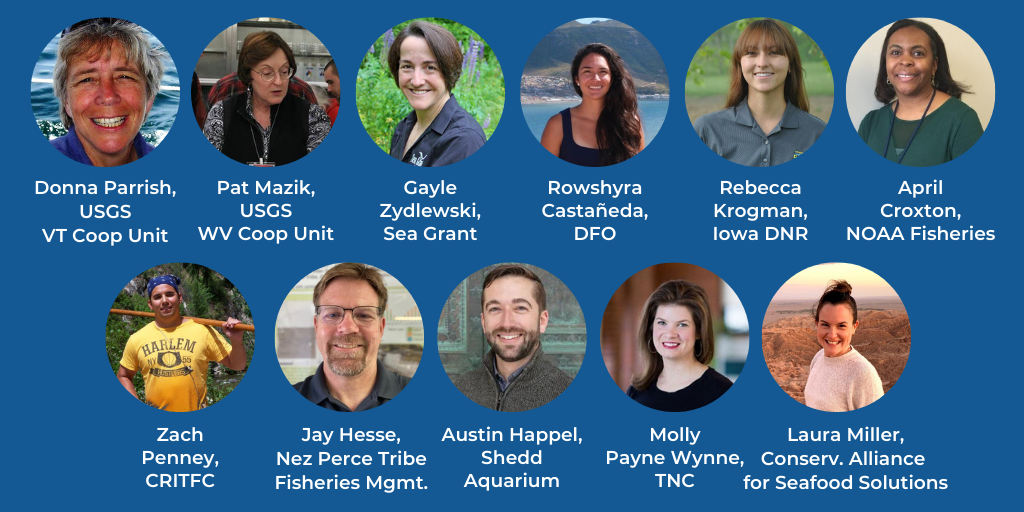 Student and Early Career Professional Day speaker lineup
AWARD PRESENTATIONS
Emerging Leader Mentorship Awards
J Frances Allen Scholarship
Winner: L. Zoe Almeida, The Ohio State University
Runner Up: Emily T. Slesinger, Rutgers University
John E. Skinner Memorial Fund Awards
Michael Baker,

University of Georgia

Alexander Catalano,

Southern Illinois University

Allison Durland Donahou,

University of Florida

Kenneth Erickson,

Louisiana State University

Avril Harder,

Purdue University

Jared Krebs,

University of Wisconsin – Stevens Point

Cassidy Miles,

Western Illinois University
Tyler Plum,

Nova Southeastern University

Shaley Valentine,

Southern Illinois University-Carbondale

Bethany Wager,

West Virginia University
Skinner Honorable Mentions
Nathan Backenstose,
State University of New York at Buffalo
Sam Grinstead, Iowa State University
Dylan Osterhaus, Iowa State University
Kristia Pechacek, University of Wisconsin- La Crosse
Nicholas Somogyi, Oregon State University
Steven Berkeley Marine Conservation Fellowship
SCIENCE
The AFS Virtual Escape Room is designed to submerse participants into the fisheries world during these virtual and socially distant times. There are 8 multi-level adventures to be completed while racing the clock! These challenges address a wide array of fishery disciplines and experience. Roughly an hour to an hour and a half should be allotted to completing the escape room.
Students and Early Career Professionals will be paired with other participants and given their own video platform to communicate effectively to complete the escape room.
Other participants are encouraged but will simply receive the link to the escape room and are expected to provide their own platform and participants.
Take a break, grab some coffee, and browse the virtual exhibits at the Trade Show! See the latest technology, ask questions, and visit their websites.


Browsing is now open for the Silent Auction - look through fishing and nature trips, art and photography, fishing equipment, and books. Bidding will open the second week of the meeting on September 21.
We are still seeking donations for this important fundraiser: experiences, park passes, artistic creations, tours, and more. Show off your hobbies and crafts, your favorite rivers and lakes, or your cabin at the lake - the possibilities are unlimited!
VIRTUAL MEETING TIPS AND TRICKS
Seeking more synchronicity in your interaction with authors? Try Angling for Answers! Authors of 152 presentations will be online to immediately answer questions submitted via the Q&A box on their presentation's page. Thursday's hours are:

All registered attendees have been invited to join our Virtual Annual Meeting Slack workspace (click here for invitation). Network with colleagues, introduce yourself, show off your presentation, ask questions, create polls, share photos, and get engaged! We have some quick directions on how to get slacking.
NOT REGISTERED?
It's not too late! All live sessions are being recorded and will be available for later viewing. Most papers and posters are pre-recorded and are available on demand 24/7 during and after the meeting.