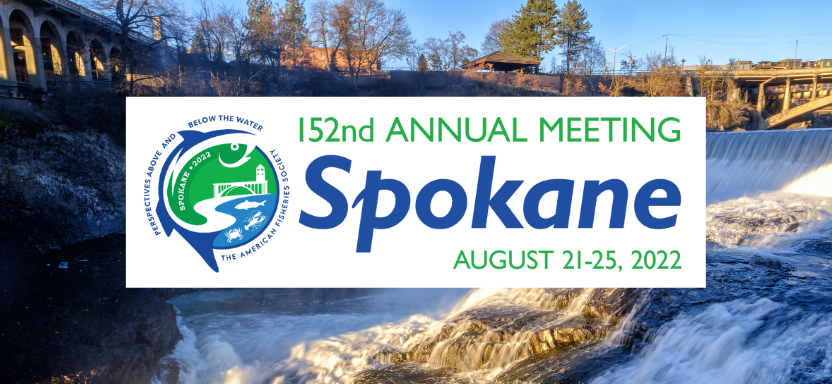 HAPPENING WEDNESDAY IN SPOKANE
Plenary Session
Exhibit Hall C, 10:00 am - 12:00 pm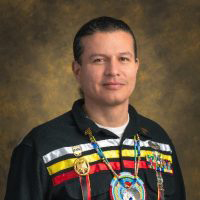 Shoshone-Bannock Tribes Fish & Wildlife Dept.
Meritorious Service Award: Thomas Lang

Emmeline Moore Prize: Jessica Mistak
AFS Fellows - Class of 2022:
Jeffrey Buckel
Patrick Cooney
Greg Cope
Dan Isermann
Henriette "Yetta" Jager
Margaret Murphy
Craig Paukert
Leanne Roulson
Cory Suski
Alan Temple
Tom Kwak
Buses will be loading around 12:30 pm at the DoubleTree Hotel to go to People's Park for a very special fish release event hosted by the Spokane Tribe of Indians. Return buses will run until 4:30 pm.
AFS Business Meeting
Vote on important Rules changes and see your colleagues get honored with various award presentations, including Best Chapter, student travel awards, outreach, scholarships, and Best Paper awards. 8:00 - 9:40 am in Exhibit Hall C.
Grand Networking Event
The Grand Networking Event gets a grand setting this year at the U.S. Pavilion at Riverfront Park, built for the Expo '74 World's Fair in Spokane. The event runs 6:00 - 9:00 pm and includes a full meal.


Exhibit Hall and Poster Session
Take advantage of your last chance to visit the Center for Fisheries Technology and Collaboration and the adjoining Poster Session, open 9:00 am - 1:00 pm in Exhibit Hall D. And remember to check on your bids for items in the Silent Auction! The auction closes at 11:00 am.
Meet the Editor
Swing by the AFS Books table in the exhibit hall to talk to TAFS Editor Cory Suski about submitting a manuscript, becoming a reviewer, joining the editorial board, or just learn more about the AFS journals program!

Cory Suski, Transactions of the American Fisheries Society, 9:40–10:00 am
Symposia and Contributed Paper Sessions
Perspectives from the West Coast Nearshore,

402A

Reintroducing Migratory Fishes and Restoring Their Ecological Roles - Day 3, 300C
An Exploration of Strategies and Approaches to Effectively Assess the Impacts on Marine and Coastal Habitats in the Context of Changing Conditions, 111B

Application of 'Recirculating' Aquaculture Systems for Conservation, Enhancement, and Sportfish Management Programs,

401C
Contributed Topic: Freshwater Fisheries Management-2, 301
Contributed Topic: Genetics-2,

102CD
Indigenous Aquaculture Leadership and Innovation in Fisheries Management; Thirty Years and Counting - Day 2, 111C
Contributed Topic: Marine-2, 300B
20 Years of WDAFS Riparian Challenge Projects,

402C

Bringing it all Together: Data Integration for Fisheries Research and Management Success - Day 1, 303B
Connectivity Through Barrier Removal: Balancing Critical Ecosystem Processes with Complex Management Issues - Day 2, 300D
Contributed Topic: Ecosystem-based Fisheries Management-1,

103

Fisheries Bioengineering: Innovative Improvements in Connectivity, Protection, and Habitat - Day 1, 303A
Shifting Baselines: Improving DEIJA Communication Within Fisheries,

402B
Meetings, Workshops, and Special Events
8:00 am - 9:40 am
AFS Business Meeting,

Exhibit Hall C

8:00 am - 12:00 pm
Thiamine Deficiency Workgroup Meeting,

202AB

12:00 pm - 1:20 pm
Western Division AFS Business Meeting,

100A
12:00 pm - 2:00 pm
AFS Past-Presidents' Luncheon, Meeting Room 10, Davenport
1:30 pm - 3:00 pm
Early Career Professionals Panel + CV Workshop,

206B
Registration will be located in the Riverside Lobby (Exhibit Hall D) of the Spokane Convention Center (map/floor plan).


Registration & Information Booth Hours:

Wednesday: 8:00 AM – 4:00 pm

Thursday: 9:00 AM – 11:00 am
PowerPoint files for in-person presentations must be uploaded at least 4 hours prior to your presentation using our online system

—

no trip to the A/V room required, although the room is available if you need assistance.
Covid Mask Update
In order to protect our diverse participants, along with their families and communities, we have updated our COVID safety policy to an expectation that face masks will be worn at all indoor meeting venues.
Speakers may remove their mask while at the podium giving their presentation. Masks should be worn at evening indoor networking events except when you are actively eating or drinking. Masks will not be expected outside on the lawn/outdoor terrace area at the Opening Networking Reception on Sunday.