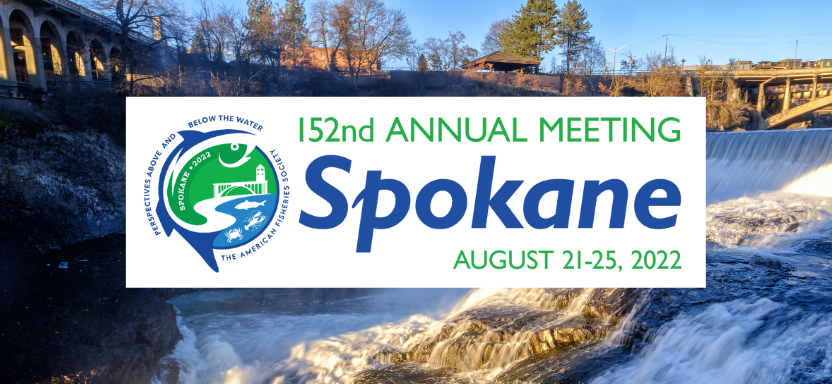 HAPPENING SUNDAY IN SPOKANE
Registration will be located in the Riverside Lobby (Exhibit Hall D) of the Spokane Convention Center (map/floor plan).


Registration & Information Booth Hours:

Sunday: 11:00 AM – 7:00 PM

Monday: 7:00 AM – 6:00 PM

Tuesday: 7:00 AM – 5:00 PM

Wednesday: 8:00 AM – 4:00 PM

Thursday: 9:00 AM – 11:00 AM
In keeping with green conference principles, rather than receiving a printed program book, attendees should download the "AFS 2022" mobile app now available from the App Store or Google Play. Once you have logged in and created a profile, you can begin to build out your schedule. Personalized schedules created on either the mobile App or desktop Conference Platform are shared between the two platforms.


If you prefer to use a traditional grid of talks, you can download a printable PDF here.
Welcome to AFS 152!
Opening Networking Reception, 7:00 - 10:00 pm, Exhibit Hall D
Alphabet Social - 402C
6:00 - 6:30 pm BIPOC Social
6:30 - 7:00 pm LGBTQIA2S+ Social
7:00 - 7:30 pm Allies Welcome
Monday morning: First-timers Meet-up, 8:00 - 9:40 am, 206D
Workshops
Preregistration required.
Cultural Competency and Relevancy in Natural Resource Sciences, Cedar Ballroom, Davenport

Using ggplot in R for Data Visualization, Meeting Room 3, Davenport
Climate Communications Workshop, Birch Ballroom, Davenport
Advanced ArcGIS/QGIS for Fisheries Biologists,

Meeting Room 4, Davenport

Bayesian II: Intermediate Bayesian Inference with JAGS for Fish Biologists, Meeting Room 5, Davenport

Database Concepts, Design, and Application in Wildlife and Fisheries Science, Terrace Room West, Davenport

Electrofishing Measurements and Methods, Meeting Room 12, Davenport
NMFS-Sea Grant Fellowship Professional Development Workshop, Meeting Room 11, Davenport
Meetings
12:00 pm - 2:30 pm
Journal Editors Luncheon (invitation only), Meeting Room 10, Davenport
3:30 pm - 5:00 pm
Fisheries Management Section Business Meeting, Cedar Ballroom, Davenport
5:00 pm - 6:00 pm
AFS International Partners Reception (Invitation Only), Presidential Suite
PowerPoint files for in-person presentations must be uploaded at least 4 hours prior to your presentation using our online system

—

no trip to the A/V room required, although the room is available if you need assistance.
Due to limited taxi availability in Spokane, the easiest way to get to and from

Spokane International Airport and the two downtown hotels is to use Uber or Lyft.

See our

Transportation

page for more options.




For those driving to Spokane, guest parking has been discounted at the Davenport Grand for AFS room block hotel guests.
Covid Mask Update
In order to protect our diverse participants, along with their families and communities, we have updated our COVID safety policy to an expectation that face masks will be worn at all indoor meeting venues.
Speakers may remove their mask while at the podium giving their presentation. Masks should be worn at evening indoor networking events except when you are actively eating or drinking. Masks will not be expected outside on the lawn/outdoor terrace area at the Opening Networking Reception on Sunday.
Membership Survey Reopened
We received such valuable feedback from this summer's membership survey that we have reopened the survey during the Spokane meeting. If you had a busy summer field season and didn't get a chance to complete the survey, here is another chance to provide your input on what you value in the Society.
Spokane has arranged special deals at a number of local restaurants, attractions, and other businesses to help you truly experience the city while you're here. Just enter your information and a passport will be sent to you by text message and/or email, with no app to download.