In keeping with green conference principles, rather than receiving a printed program book, attendees should download the "AFS 2022" mobile app now available from the App Store or Google Play. Once you have logged in and created a profile, you can begin to build out your schedule. Personalized schedules created on either the mobile App or desktop Conference Platform are shared between the two platforms.


We expect access to presentation recordings to open soon. Registered in-person and virtual attendees will receive an email with login information when it launches.
Plenary sessions, the AFS Business Meeting, and select symposia will be livestreamed from Spokane—links to these events will be posted a few minutes before the events begin.
AFS values the diversity of views, expertise, opinions, backgrounds, and experiences reflected among all attendees, and is committed to providing a safe, productive, and welcoming environment for all meeting participants and AFS staff. All participants, including, but not limited to, attendees, speakers, volunteers, exhibitors, staff, service providers, and others, are expected to abide by this Meetings Code of Conduct.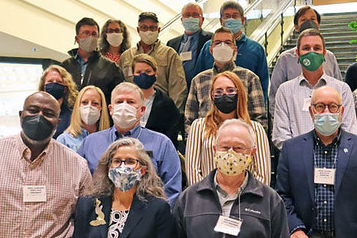 COVID Masking Update
In order to protect our diverse participants, along with their families and communities, we have updated our COVID safety policy to an expectation that face masks will be worn at all indoor meeting venues. As a professional community of scientists, we must respect that some of our colleagues provide care for others who are susceptible to COVID or are themselves in categories where infection could be potentially seriously harmful. Our AFS Meeting Code of Conduct also stipulates that we provide a safe environment for all meeting participants and be mindful of everyone's needs, challenges, and limitations. Masks are being required at many scientific conferences this summer, so this policy brings AFS more into line with what other societies are doing.


We also strongly recommend that attendees wear masks while traveling to the conference in order to protect themselves, other attendees, and the local community in Spokane. As a reminder, we will require proof of COVID vaccination (original vaccination card, photocopy, or digital image) be provided at the Vaccination Check-in booth at the entrance to Spokane Convention Center before going to Registration to pick up your badge. In lieu of vaccination, a negative COVID test from a licensed provider (not a home test) from within 48 hours of arrival may be substituted.


Speakers may remove their mask while at the podium giving their presentation. Masks should be worn at evening indoor networking events except when you are actively eating or drinking. Masks will not be expected outside on the lawn/outdoor terrace area at the Opening Networking Reception on Sunday or at the Grand Networking Event on Wednesday evening if we are able to hold it outdoors at the pavilion as planned. Public-facing convention center staff will wear masks but hotel staff will only follow local regulations. Please take sensible precautions if dining indoors off-site in Spokane – other science societies have reported that indoor bars and restaurants have been major areas for transmission.


More information is also available on our FAQ page.
If you have not yet uploaded the prerecorded video version of your presentation, please do so by August 17. With more than 1,200 presentations, staff needs adequate time to organize and quality check the uploads. See your email for recording and uploading instructions.


PowerPoint files for in-person presentations must be uploaded at least 4 hours prior to your presentation using our online system

—

no trip to the A/V room required, although the room is available if you need assistance.
Due to limited taxi availability in Spokane, the easiest way to get to and from

Spokane International Airport and the two downtown hotels is to use Uber or Lyft.

See our

Transportation

page for more options.




For those driving to Spokane, guest parking has been discounted at the Davenport Grand for AFS room block hotel guests.
Registration will be located in the Riverside Lobby (Exhibit Hall D) of the Spokane Convention Center (map/floor plan).


Registration & Information Booth Hours:

Sunday: 11:00 AM – 7:00 PM

Monday: 7:00 AM – 6:00 PM

Tuesday: 7:00 AM – 5:00 PM

Wednesday: 8:00 AM – 4:00 PM

Thursday: 9:00 AM – 11:00 AM
See the DEIJA Guide assembled by the Equal Opportunities Section for the many diversity and inclusion events taking place in Spokane. Some highlights include:

Alphabet Social, Sunday, 6:00 - 7:30 pm
First-time Attendees Welcome Event, Monday, 8:00 - 9:40 am, Convention Center 206D
Safe Space Room, Monday-Thursday, 8:00 am - 6:00 pm, Convention Center 202C
And be sure to stop by the Diversity & Inclusion Booth in the Exhibit Hall, sponsored by EOS, the Western Division, and Diversity, Equity, and Inclusion Committee.
Plenary Speakers and Awards, Monday- Thursday, 10:00 am - 12:00 pm, Exhibit Hall C

Snake River Dam Removal Panel

, part of Building Effective Policy Approaches for Current Fisheries Issues symposium, Monday, 1:20 - 3:00 pm, Convention Center 300D
Meet the Climate Ambassadors, Monday - Wednesday in the Exhibit Hall

2022 Aquatic Film and Photography Festival

, Monday, 3:20 - 5:00 pm, and Tuesday, 8:00 - 9:40 am, Convention Center Theater

Infrastructure Workshop

, Tuesday, 1:00 - 5:00 pm, Convention Center 100A

Stakeholder Engagement Day

, Tuesday, all day
AFS Business Meeting and Awards, Wednesday, 8:00 - 9:40 am, Exhibit Hall C
Spokane Tribe Fish Release, Wednesday, 12:30 pm - 3:30 pm, People's Park
Students and early career professionals can enjoy a wide range of activities, including:

Student Quiz Bowl, Tuesday 2:00 - 4:00 pm, Convention Center Theater
Student-Professional Mixer, Tuesday 5:30 - 8:00 pm, Doubletree Grand Ballroom

Early Career Professionals Panel + Resume/CV Workshop, Wednesday 1:30 - 3:00 pm, Convention Center 206B

Student Challenge, all week
Coffee—we all need it. Find your favorite caffeinated beverages and snacks

at break times

in Exhibit Hall A/B when the

Center for Fisheries Technology and Collaboration

is open. At other times the coffee breaks will be in Exhibit Hall D.




Full meals will be provided at the Opening Networking Reception on Sunday, Student-Professional Mixer on Tuesday (meals for preregistered students only), and the Grand Networking Event on Wednesday. All other evening events are l

ight hors d'oeuvres and beverages only. Full registrants will receive three complimentary drink tickets for use at the Sunday-Wednesday evening networking events.




Concessions offering quick lunches will be available in Exhibit Hall D.
Spokane is a charming city known for its many coffee shops, restaurants, brew pubs, and wineries. The entire city is generally considered safe but attendees should follow the typical precautions one would follow when walking around any city in the evening hours. See our interactive map for restaurants and sights offering the Visit Spokane Deals discount (see below), stops for the Ale Trail and Cork District, local minority-owned businesses, and outdoor dining options.
Spokane has arranged special deals at a number of local restaurants, attractions, and other businesses to help you truly experience the city while you're there. Just enter your information and a passport will be sent to you by text message and/or email, with no app to download.
Take a Bio Break
Three gender neutral restrooms are available in the Spokane Convention Center

—one at either end of the building and one in the Exhibit Hall

. A Mothers' Room is also available in the Convention Center Theater Green Room.
Hashtag This
The official hashtag for the 152nd Annual Meeting is #AFS152. Browse the Twitter feed in the mobile App for live tweets from the conference.