HAPPENING FRIDAY IN GRAND RAPIDS
Plenary Session
10:30 am - 12:00 pm: DeVos Place - Exhibit Hall C
Sunshine Menezes
Executive director of the University of Rhode Island's Metcalf Institute and
Clinical Associate Professor of Environmental Communication in the URI Department of Natural Resources Science
Inclusive Environmental Communication:
The Urgency of a New Paradigm
Scientific Sessions and Integrative Events
Assessing and comparing climate change vulnerability of freshwater organisms- Day 2, DeVos Place - River Overlook E
Contributed Topic: Habitat Disturbances, DeVos Place - Grand Gallery Overlook G
Exploring past, present and future of Lake Erie: physicochemical and food web change and their application to ecosystem-based management - Day 2, DeVos Place - Grand Gallery Overlook B
Urban freshwater ecosystems: multiple stressors and manifold opportunities - Day 2, DeVos Place - Grand Gallery B
Carbon fluxes across ecosystem interfaces: Sources, cycling, and fate - Day 3, Amway Grand - Concourse Level 2nd Floor - Governor's Room
Ecological models as tools for integrating aquatic sciences - Day 2, DeVos Place - Grand Gallery C
Advances in Remote Sensing Technologies to Monitor Water Quality in Large Lakes, DeVos Place - River Overlook B
Beyond Ecotox: Opportunities and Networks for Integrating Ecosystem Contaminants Research - Day 2, DeVos Place - Grand Gallery A
Community Science: Adding Value, Creating Action, and Impacting Regions, DeVos Place - River Overlook D
Contributed Topic: Biogeochemistry - Day 3, Amway Grand - Concourse Level 2nd Floor - Pantlind Ballroom
Depressional Wetland Biodiversity: Controls, Threats, and Conservation Implications, DeVos Place - River Overlook F
Ecological Responses to Freshwater Salinization - Day 2, DeVos Place - Grand Gallery F
Genetic applications in conservation and restoration biology - Day 2, DeVos Place - Grand Gallery Overlook H
Importance of food webs for trophic transfer across aquatic ecosystems - Day 3, Amway Grand - Concourse Level 2nd Floor - Ambassador Ballroom West
Improved fisheries management by understanding spatial ecology - Day 2, DeVos Place - Monroe A
Innovative Approaches to Freshwater Monitoring, DeVos Place - Grand Gallery D
Invasive species collaboratives: Tackling invasive species problems through coordinated action, DeVos Place - Grand Gallery Overlook F
Monitoring and Modeling Effects of Aquatic Barriers on River Ecosystems, DeVos Place - Grand Gallery Overlook A
Reeling in Historical Data: Temporal Changes in Aquatic Ecosystems - Day 3, Amway Grand - Concourse Level 2nd Floor - Ambassador Ballroom East
Sediments affecting harmful algal blooms: multidisciplinary perspectives, DeVos Place - Grand Gallery Overlook D
Towards environmental flow implementation for a sustainable water future, DeVos Place - Grand Gallery Overlook C
Understanding Reservoir Function in a Changing World, DeVos Place - River Overlook A
Winter Science Symposium – Understanding and adapting to changes in winter climate and freshwater ice across the spectrum of inland waters, DeVos Place - Grand Gallery E
Contributed Topic: Hydroecology, DeVos Place - Grand Gallery Overlook E
Contributed Topic: Harmful Algae and Eutrophication, DeVos Place - Grand Gallery Overlook E
Extreme solutions to extreme problems: evolution of Cyanidiophyceae red algae, DeVos Place - Grand Gallery Overlook G
Flooded with ideas on dry rivers: Hydro-biogeochemistry of intermittent freshwater systems, DeVos Place - River Overlook E
Operationalizing the science: Collaborating to put ecological theory into practice, DeVos Place - River Overlook C
Ring of Fire and Water: New and persistent concerns for burned watersheds, aquatic ecosystems, and drinking water, DeVos Place - Monroe C
Aquatic Species in Watersheds and Reservoirs in Weather Extremes, DeVos Place - Monroe B
Diversity Events
Take a Break
10:00 am - 10:30 am: Morning Coffee Break, DeVos Place Grand Gallery
12:00 pm - 1:30 pm: Lunch Break, on your own off site (local map)
3:00 pm - 3:30 pm: Afternoon Coffee Break, DeVos Place Grand Gallery
Stormwater Field Trip
You can still join us Saturday 9-11 am for the Stormwater management bus tour! Stops at curb-cut rain gardens, water quality islands, bioswales, and more, ending with lunch at the Downtown Market
. Grand Rapids is an innovator in green infrastructure, come & see! Message
@JoelTBetts
(

[email protected]

) to reserve.
Kayaking Field Trip
Join attendees of
JASM22
and other local residents Sunday 1-4 pm at Riverside Park for a paddle along the rich Grand River corridor. See local wildlife and even cast a line. Head to
City Built
Brewing after. Message
@JoelTBetts
(

[email protected]

) for details & to reserve a spot.
Hockey Game Results
JASM colleagues came from afar to
volunteer their time and energy to help support scholarships
.
Two teams (JASM West and JASM East) faced off last night in a test of skill and scientific passio
n with JASM East prevailing in a 9-7 victory following a tied game early in the third period.
The players, spectators, and sponsors (Yokogawa FlowCam, WRS, and Green Eyes) raised over $2,000: JASM societies will share $1,367 to support student scholarships.
Thank you!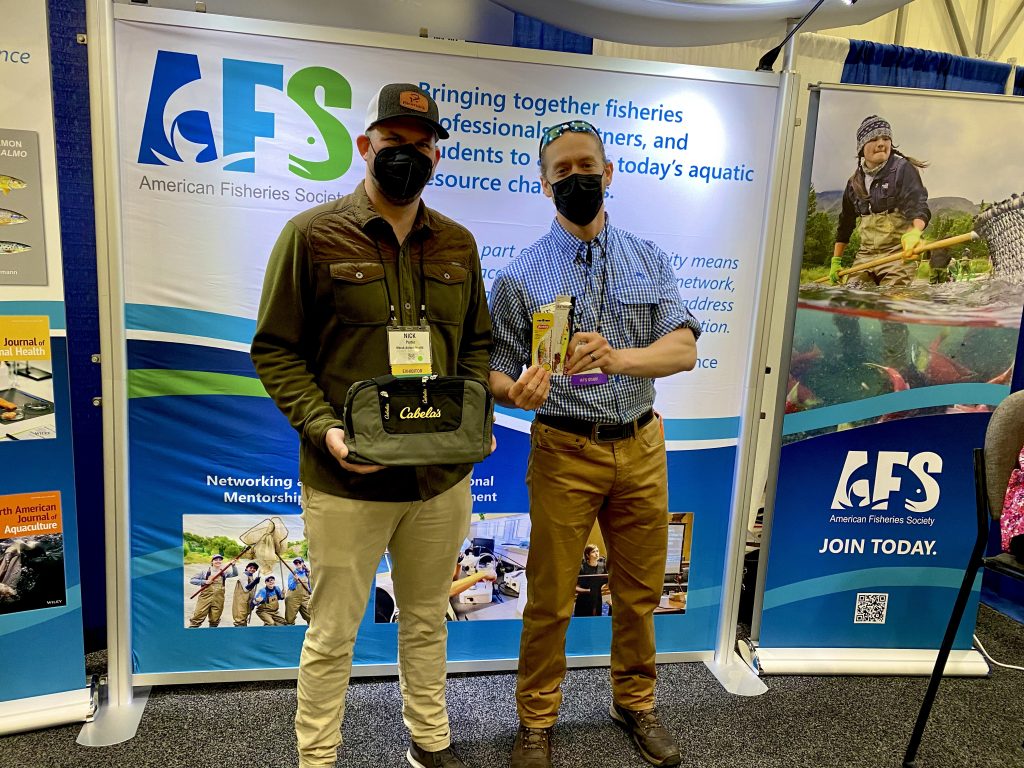 First place: Nick Porter (left)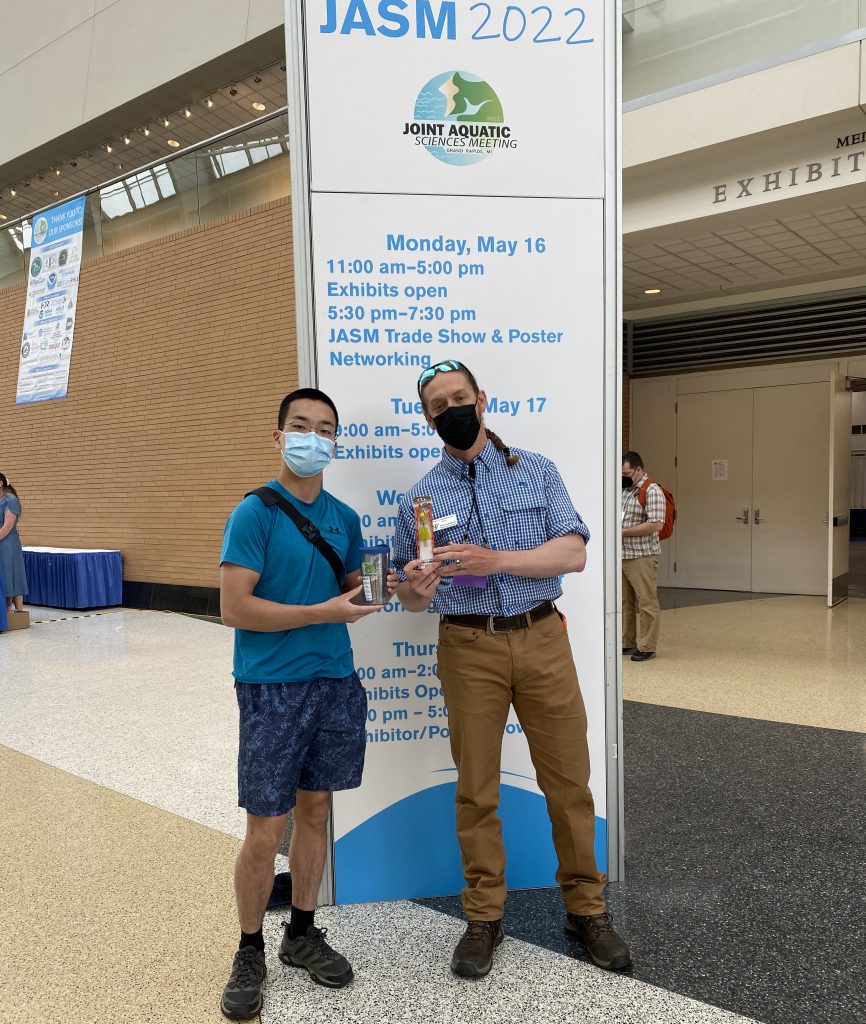 Second place:
Kye Tomoyasu (left)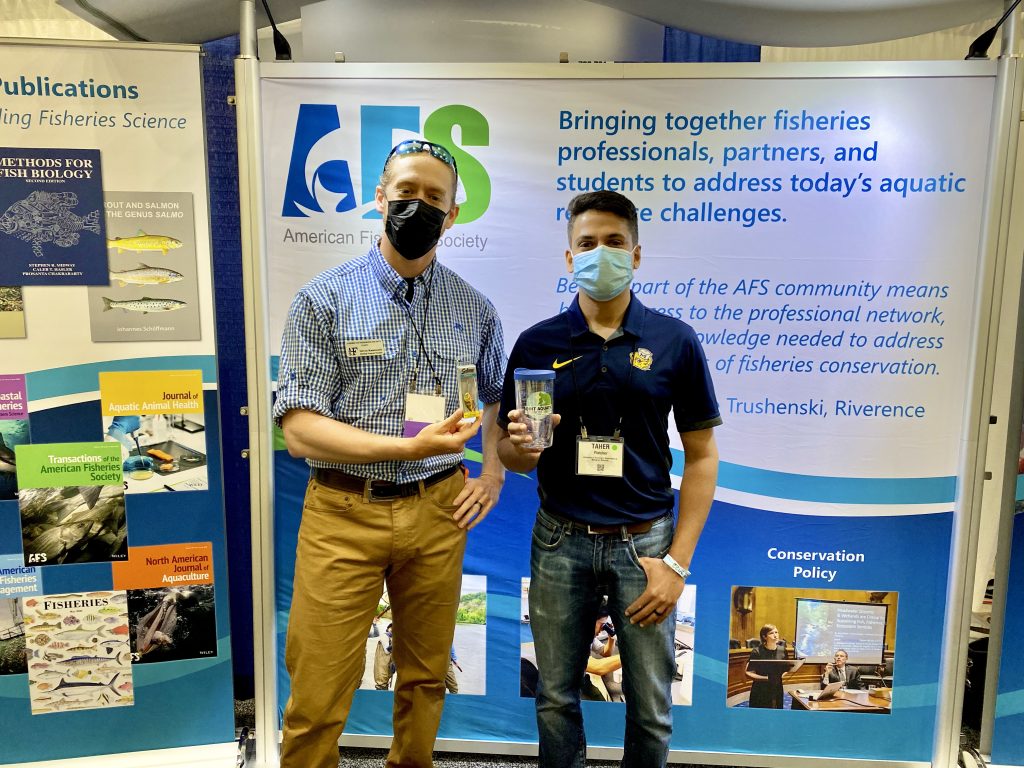 Third place:

Taher Fletcher (right)
Congratulations to the winners of the second casting contest in the Exhibit Hall!
Fish Counting Contest
We had a tie in the AFS fish counting contest!

Kevin Keretz and

Meghan Jeske both guessed 450 and the actual number was 463. Congratulations!
Registration will be located in the Grand Gallery on the street level of DeVos Place for the duration of the conference.


Registration & Information Booth Hours

Friday 9:00 am - 12:00 pm
Transportation to and from

Gerald R. Ford International Airport and two downtown hotels will be available by luxury motorcoach with hourly service for $15, no reservation required. Meet in front of the J.W. Marriott entrance.



Thursday: until 7:00 pm

Friday: 4:00 am - 4:00 pm
Saturday: 4:00 am - 12 noon
Sign the Card
Finally, d

on't leave

#JASM22

without signing the Endangered Species Day card we're delivering to Congressional leaders tomorrow urging quick passage of the Recovering America's Wildlife Act to save at-risk species, as Drue Winters discussed at the opening Plenary. Help us reach 20,000 signatures by Friday, May 20th:

https://

bit.ly/3wDNVWD