AFS members: Voting instructions will be emailed to you.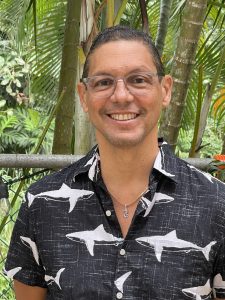 BACKGROUND
I was born and raised in Puerto Rico, a territory where resiliency has come to form part of our everyday lifestyle. As a son of an elementary school teacher and a policeman, I learned at an early age the value of service to the greater good. My two siblings and I were raised with discipline, respect, and great love. We were taught to work for anything we wanted, and as days, months, and years passed, books and the outdoors (actually the beach and my relative's farm houses) were the natural luxuries within my reach.
I never had a head start to the natural world, like so many of my colleagues describe, since my parents were not that inclined to "spend time in the woods." Thus, I embarked on solo trips with the occasional company of a bored friend. By high school, I had become an expert in local natural history, but mostly by reading, watching TV documentaries, and not much real‐world experiences. Nevertheless, I knew back then that going to college was the highway to get where I wanted to go, and the natural sciences would be where I could be of service to others in society (as my parents were).
College education was the game changer of my life and the University of Puerto Rico offered the best and most comprehensive academic option that was close to home. The biology department at the University of Puerto Rico busted the doors wide open to the natural world and played a key role in my early development as a scientist as I earned my bachelor's and master's degrees. Reaching beyond the shores of Puerto Rico, I received a PhD from the School of Natural Resources and Environment at the University of Michigan (Ann Arbor). As the first PhD of my family and my childhood neighborhood, I understand the sacrifices we all make, and the support we all need to pursue our professional goals, especially as someone who was a parent going through graduate school, while also facing challenges that were associated with English being my second language. As President of AFS, I would prioritize and continue to enhance the support of student subsections and the unique academic pathways we all take so that we can collectively make our greatest contributions to the natural world.
AFS INVOLVEMENT
I have been fortunate to spend my career in a diversity of institutes and agencies, giving me a broad perspective, an appreciation, and an understanding of AFS's diverse membership. In August 2016, I became a Fish and Wildlife Administrator for the United States Fish and Wildlife Service Science Application Program (U.S. Caribbean) after a productive 25‐year professional career at the local level for the Puerto Rico Department of Natural Resources (PRDRNA). At PRDRNA, I started as a wildlife biologist and through hard work, time, and the support of others, became the Undersecretary for Protected Areas and Biodiversity. However, the highlight of my professional tenure in this local agency was my role as Director of Fisheries and Wildlife (2008–2016), because of my accomplishments in advancing and facilitating fisheries and wildlife initiatives. My proudest achievement was to help catalyze and support the "professionalization" of my peers (including myself) and coworkers within the Bureau of Fisheries and Wildlife. To this end, we opened venues and established cooperative agreements with academic institutions in the mainland USA. Since fisheries was not a discipline taught in Puerto Rico academic institutes, we developed an active interaction with the American Fisheries Society (AFS) to "boot camp" our employees working on fisheries projects and initiatives. To assure a longstanding venue, I led the creation of the Puerto Rico Chapter of AFS to provide open opportunities for local biologists to learn and collaborate beyond our shores.
Currently, across North America, biologists are supported within their states by their agencies. Importantly, AFS serves as the network for collaboration and sharing of information beyond our state (and territory) borders. I believe that I have a unique and strong understanding of the ways in which we can further enhance these networks and develop even greater collaboration across borders and beyond our local agencies.
Beyond my different positions at local and federal agencies, I was fortunate to receive several appointments and recognitions, such as FWS Recovery Champion (May 2020) and in the fisheries field, Puerto Rico Delegate (2009–2016) for the Caribbean Fisheries Management Council (NOAA National Marine Fisheries Service), and Past and Current President of the Puerto Rico Chapter of the American Fisheries Society. My major attainments within the American Fisheries Society have been: leading the creation of the Puerto Rico AFS Chapter (2010), the inclusion of Puerto Rico in the Southeast Aquatic Resources Partnership in 2016, steering the hosting of the first ever AFS Southern Division Meeting outside the continental USA (San Juan 2018), and teaming/co‐leading the first Latin American Caribbean Theme Day session during the recent AFS Virtual Annual Meeting (September 2020).
VISION
Today, I seek to put my knowledge and skills to the task of strengthening and expanding the AFS mission of developing professionals in fisheries within and beyond our current geographies. AFS's greatest strength is its members, and what better way to improve AFS than through improving the development and support of our members. I will communicate to agency, company, and academic leaders about the importance of our members, our science, and our profession. I will seek to bring back members who feel they have been left behind, while also seeking new members across all the Americas.
AFS offers a great (the best!) opportunity to link the natural connectedness of the fisheries and aquatic resources across the entire American continent (North America, Central America, South America, and the Caribbean). I could not envision a better approach to face and surpass our current fisheries challenges than adding a comprehensive and concerted plan for the at‐large management of fisheries across the Americas, including its associated terrestrial and seascape counterparts. And to this end, I am prepared to lead AFS's incredible professional force that is present in the academic institutes, NGO's, and governmental agencies to see this task to completion.
And why, you ask, do I know that I can help lead AFS to accomplish these goals? My answer is simple, and it is based on the diversity of the membership and organizations within our professional society. The representation, the talent, the successful record, and the experience (150 years!) is already there. Of anyone, I have seen the accomplishments and improvements AFS can provide through the support and opportunities created in Puerto Rico over the past 10 years since the establishment of our AFS Chapter. What is needed now for AFS is to challenge ourselves to prioritize and set incredible goals that advance our profession, our members, and our science for another 150 years to come.
I would be honored to be your AFS Second Vice President, and I appreciate your support.