FOR IMMEDIATE RELEASE
October 2, 2019
Contact: Beth Beard
[email protected]
Tel. 240-687-3761
SCOTT BONAR BECOMES PRESIDENT OF THE AMERICAN FISHERIES SOCIETY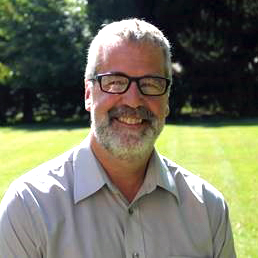 RENO, NEVADA — Scott Bonar, Ph.D., has become the 135th President of the American Fisheries Society (AFS). He assumed office on October 2, 2019, at the Joint Conference of the American Fisheries Society and The Wildlife Society in Reno. The historic joint conference drew thousands of fisheries and wildlife scientists and professionals as they gathered from throughout North America and around the world to share their expertise.
Dr. Bonar is a Professor of Natural Resources at the University of Arizona and Leader of the USGS Arizona Cooperative Fish and Wildlife Research Unit. He has conducted award-winning natural resources work in natural resources programs of state and federal government, universities, and private industry for over 25 years, authoring over 100 publications and supervising over 80 employees. His co-op unit won the highest award in the nation for relations with cooperators, and science respectively. He holds a B.S. degree in Science Education from the University of Evansville and a Ph.D. in Fisheries Science from the University of Washington.
Dr. Bonar's fisheries work focuses on management and biology of fishes in the Western United States. He and his students have conducted research on fish-habitat relationships, interactions between native and nonnative fishes, rare fish propagation and fish diseases. He led over 250 biologists from 107 agencies, universities and private organizations to standardize freshwater fisheries monitoring in North America, the first time this has been done on such a large scale in history.
"I have enjoyed almost 35 years as a member of the American Fisheries Society, and at no other time have I seen such a compelling need for strong management action to preserve our continent's fisheries, fish populations, aquatic systems, and frankly, our way of life," Bonar said. "Our aquatic treasures are under a threat like never before. Many members have told me that they expect AFS to be a voice for them because they cannot provide a strong voice in their jobs. We must ensure we are fulfilling this role."
"Dr. Bonar brings a vision for the future and the communication skills needed to help AFS address some of the major issues facing North American fisheries," said AFS Executive Director Doug Austen. "As we approach the 150th anniversary of the Society, we look forward to his leadership to lay the groundwork for continued growth and relevancy."
# # #
EDITORS' NOTES
General background: AFS is dedicated to strengthening the fisheries profession, advancing fisheries science, and conserving fisheries resources. Membership is mostly drawn from the scientific community but also includes fisheries professionals such as managers, administrators, educators and consultants.
Founded in 1870, the American Fisheries Society (AFS) is the world's oldest and largest fisheries science society. The mission of AFS is to improve the conservation and sustainability of fishery resources and aquatic ecosystems by advancing fisheries and aquatic science and promoting the development of fisheries professionals. With five journals and numerous books and conferences, AFS is the leading source of fisheries science and management information in North America and around the world.
Specific to the Joint Conference in Reno: Please see the conference website (afstws2019.org) for more information, or download the app ("AFS TWS 2019") and follow the conference on Facebook (@AmericanFisheriesSociety) and Twitter (@AmFisheriesSoc) for the latest news and details on registration and events.
The AFS TWS joint conference and associated trade show is taking place at the Reno-Sparks Convention Center and will feature keynote addresses by globally renowned fisheries and wildlife scientists. Hundreds of scientific abstracts have been submitted for presentation at dozens of symposia featuring key topics and emerging issues in fisheries science. More than 3,000 fisheries and wildlife scientists and professionals are expected to attend the conference this year.