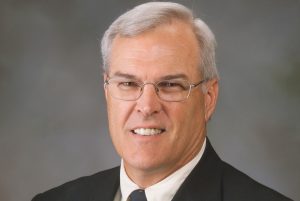 November 17, 2016 — Steve McMullin, associate professor of fish and wildlife conservation in the College of Natural Resources and Environment at Virginia Tech, has been conferred the title of professor emeritus by the Virginia Tech Board of Visitors.
 The emeritus title may be conferred on retired professors, associate professors, and administrative officers who are specially recommended to the board by Virginia Tech President Tim Sands. Nominated individuals who are approved by the board receive an emeritus certificate from the university.
A member of the university community since 1990, McMullin made significant contributions to fish and wildlife conservation in North America and the profession of fisheries science through his work with state and federal agencies and professional societies focusing on leadership development and the interactions between humans and natural resources.
His teaching and research specialized in the human dimensions, policy, and administration of natural resource management. He was also active with the American Fisheries Society and the Virginia Department of Game and Inland Fisheries.
McMullin served as the director of the college's Leadership Institute, in which select juniors and seniors develop leadership abilities to prepare them as future leaders in managing natural resources for sustainability and biodiversity. Students in this two-semester course sequence strengthen their talents through in-class discussion and hands-on leadership projects. They travel to Richmond, Virginia, and Washington, D.C., to meet with leaders and policymakers in the field of natural resources.
In the classroom, McMullin taught a variety of undergraduate and graduate courses ranging across the fish and wildlife curriculum. He advised numerous students on master's degree and doctoral degree dissertations and helped them develop successful careers in both academic and industrial settings.
He also taught continuing education courses for natural resource professionals and generated tools and processes for assessing management effectiveness. Those tools have been used by nearly half of the nation's state fish and wildlife agencies.
In 2013, McMullin served as interim head of the Department of Fish and Wildlife Conservation. He had served as associate department head for the previous seven years.
McMullin received his bachelor's degree and master's degree from the University of Idaho and a Ph.D. from Virginia Tech. Prior to receiving his doctoral degree, he spent 12 years with the Montana Department of Fish, Wildlife, and Parks, serving as biologist, regional fisheries manager, and chief of the Montana Fisheries Management Bureau.
Dedicated to its motto, Ut Prosim (That I May Serve), Virginia Tech takes a hands-on, engaging approach to education, preparing scholars to be leaders in their fields and communities. As the commonwealth's most comprehensive university and its leading research institution, Virginia Tech offers 240 undergraduate and graduate degree programs to more than 31,000 students and manages a research portfolio of $513 million. The university fulfills its land-grant mission of transforming knowledge to practice through technological leadership and by fueling economic growth and job creation locally, regionally, and across Virginia.
Source: Virginia Tech press release