Virginia Chapter AFS 2014 Annual Meeting Look Back
Virginia is for Fish Lovers was the theme of the 2014 Annual Meeting of the Virginia Chapter Meeting, held in Fredericksburg, February 11-13.   Despite the arrival of winter storm Pax, attendance was good for technical sessions, business meeting, and two continuing education workshops.   Dr. Colin Shea and Greg Anderson taught Occupancy Modeling and Dr. David Crosby taught Fish Health.  Technical sessions provided a mix of updates on species of concern, including redbellied dace Chrosomus, crayfish, Atlantic sturgeon, freshwater mussels, American shad, and Roanoke Logperch,  as well as progress for road-crossing, acid-sensitive streams, liming, environmental flow, Walleye,  and safety management.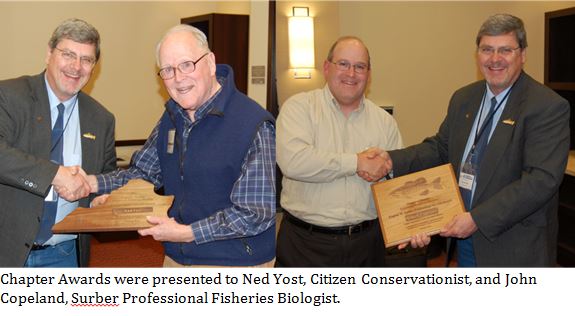 Chapter Awards were presented to Ned Yost, Citizen Conservationist, and John Copeland, Surber Professional Fisheries Biologist.
Mike Isel, Dawn Kirk, and John Copeland received Certificates of Appreciation for their service as officers.  New officers of the chapter are Don Orth, President, Eric Hallerman, President-Elect, John Harris, Treasurer, and Christine May, Secretary.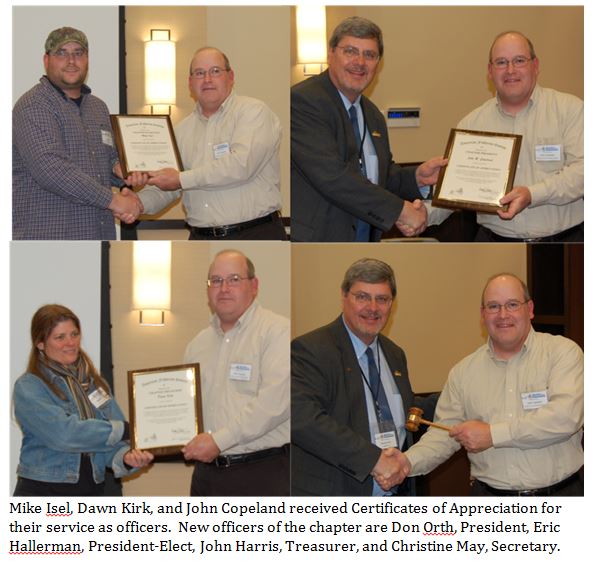 Best student paper awards were presented to Bonnie Jean Myers, Virginia Tech, and Lindsey House, James Madison University.    Robert Ross Scholarships were awarded to Brandon Peoples, Virginia Tech, and Kristen Anstead, Old Dominion University,   and Robert E. Jenkins scholarships were awarded to Jessica Dodds, Virginia Tech, and Casey Pehrsons, George Mason University,